Buying a laptop can be a very daunting task these days. From known manufacturers like Dell and HP to new-age brands like Xiaomi are all offering commendable laptops at compelling prices. The question becomes more important for people looking to purchase a laptop for work purposes. It's important to find a laptop that meets your requirements the best and fits your budget too. So, if you're also facing this conundrum, then we've made it easier for you by choosing the best laptops you can buy on Croma. The best part is that you can get additional bank cashback offers too. Without further ado, let's begin.
Things to consider while buying a laptop
Price: The first thing you need to consider when buying a laptop is your budget. Depending on how much you are willing to spend, you can either buy an efficient machine that gets the job done or a powerful rig that can handle everything thrown at it. Not to mention, you won't need to sacrifice on the portability factor if you do decide to buy a spec-heavy machine.
Portability / form factor: As mentioned in the previous point, the laptop's portability / form factor is another important consideration before purchasing one. If you are always on the move and have to work on the go, a convertible laptop or an ultrabook will be ideal for you. On the other hand, if you are a pro-creator, gamer, or developer, function takes priority over form and you can opt for a bigger device that remains stationary most of the time.
Display: Speaking of hard-core gamers or professional creators, a high refresh rare AMOLED display with colour corrected panel would be best for them. However, if you are only going to do basic browsing, writing, and streaming, an IPS panel with FHD resolution will serve you well. Of course, the screen size is also crucial, which impacts portability too.
Performance: Consider the level of performance you need to get out of your laptop and then decide upon the processor and RAM you need. Basic users can get away with Intel Core i3 SoC and 4GB RAM (or above), whereas pro users should go for the latest-generation Intel or AMD processor and 8GB RAM and above.
Storage: While you may think storage is not as important as other specs in this era of cloud storage, it is. You do need enough storage onboard to install apps and store files that need to be accessed instantly. Also, choosing SSD would give you faster app loading and boot time.
Battery life: If you are constantly on the move and working on the go, you will need a laptop with a longer battery capacity. This way, you wouldn't have to hunt for a charging point before the day's end.
Connectivity: As manufacturers strive to reduce the number of ports on their laptops, you must consider what ports are necessary for you. Consider what connectivity options you need, from Thunderbolt USB-C port to HDMI and from SDXC card reader to USB-A ports. Moreover, consider the latest features like Bluetooth 5.2, Wi-Fi 6, and more to get you unfettered wireless access.
HP 14s-fq1089AU AMD Ryzen 3
As the name indicates, this HP laptop is a compact 14-inch notebook for everyday work while being perfect for entertainment too. Its 14-inch IPS panel comes with a full HD resolution. The laptop is powered by AMD Ryzen 3 SoC, which is accompanied by 8GB RAM and 512GB SSD for faster bootup and app launch times. You get dual speakers, a 3.5mm audio jack, three USB ports including one Type-C, a multi-format SD media card reader, and HDMI. Wireless connectivity includes Wi-Fi and Bluetooth. The Windows 11-based laptop is powered by a 9-cell battery that offers nine hours of battery life and charges up to 50 percent within 45 minutes. If you are looking for a no-nonsense machine for working, then this would be a great choice.
ASUS M515DA-EJ351WS AMD Ryzen 3
This is a 15.6-inch laptop with an FHD panel and AMD Ryzen 3 processor at its core. The dual-core AMD Ryzen 3250U is mated with 8GB DDR4 RAM and 1TB of HDD storage. In the graphics department, it ships with integrated AMD Radeon graphics. Connectivity-wise, the machine offers dual-band Wi-Fi 5, Bluetooth 4.1, two USB ports, one USB-C, HDMI, and more. Don't get fooled by its price tag, as the laptop doesn't skimp on any feature, including the latest Windows 11 OS, fingerprint lock, and backlit keyboard, among others. The device is powered by a 2-cell battery.
Redmi Book 15 e-Learning Edition Intel Core i3 11th Gen
Affordable, yet power-packed
Xiaomi introduced a lineup of commendable laptops under its Redmi brand last year. The e-Learning Edition, as the name suggests, is intended for students who are pursuing online learning. And that's what makes it perfect for working professionals as well, who are looking for a capable notebook that wouldn't burn a hole in their pocket. It offers a large 15.6-inch IPS display with a resolution of 1,920 x 1,080 pixels. The laptop features the ​​Intel Core i3-1115G4 chipset with Intel UHD graphics and 8GB RAM. For storage requirements, it has a 256GB SSD. Connectivity-wise, you get an SD card reader, 3 USB ports, HDMI, Wi-Fi, and Bluetooth, among others. Running the show is a 46Wh battery with a backup of up to 10 hours.
Lenovo IdeaPad 3 14ITL6 Intel Core i3 11th Gen
This 14-inch notebook is ideal for professionals on the move. The 14-inch display is an IPS panel with an FHD resolution and brightness of 300 nits. The 11th-gen Intel Core i3 processor with a Turbo clock speed of up to 4.1GHz is tasked with handling the performance and is paired with 8GB RAM, 512GB SSD, and Intel UHD graphics. The rig offers standard connectivity options like USB ports, HDMI, card reader, Wi-Fi, and Bluetooth 5.0 Fuelling the laptop is a four-cell battery. The IdeaPad 3 is an excellent choice for basic users who stick to MS word, web browsing, and online streaming.
Acer Aspire 5 Intel Core i5 11th Gen
This Acer Aspire laptop is another compact 14-inch notebook for professionals alike. Its IPS panel offers crisp visuals with a full HD resolution and a wide viewing angle of 170-degrees. Powering the show is an 11th-Gen Intel Core i5 processor, further backed by Intel Iris Xe Graphics, 8GB DDR4 RAM, and 512GB SSD for commendable performance and smooth multitasking. Audio lovers will enjoy the stereo speaker setup with ​​Acer TrueHarmony Technology. The laptop scores high in the connectivity department too with three USB ports, a USB Type-C port, an HDMI port, an Ethernet port, Wi-Fi 6, and Bluetooth 5.0. Its 3-cell battery promises a backup of up to 10 hours, allowing you to carry the notebook around for all-day meetings without lugging around the charger.
HP Victus 16-e0352AX AMD Ryzen 5
If you are looking for a powerful laptop with a capable processor that would ensure lag-free performance no matter what you throw at it, this AMD Ryzen 5-powered rig is for you. It comes with a sizable 16.1-inch micro-edge, anti-glare FHD display with 250 nits' brightness, 144Hz refresh rate, and a 45 percent NTSC colour gamut. It comes with 512GB SSD and 8GB RAM with support for expanding it up to 32GB. In the graphics department, it comes equipped with a GeForce GTX 1650 GPU with 4GB dedicated VRAM. Its other features include Wi-Fi, Type-C, Bluetooth, HDMI, card reader, ethernet, and HD webcam. Powering the laptop is a 70Wh battery with fast charging support.
ASUS TUF F15 FX506LH-HN310W Intel Core i5 10th Gen
Well, you can't be working all the time. So, if you are looking for a laptop that can not only ensure that you work well, but lets you play your favourite titles too, then you should check out the ASUS TUF F15 laptop. It's a gaming-centric machine that doesn't require you to break the bank. It has a 15.6-inch IPS display with an FHD resolution and a high refresh rate of 144Hz, promising super-fast response while playing action games. The power users would appreciate the Intel Core i5 10th-Generation processor that can go up to 4.5GHz in the Turbo mode and is complemented by 8GB DDR4 RAM expandable up to 32 GB. For the smooth rendering of graphics, there's NVIDIA GeForce GTX 1650 with 4GB dedicated RAM. Then there's a huge 1TB M.2 PCIe NVMe SSD – the highest on any laptop in this list. With regards to the connectivity, you get three USB ports, one USB Type-C port, HDMI, Wi-Fi 6, Bluetooth 5,2, dual DTS Studio Sound-certified speakers, and an HD webcam. Its 48Wh battery can last a long time and charges quickly too.
Dell 15 Inspiron 3511 Intel Core i3 11th Gen
The Dell Inspiron lineup has always attracted working professionals as it offers commendable value-for-money laptops, and this one is no exception. It flaunts a large 15.6-inch IPS display with a resolution of 1,920 x 1,080 pixels. Its internals includes the Intel Core i3-1115G4 processor accompanied by 4GB DDR4 RAM. For storage, it offers the best of both worlds as it ships with 256GB SSD as well as a 1TB HDD offering fast bootup along with the ability to store all your files. To ensure a good aural experience, Dell has provided Waves MaxxAudio Pro stereo speakers. In terms of ports, along with the usual ones like three USB ports and HDMI, it comes with an Ethernet port, a 3.5mm audio socket, and an SD card reader. You also get Wi-Fi, Bluetooth, an HD webcam, and more.
Xiaomi NoteBook Pro XMA2006-FK Intel Core i5 11th Gen
Editor's pick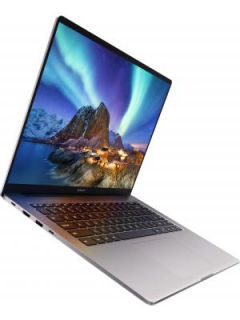 The Mi NoteBook Pro from Xiaomi is another laptop designed to manage work (and play too) efficiently. It promises an immersive experience with its 14-inch IPS display boasting super-sharp QHD+ resolution. Under the hood, it draws power from the Intel Core i5 11th-Gen chip with a Turbo clock speed of up to 4.4GHz, working alongside 16GB DDR4 RAM and 512GB SSD storage. It also offers integrated Intel Iris Xe graphics. Audio-wise, you get stereo speakers tuned by ​​DTS Studio Sound. On the connectivity front, the machine offers a Thunderbolt port, two USB 3.2 ports, one Type-C port, HDMI, Bluetooth 5.1, and dual-band Wi-Fi 6. It boots Windows 11, and comes with Microsoft Office 2019. Its other features include an HD webcam, a power button that doubles up as a fingerprint authentication mechanism, a 4-cell battery with fast charging support, and more.
Apple MacBook Pro 2022
Flagship
If you want to upgrade your Apple MacBook or are planning to switch from a Windows to an Apple laptop, there's no better choice than the latest MacBook Pro 2022. The newest Apple MacBook Pro features the latest Apple M2 chip, which features an 8-core CPU, 10-core GPU, and 16-core Neural Engine. It's supplemented by 8 gigs of RAM and 512GB SSD. Its 13.3-inch Retina Display with a resolution of 2,560 x 1,600 pixels is compact yet offers sharp and vibrant visuals. You also get Spatial Audio support with its Dolby Atmos-tuned stereo speakers to get real life-like audio while streaming content. It also comes with features like Touch ID, a 720p web camera, a backlit keyboard, and two Thunderbolt / USB 4 ports. While it's the most expensive option on this roundup, it has its own charm with the promise of reliable performance and long-lasting usage – aspects that matter the most to working professionals.
Whether you are looking for a budget-friendly option or a top-of-the-line machine, we are sure that you'll find the best laptop for work from the list above.