"The new 'Continue thread' feature can be accessed from the Compose Tweets screen and adds a new way for users to compose long stories on Twitter"
Twitter has added a new feature called 'Continue thread' on the microblogging platform. With this new feature, users will be able to easily add more information to an older tweet, thereby turning any old tweet into a full thread or a longer story-line. This can be particularly useful for Twitter users who use the platform to add to an experiential thread over time and refines the overall experience of adding to an older tweet. The 'Continue thread' feature can be accessed from the compose tweet screen and adds to the previously introduced 'Add another tweet' feature, which lets users create new tweet threads up to an 'n' number of serial tweets.
With 'Continue thread', the feature has been a server-end rollout. Now, when users create a new tweet, they will see a new prompt that asks them to drag down on the compose screen to add to an old tweet. Once dragged down, users will be able to see the previous tweet made from their account, with two buttons below the tweet. The first is 'Continue thread', tapping on which takes a user back to the new tweets screen, where the requisite tweet can be created and posted as usual. Once done, the new tweet will be added to the existing thread, and any person already tagged in it would be notified.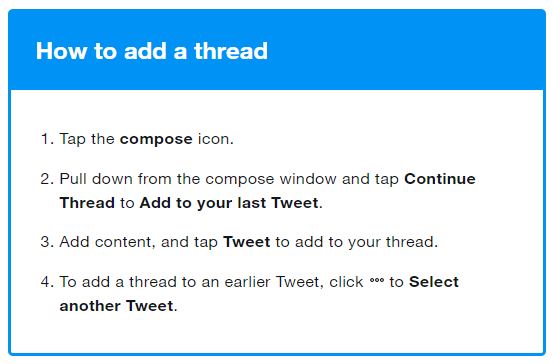 To add to an older tweet, users will need to tap on the ellipsis (three dots) icon beside the 'Continue thread' button, which opens up a slide-out menu with all older tweets listed. Users can pick a tweet of their choice from this list and continue adding to the thread, as mentioned above. The key difference from this feature is that it allows users to go back to any older tweet and turn it into a thread, which was so far not possible to do in such a seamless manner.
While users could have previously done this too by simply replying to their own tweet, the nature of the Twitter interface means that either some or no respondents to a tweet would get notified when a user adds a new tweet to a potential thread. This could have led to a jarring experience and mean that, often, not all tweets in a thread may be visible seamlessly. The new 'Continue thread' option solves this issue and continues Twitter's efforts of adding and editing its platform to make it a more engaging place for users.
While voracious Twitter users will certainly welcome this option, the much-vaunted 'edit tweets' feature remains elusive, and despite much demand, will likely remain amiss for the longest time. The same has also been confirmed by CEO Jack Dorsey, making the chances of such a feature launching next to nil.