Highlights
The hearables (TWS) market in India was the

fastest-growing in wearables in the world

Apple led the segment with its

2nd-gen AirPods and 1st-gen AirPods Pro

Realme Buds Air, despite launching late in December, was the second best-selling TWS earbuds in the country
Truly wireless (TWS) earphones market in India was the fastest-growing one in wearables across the world in 2019. The hearables shipment posted a massive growth of 700 percent in the country, as per Counterpoint's ETO service. The segment was led by Apple with its second-generation AirPods and first-generation AirPods Pro, the latter of which launched in India in November. The premium prices of the AirPods and AirPods Pro also mean Apple will continue to dominate the revenue share of the Indian market moving forward.
Noise and JBL occupied the second and third positions, respectively, in the TWS earphones market, followed by Samsung and Realme. The Realme Buds Air earphones, which were launched in December, sold incredibly well, becoming the second best-selling TWS earbuds after the AirPods thanks to the affordable pricing and feature-rich design. Commenting on the growth of TWS market Research Analyst Shilpi Jain noted, "The availability of many affordable devices by players like Realme, Xiaomi, and Noise immediately caught consumers' attention with their audio quality and ease of use. As the India market remains largely untapped for TWS, the segment holds huge growth potential and opportunities for new players."

Apple AirPods were the best best-selling hearables in India, followed by Realme Buds Air, pTron Bassbuds, and Noise Shots X1 Air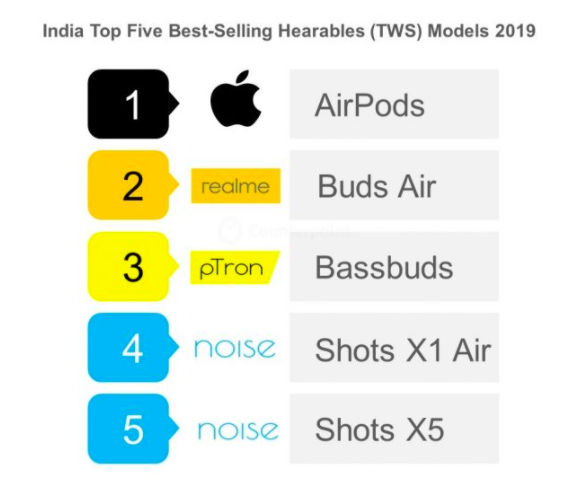 The growth is driven by the increase audio content consumption, portability, and advancements like health and fitness tracking, smart assistants among smartphone users, added the report. "The current lockdown situation due to COVID-19 will accelerate the demand for TWS as many people are working from home and connecting through voice and video calls," added Research Analyst Satyajit Sinha. Thereby, expect the TWS market to grow further in 2020 as more OEMs enter.
"An all-round connected devices IoT strategy is prompting entry of many smartphone OEMs in this fast-growing segment. Some brands are using an affordable pricing strategy and strong growth momentum while some are leveraging cutting edge features to command a premium. In all, TWS is becoming an important part of smartphone OEMs' connected devices strategy and drive ecosystem stickiness."