"Vivo 1910 seems to be an upcoming mid-range smartphone from the Chinese brand, though little is known about it at the moment"
Vivo already has a couple of handsets sporting Qualcomm's Snapdragon 675 SoC but it looks like another one is in the pipeline. A new model – Vivo 1910 – was benchmarked recently on Geekbench, revealing some key specifications of this unnamed phone. The Vivo V1910 is a new device that hasn't appeared on Geekbench before, neither has it made an appearance on other websites, leaks, or certification sites. Therefore, it is difficult at the moment to speculate which model it could be.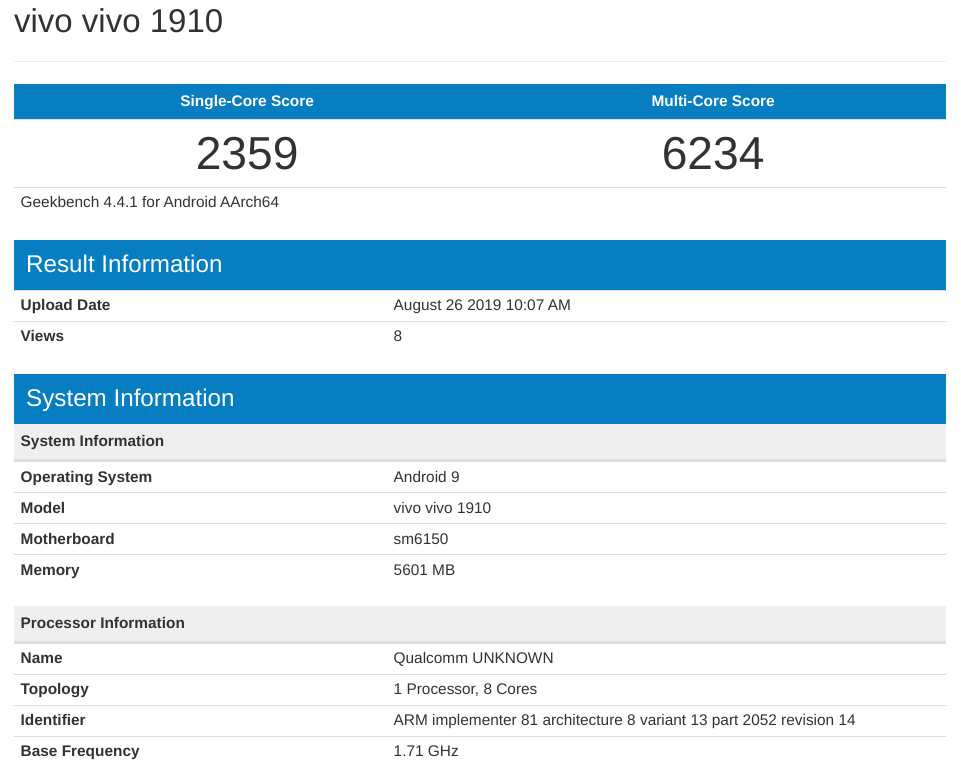 Thankfully, Geekbench is kind enough to reveal that the Vivo 1910 also has a Snapdragon 675 SoC (SM 6150) which means that this particular device is a mid-ranger. Currently, the market has two Vivo handsets with that particular chip – the Vivo S1 Pro (China) and the Vivo V15 Pro which will soon get an upgrade with the Vivo V17 Pro by the end of September. That said, it is worth noting that Geekbench tends to list a particular processor at times when in fact the processor is completely different. Also, there's the possibility that a listing is simply a fabrication.
The scores of 2359 and 6234 for single and multi-core performance, however, do reiterate that the phone is definitely an upper mid-range handset exceeding the Vivo Z1 Pro and Vivo Z5 scores both of which sport Snapdragon 7xx series CPUs. The Geekbench listing also reveals 6GB of RAM on the tested device and Android 9.0 Pie software.
The same handset has also appeared on Russia's Eurasian Economic Commission (EEC), but that certificate, as usual, doesn't give away anything. According to Nashville Chatterclass, there are several other models that could be a close version of the Vivo 1910. Those include Vivo 1906, Vivo 1912 and Vivo 1914 that have also bagged the EEC certificate. There's also a Vivo 1908, which according to Android Kenya, is the Vivo Y90. If that is true, the Vivo 1910 could be another Y series handset in the making. The Vivo Y90 has already been official in July.