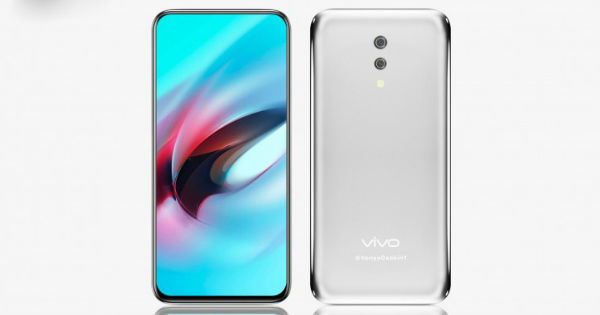 "An official Vivo teaser video as well as an unofficial render suggest the upcoming APEX 2019 will not have physical buttons or the usual cutouts for USB port and 3.5mm jack on the frame"
Vivo has released the first official teaser video of its much awaited APEX 2019 smartphone. But the rumour mill was not inactive today either as we got yet another look at what the APEX 2019 could look like. The smartphone seems to be an all-screen affair, going by the renders, while the official video hints a button-less design – it is still not clear where it houses the selfie camera. To recall, the Vivo APEX 2019 is reportedly set to be showcased in a couple of days, on January 24th.
The official Vivo APEX 2019 teaser video show starts with a look back at the pop-up camera design introduced last year with the original APEX model. Towards the end (in the last 3 seconds of the video to be precise), we get a look at the outline of the upcoming phone. As the frame of the handset is outlined in blue colour, we see there are no breaks for the volume and power button on the sides.
Moving on to the render, we received a glimpse of the APEX 2019 smartphone today courtesy concept creator Ben Geskin who created an image of what the handset will likely look like. As expected no side buttons are visible but the images show a dual-rear camera at the back. It should be noted that the corners are rounded and the bezels on the top and sides of the display are narrower than they are at the bottom.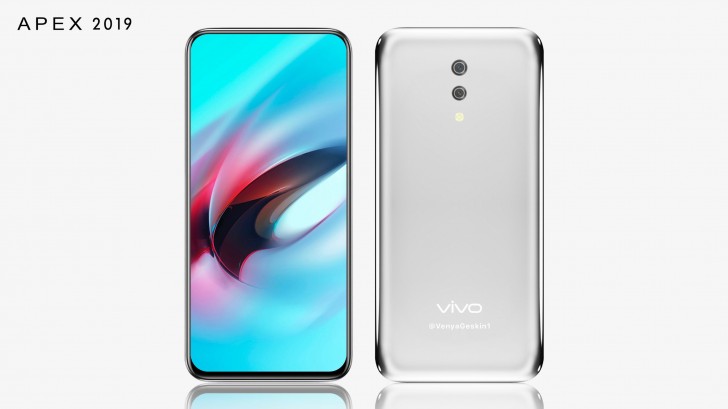 The button-less design shown in both the video and the teaser is in line with what we could gather from a recent promotional activity carried out by Vivo. In a video it shared last night, Vivo allowed random people to touch the device without seeing (as the smartphone was kept inside of a black box). Some people described it as a metal soap, while others said that it felt like a pebble as nobody could feel any physical button or camera bump on the smartphone.
Although we it is not yet confirmed how Vivo has actually achieved this, it does seem that the handset doesn't have a 3.5mm earphone jack, USB port, or even the usual volume and power buttons on APEX 2019. It is possible that the smartphone uses only wireless charging, wireless data transfer, and the capacitive touch controls to function.
Vivo APEX 2019 Promo Video

(via https://t.co/Ialz8TWyAY) pic.twitter.com/Z3Sl9g8XCw

— Ben Geskin (@VenyaGeskin1) January 22, 2019
There's another promo video of the smartphone on Weibo (embedded above via Twitter) but that again doesn't clear our doubts regarding the selfie camera placement. It shows the device with no buttons and a smooth body finish from top to bottom, same as the other teaser.