"The upcoming Vivo NEX 3 5G and V17 Pro smartphones are expected to ship with the new OS"
According to a new teaser posted by Vivo, the next version of FuntouchOS will be announced at an event on September 17th. The Chinese company posted the teaser on its official Weibo page. The new version is said to include some new features, a minimalist design, but will most likely be a minor update over FunTouchOS 9.0. Sadly though, it may not be based on Android 10 and will continue to use Android 9.0 Pie as the base. Vivo is also scheduled to launch its latest flagship, the NEX 3 5G on September 16th, and can be expected to ship with FuntouchOS 9.1 out of the box.
The teaser posted by Vivo doesn't reveal any details about the upcoming OS. It only consists of a few monochrome elements and a little splash of colour. This could mean that the new software version will have a minimal look with dark greys and subtle hints of other colours. It could even include a dark mode, which is shipping with most mobile OS' this year. As a matter of fact, Android 10 has the feature in-built, which helps devices with AMOLED screens consume less battery.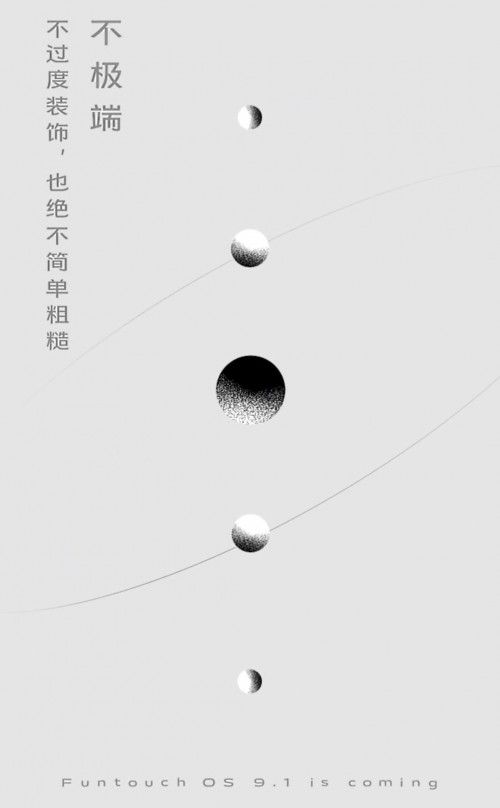 The video also consists some text, which translates to 'not extreme'. It also includes other texts that say things 'not over-decorated and never simple'. This could mean that the new user interface will not include lot of bloatware and other elements, but will not be simple at the same time. We don't really know what Vivo means by that. To rejig your memory, Vivo's previous custom ROM, Funtouch OS 9, was unveiled earlier this year in March and it brought several new features and optimisations. A total of 263 UI elements were improved with Funtouch OS 9.
Therefore, FunTouch OS 9.1 could be a minor update with features such as Dark mode, or it could be more. We would have to wait till September 17th to find out for sure. Vivo has also scheduled an event for September 20th, where it would be launching the V17 Pro smartphone with the world's first dual-pop up selfie camera system.