"Speculation is rife that the 'V' in the Vivo invite could either allude to a foldable phone or a V series flagship model"
Vivo is reportedly setting up for a smartphone launch event at the Mobile World Congress 2020 in Barcelona, Spain. According to multiple reports across the internet, Vivo is sending out press invitations for the event on February 23rd. This will mark the first time Vivo is hosting an event at MWC, which the biggest tech expo of the year. The event, scheduled for 5PM local time (9:30PM IST) at the Nautic Centre in Barcelona, is being speculated as the launch event for an upcoming flagship Vivo smartphone.
However, it is important to note that the 'Save the Date' invite does not reveal any information regarding what this could be about. Some publications have speculated that the letter 'V' in the background of the invite might hint at a foldable smartphone, while others have suggested that the 'V' in question might be linked to the Vivo V series of smartphones — in which case we might just see the launch of a flagship-grade device under the V series lineup.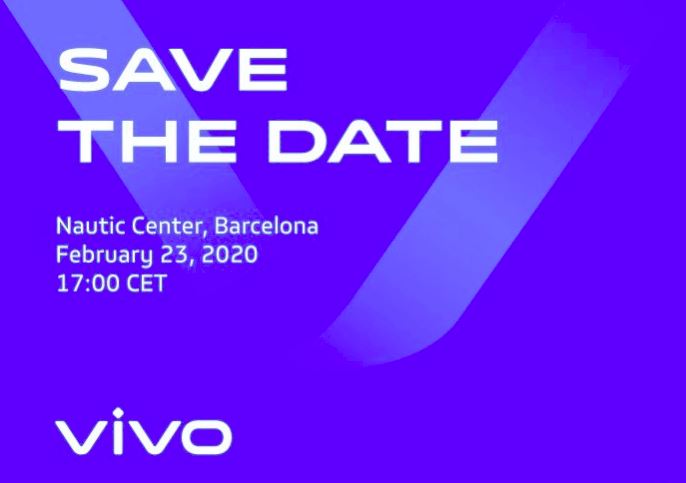 The latter sounds like the most probable scenario, since the Vivo V series is a reasonably popular lineup, and may work towards expanding the Chinese OEM's presence on European soil. At present, it seems unlikely that the Vivo event will see the launch of a foldable smartphone, since such devices typically see a wide range of leaks, renders, and teasers posted to build up hype ahead of their unveiling. While it is still a possibility and the event is still two months away, the chances seem slim.
It is also likely that the Vivo event may see the introduction of a concept smartphone showing Vivo's vision for the future, similar to OnePlus' upcoming CES event. If that happens to be true, then it will be interesting to see what unique technology does the company manage to show. Vivo, technically OnePlus' sister brand under BBK Electronics, has risen to being one of the most important smartphone brands in Asia, as well as among the top contenders across the world. With 5G and foldable devices touted to be the immediate smartphone innovations expected, Vivo is expected to launch a host of devices that attempt to make both technologies mainstream.