"The NEX line of Vivo embodies the company's spirit of innovation and we expect to see cutting-edge technology with the handset"
Vivo announced over the weekend that it would reveal something related to the Vivo NEX 3 this week. Keeping the promise, the company has revealed today that the NEX 3 5G will be revealed next month, although the brand didn't mention any exact launch date. The teaser also gives a glimpse of the "Waterfall Screen" once again after a first look was revealed earlier this month. At the same time, a leaked spec-sheet has revealed some specifications of the upcoming NEX 3 5G handset.

Coming to the teaser, the extremely curved display, which will be the USP of the NEX 3 is once again visible. The caption with the teaser says "Here it comes! #5G Vivo NEX 3 releasing in September!". We're also expecting a non-5G model of the handset. As for the leaked spec-sheet, it reveals key details such as a phenomenal 99.6 percent screen-to-body ratio that has never been seen before. The handset will also be one of the few handsets to feature the 64MP Samsung camera sensor, which will debut on the Redmi Note 8 Pro this month. Apart from that, Qualcomm's latest Snapdragon 855+ chipset will also be onboard the Vivo smartphone.

There have been at least a couple of Vivo handsets spotted on the CCC certification database with 5G connectivity and all these handsets also boast 44W fast charging support, which is impressive, to say the least. Vivo's sub-brand already debuted the IQOO Pro 5G, so there's at least one more Vivo 5G handset.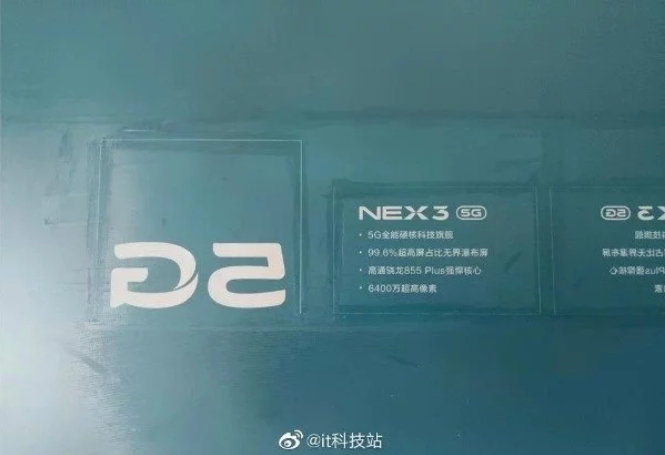 It will be also interesting to see the tech that Vivo uses to achieve the staggering edge-to-edge full-screen design. Vivo was the first company to showcase the pop-up camera with the APEX concept phone and we expect a breakthrough technology like an under-screen camera for the NEX 3. Since Vivo has started teasing the NEX series now, a launch date shouldn't be much far.