"The upcoming NEX flagship from Vivo will feature a waterfall display with almost 90-degree curves on the edges"
Vivo's next flagship smartphone, the NEX 3, is most likely going to be announced before the end of this year. The successor to the NEX Dual Display (first impressions) is expected to bring something new to the table just like the previous offerings in the series. Per rumours, the upcoming NEX 3 will feature a waterfall display with almost 90-degree curves on the sides. This has now been confirmed by official sketches of the Vivo NEX 3 smartphone.
Worth noting that it's not the first time that we're hearing of this waterfall display. Last month, an alleged glass panel belonging to the NEX 3 was leaked online. The leak stated that the phone will have a 100 percent screen-to-body ratio without any notch or punch holes. The glass panel in question had extreme edges, which made it look like the phone did not have any side bezels. With the latest sketches revealed by Vivo, it seems like the NEX 3 will indeed feature such a design on the front.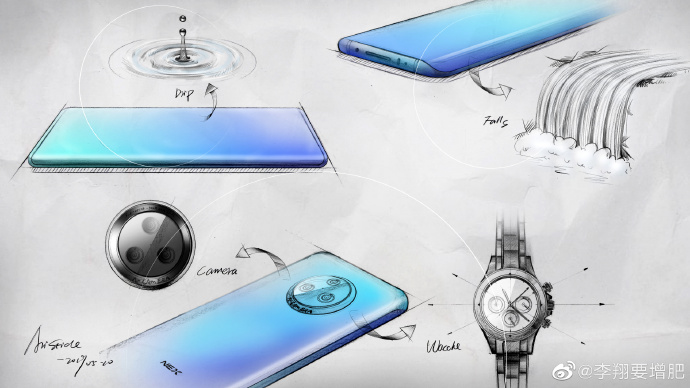 As you can see from the sketches above, which were shared by NEX brand product manager Li Xiang, the NEX 3 will also have a protruding circular camera setup at the back. As can be seen from the renders, there are three camera sensors inside the circular setup. The sketch also shows that the design for the camera arrangement was inspired by the watch. You can also see the use of words such as falls, which could mean that the company would use the Waterfall moniker for its display.
The Vivo Nex 3 will also have the 3.5mm headphone socket, which was confirmed recently by a company executive. However, the final product could be different than the sketches. Interestingly, even OPPO recently showcased a smartphone with the waterfall design. So it'd be interesting to see which of them launches such handset first.