"Vivo could overtake Samsung by the end of 2019 if it continues to improve its market share"
The smartphone market in India is currently led by Xiaomi and the top five market leaders are mostly Chinese manufactures. Samsung remains a distant #2, having lost its crown to Xiaomi towards the end of 2017. Now, a new report from market research firm Canalys is stating that Vivo could soon take over the number two spot from Samsung. If Vivo continues its growth, the Chinese smartphone maker could overtake Samsung by the end of 2019. Vivo has been doing very well in India and has several top selling mid-range devices.
According to the report, the top selling Vivo smartphones in Q2 2019 were the Y91 and the Y17. The brand managed to ship about 1.5 million units of these devices in the second quarter. The Chinese manufacturer shipped 5.8 million smartphones in Q2, compared to 4.5 million units in Q1 2019. It's market share grew from 15 percent to 18 percent in one quarter. Compared to the same quarter last year, Vivo's market share went up by 8 percent.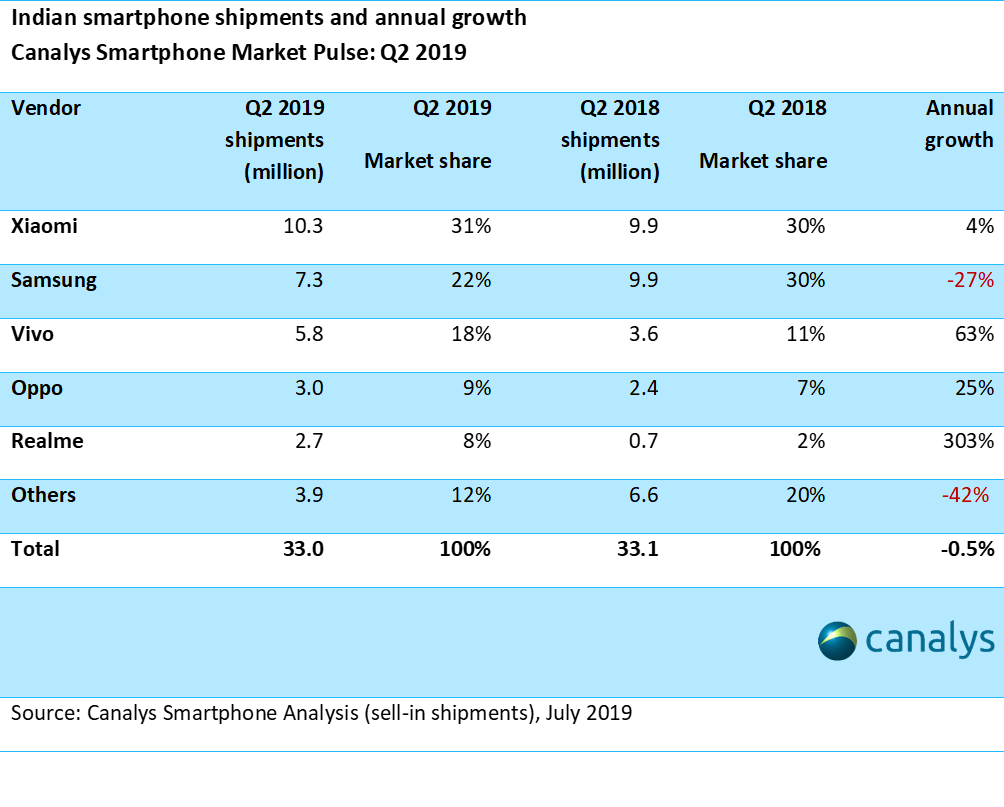 The top five manufacturers by market share are; Xiaomi, Samsung, Vivo, OPPO, and Realme. Xiaomi continued to be the market leader with a 31 percent share and shipped 10.3 million devices in Q2 2019. Samsung shipped 7.3 million units, but saw a massive 27 percent decline compared to Q2 2018. The South Korean giant was the only manufacturer to see a decline. In third spot, OPPO shipped 3 million smartphones and managed a 9 percent market share. OPPO was followed by Realme, who sold 2.7 million devices and saw its market share rise from 2 percent in Q2 2018 to 8 percent in Q2 2019. That's a 300 percent increase in market share.
Vivo has plenty of mid-range and budget smartphones available in the country. However, its most profitable devices fall in the sub Rs 15,000 category. If it continues to perform well in the segment, then it could take the second spot from Samsung by the end of 2019. However, Samsung has launched several new mid-range and budget phones to fight the competition. We would have to wait and see the numbers from Q3 2019 to see if Vivo can take on Samsung.