"A new Vivo patent suggests a possible future smartphone with four front-facing cameras in punch-hole cutouts"
Chinese smartphone maker Vivo has been granted a new patent in China, detailing a smartphone design that incorporates four front cameras in punch-hole cutouts on the display. The patent, which has been granted by the China National Intellectual Property Administration (CNIPA), details three specific layouts of implementing the four camera cutouts on displays. Among the three suggested layouts, the most interesting is the one that places four cameras at four corners of the display, giving us the prospect of an innovative new front camera implementation. The patent hints at a future smartphone that can use such multi-camera layouts for unspecified use cases
The first of the three patent drafts show two dual camera cutouts placed on both of the two top corners of the smartphone display. So far, OEMs have made use of punch-hole front cameras with two cameras placed in one cutout, such as the one that we have seen in the Samsung Galaxy S10 lineup. Now, Vivo's design suggests the use of two such cutouts, and it will be interesting to see what such a camera layout can achieve over the standard camera layout.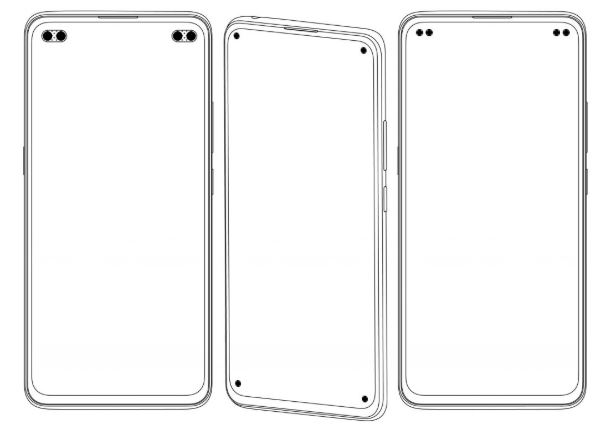 The second layout uses a single camera cutout placed on all four corners of the display, which seems highly unusual. So far, cameras placed at different ends of a single device have been used in aspects such as stereoscopic 3D photography. However, seeing that stereoscopic 3D has mostly been a failed technology, it remains to be seen what other use cases does Vivo manage to come up with for such a camera layout.
The third layout is similar to the first one. But, instead of dual camera modules, the layout places two single cameras on either of the two top corners of a display. Overall, Vivo might aim to maximise the modes that a front camera layout can implement, including varying degrees of portrait and studio modes, as well as various optical ranges dedicated to each camera module, such as telephoto, ultra-wide angle and extended telephoto.
Given that this is only a patent filing, it is possible that Vivo may not use such layouts at all. But, it will certainly be interesting to see production smartphones using unconventional camera layouts in a bid to push the degree of innovation in smartphone photography. With increasingly versatile mobile image sensors being unveiled, such camera layouts can provide more use cases for phone cameras, beyond the casual imaging purposes.