If you have a budget of Rs 30,000 and are looking for a good smartphone, there is a fair chance that two of the most prominent options that will confront you will be the bestselling OnePlus Nord and the recently launched Vivo V20 Pro. Both phones have a lot of similarities and are priced around Rs 30,000. But which one should you go for – the bestselling Nord, or the new kid on the block, the Vivo V20 Pro, which comes laden with all sorts of camera wizardry as well as a rather sleek design. Let me try to help you make up your mind with the help of a detailed comparison.
Who's got the looks?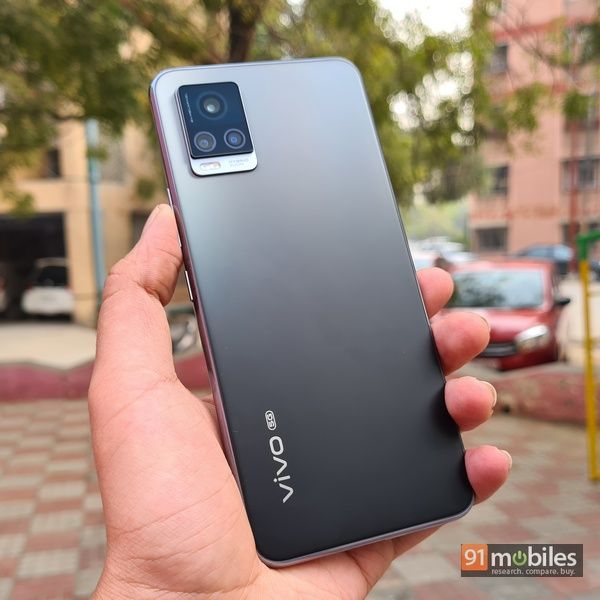 In terms of design, these are two phones that stand out in the sub-Rs 30,000 crowd of premium phones. And both owe it mainly to their rather distinct colours. For, while in front, they both sport 6.44-inch displays with dual punch holes (the Nord on the left, the V20 Pro in centre), it is their glass backs that make them different. Which one you like is a matter of preference. The Nord has striking Blue Marble, Gray Ash, and Gray Onyx shades, while the Vivo V20 Pro gets Midnight Jazz and Sunset Melody.
Both phones also have very different camera enclosures – the Nord has a quad-camera setup in a capsule shape while the triple camera setup of the V20 Pro is slightly square-shaped. They are almost the same height – the V20 Pro is 158.82 mm while the Nord is 158.3 mm – but the V20 Pro is slimmer (7.39 mm as against 8.2 mm – Vivo does call it the slimmest 5G phone), although the Nord is less wide (73.3 mm as against 74.2 mm). The Nord is slightly heavier at 184 grams against the 170 grams of the V20 Pro.
I would say both feel about the same (solid and a little stylish), and the Vivo feels slightly better in the hand with a marginally more premium finish – the back is flatter, while that of the Nord starts curving towards its sides slightly earlier. That said, if you want your phone to be noticed, the Blue Marble OnePlus Nord is perhaps one of the most distinct devices out there. It is a very close finish in my opinion, but the V20 Pro takes it by a very slim margin, with its slightly more premium finish.
Winner: Vivo V20 Pro
Oh my AMOLED, check that display!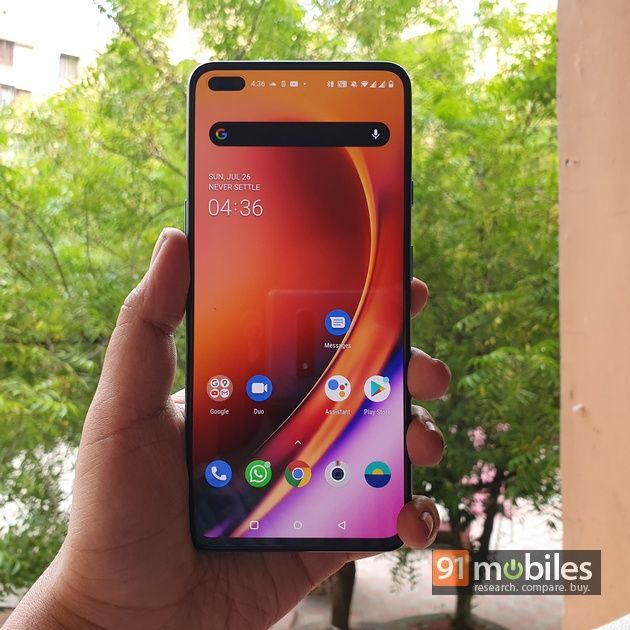 When it comes to displays, both phones sport full HD+ (2400 x 1080) 6.44 inch AMOLED displays. And they are both very good displays indeed. The Vivo one seems a little richer in terms of saturation and also seems a little brighter, but the difference is not a major one. Start scrolling, however, and the 90Hz refresh rate of the Nord stands out. I do not think refresh rate is a major differentiator in displays right now, but it is likely to become one in the coming days, and it does make a difference with supported apps and while scrolling through the UI. This one to the Nord then.
Winner: OnePlus Nord
Looking at chips, RAM, and all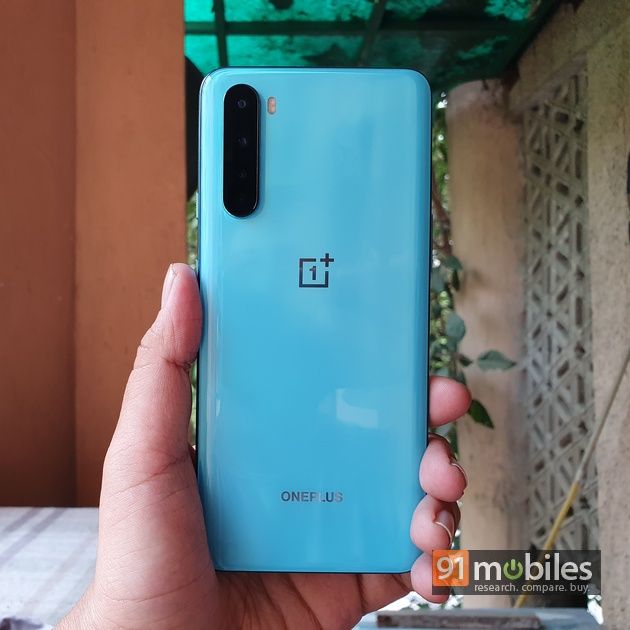 Both phones once again run each other close in terms of hardware. Both are powered by Qualcomm Snapdragon 765G processors, and have 8GB RAM and 128GB storage variants, with no expandable memory. The Nord, however, also has higher-end 6GB/ 64GB and 12GB/ 256GB variants, and that win it this round.
Winner: OnePlus Nord
Let's get cheesy! Bring on those rear cameras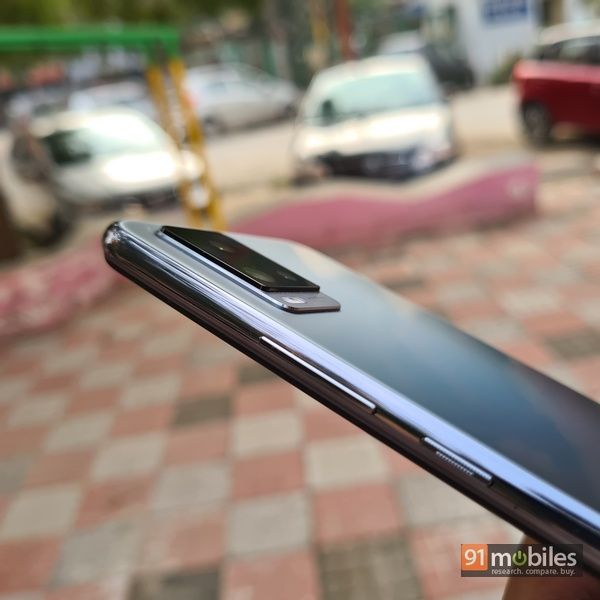 The OnePlus Nord has four rear cameras, and the Vivo V20 Pro three. The Nord's sensors include a 48-megapixel main camera, an 8-megapixel ultra-wide, a 5-megapixel depth, and a 2-megapixel macro sensor. As compared to these, the Vivo V20 has a 64-megapixel main sensor, an 8-megapixel sensor that triples up as ultra-wide and macro and "bokeh" (depth) sensor, and a 2-megapixel monochrome sensor. It might not win the megapixel wars but two big advantages the Nord's main sensor has are its larger aperture (f/1.75 against f/1.89) and, more importantly, optical image stabilisation (OIS), which the V20 Pro lacks. Frankly, I could not really understand what value the sensors other than the first two in each case contributed to the photography experience, but then I am sure the selection was made by more technically able minds than mine.
Getting to actual results, in broad daylight, we think that the V20 Pro takes slightly more pleasant 'still shots'. The results are a bit more colour rich than the ones from the Nord, which look relatively dull in comparison. The V20 Pro also gets more colours in low light conditions, although the OIS helps Nord get a little more detail in low light. The OIS also gives the Nord a bit of an edge in the video department as well, with the device shooting better videos. The V20 Pro, however, also comes with more editing options onboard letting you do a lot more with your images than the Nord's minimalistic interface. Unless videos are a huge priority, the V20 Pro takes this one.
Winner: Vivo V20 Pro
Let's get vain! Those front cameras now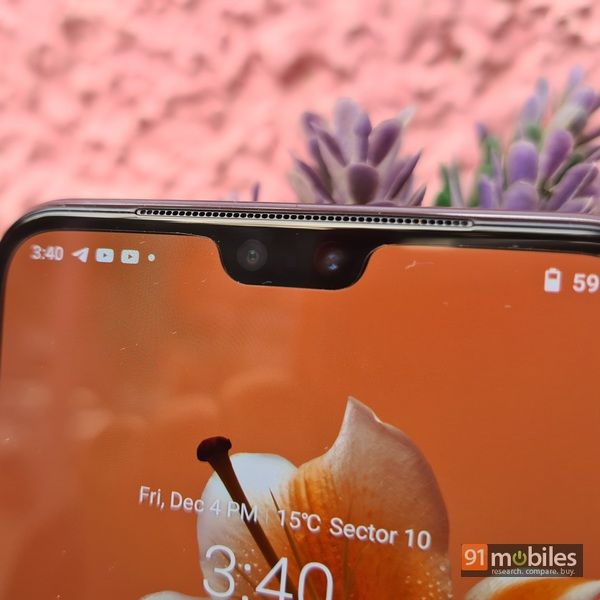 The OnePlus Nord and Vivo V20 Pro are some of the rare smartphones that feature dual front-facing cameras. The Nord comes with a 32-megapixel main camera and an 8-megapixel ultra-wide sensor, while the V20 Pro sports a massive 44-megapixel main sensor and an 8-megapixel ultra-wide sensor. Now, the V20 Pro's selfie cameras have been endlessly hyped while not much has been said about those on the Nord. This is why I was surprised when in both stills and videos, the Nord's selfie cameras put up a surprisingly good performance. No, they do not beat the V20 Pro's selfie snappers but they do well. The V20 Pro's selfie cameras, however, simply do more with the software assistance. They also deliver rich colours and come with eye-tracking autofocus that is a massive plus for anyone wanting to shoot videos in selfie mode. A clear win for the V20 Pro here, but the Nord surprised me. Perhaps brands need to look more seriously at dual front-facing cameras.
Winner: Vivo V20 Pro
Go, multitasking, Game on…which one!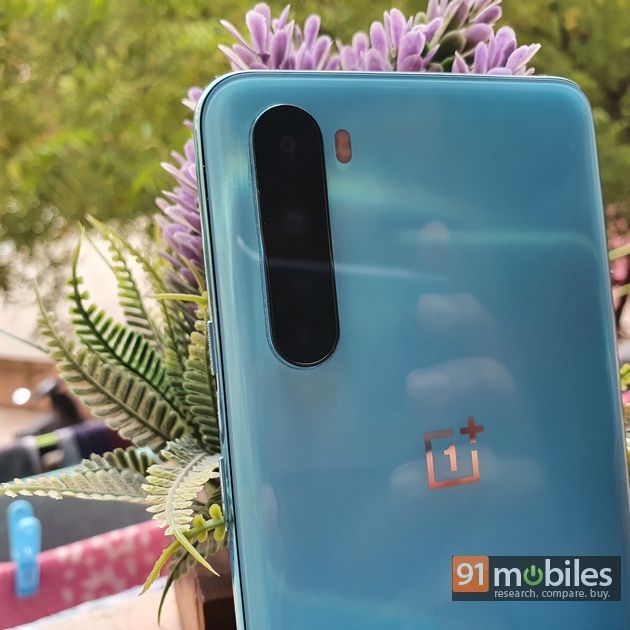 With both brands having similar processors and similar sized displays, their performance is largely similar when it comes to multitasking and gaming. Neither is a flagship but both can play most games and run a fair number of tasks simultaneously without breaking into too much of a sweat. However, while games and videos sometimes looked better on the V20 Pro, I felt the Nord delivered a slightly smoother experience overall – its top variant having more RAM helped in multitasking, I am sure. Audio over speakers is not the forte of either device, as both have a single speaker setup. Over headphones, both turned in a similar performance. It was a close finish but I think its better configured top variant wins this one for the Nord.
Winner: OnePlus Nord
Who wears Android better?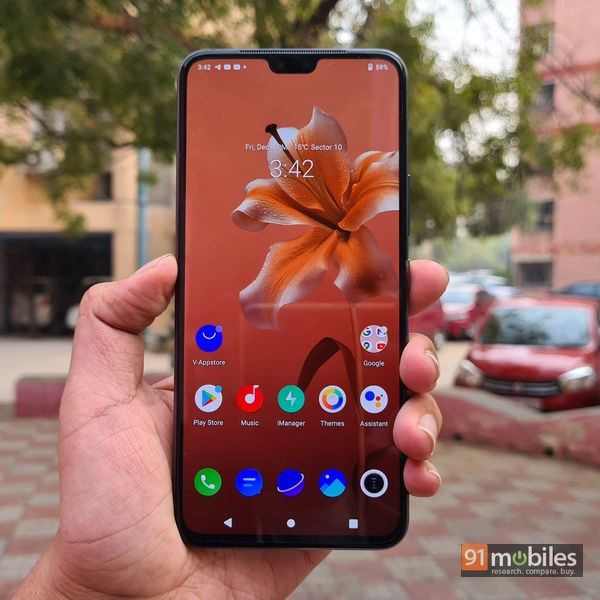 You would have thought that this would be a straight win for the OnePlus Nord with its relatively cleaner OxygenOS. However, while Vivo's FunTouch UI might be a little more cluttered than OxygenOS (notwithstanding the recent update to it), it holds one clear edge over it – it runs over Android 11, while the Nord is at the time of writing, still on Android 10.
This could change when the Nord gets Android 11, but as of now, I am voting for the Vivo 20 Pro mainly because of the presence of the newer version of Android, and also because its software allows users to do more with its very good camera setup. And well, even with Android 11, the battle would be between those who want a cleaner interface and those who want a feature-rich one. And market forces indicate most consumers prefer the latter!
Winner: Vivo V20 Pro
Discharge and charge…the battery battle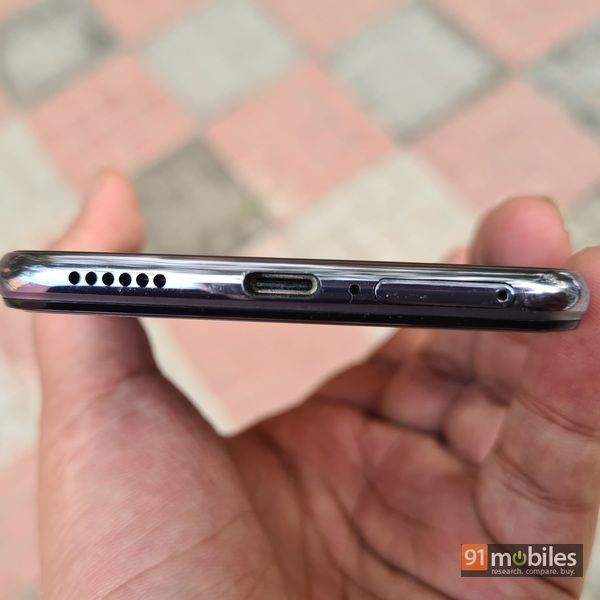 When it comes to battery, there is (again) not much separating the two phones. The Vivo V20 Pro comes with a smaller 4,000mAh battery and a 33W charger while the OnePlus Nord comes with a slightly larger 4,115mAh battery with a 30W charger. On paper, this would seem to indicate that the Nord will last longer than the V20 Pro, but I guess its 90Hz refresh rate drained battery faster.
In fact, battery life seemed marginally better on the Nord but the difference was not a dealbreaker – both phones will see off a day of normal usage and a little more if one is careful. In terms of charging too, both get to about 60 percent in half an hour, and while the V20 Pro gets fully charged in slightly under an hour, the Nord takes slightly more than an hour. I am calling this one a tie.
Winner: Tie
Generally speaking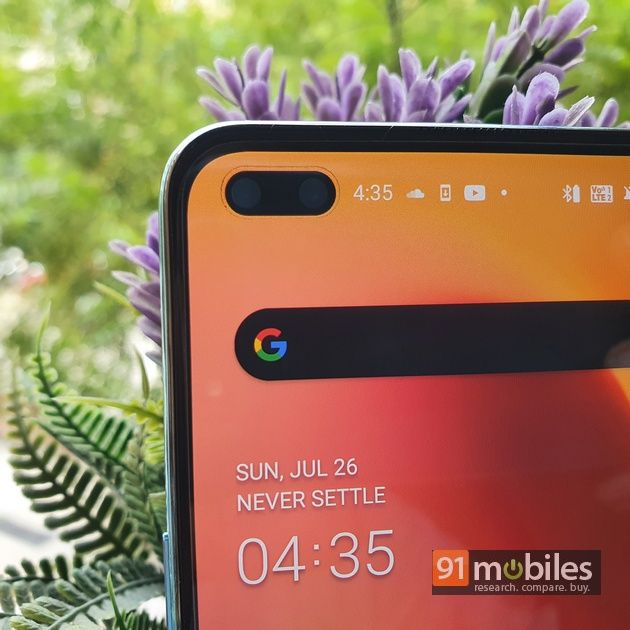 In terms of other general functionality such as calls and connectivity, I found the OnePlus Nord to be slightly ahead of the Vivo V20 Pro. Call quality seemed slightly better on the Nord and apps, in general, seemed to run a little more smoothly. Whether that was because of Oxygen UI or general performance management, I am not too sure. Both phones support 5G (although most markets do not at the time of writing), but the Nord comes with NFC as well which could make it potentially a better tool for payments. And while neither device's under-display fingerprint scanner was anything to write home about, we felt the Nord handled it a little better. I am giving this one to the Nord.
Winner: OnePlus Nord
Bang bang, how many bucks?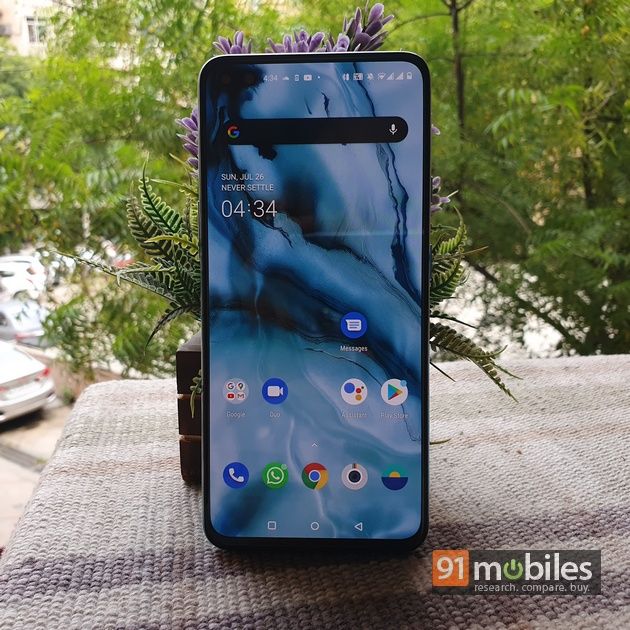 When it comes to sheer value for money, the OnePlus Nord wins at a canter. The highest-end Nord variant with 12GB RAM and 256GB storage is available for Rs 29,999, while the sole 8GB/ 128GB variant of the Vivo V20 Pro is available for almost the same price – Rs 29,990. The Nord also has an 8GB/ 128GB variant, which is priced at Rs 27,999 and even a 6GB / 64GB variant priced lower at Rs 24,999. So while the V20 Pro is available only at one price, the Nord has three options and its highest variant not just has more RAM and storage but also the same price as the sole variant of the Vivo V20 Pro. Only one winner here.
Winner: OnePlus Nord
Final call?
So which one should you go for? Well, I really think it is going to depend on how much you value photography. If photography is indeed a big deal for you, then the Vivo V20 Pro's more colourful photographs and far more versatile front and rear cameras, allied with a number of shooting modes and filters make it the one for you. That said, the Nord's OIS gives it a slight edge in videos. Put photography aside and the gap between the two devices is not really that wide – some might get moved by the cleaner UI of the Nord in combination with its high refresh rate display (not always discernible but a plus point nevertheless) but then on the flip side, the Vivo V20 Pro comes with Android 11 (an update arrived shortly after its launch), a sleeker design, and a far more feature-laden UI.
Its pricing and performance give the Nord an edge if you are keener on a smartphone in general but if it is cameras (and particularly selfie ones) that you covet, the V20 Pro would seem a better option. As always, it depends on what you consider important.