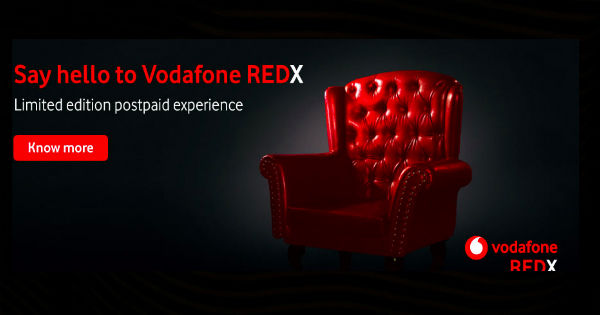 "Vodafone REDX premium postpaid plan offers unlimited calls and data, 7-day free international roaming, and access to a bunch of streaming apps"
Vodafone REDX premium postpaid plan has been launched in India. It is a new postpaid plan that Vodafone claims has been designed keeping in mind the digital trends followed by Indian consumers. The new Vodafone REDX plan, priced at Rs 999, comes with bundled international roaming services, truly unlimited data, premium customer service, access to airport lounges, exclusive deals on handsets, hotel bookings, and more. More importantly though, the Vodafone postpaid REDX is said to deliver 50 percent faster mobile data speeds to subscribers. Oddly enough, the plan is not available at the moment – customers need to pre-book for the plan.
For frequent international travellers, Vodafone REDX plan offers free international roaming with unlimited data and calls for up to 7 days. It also provides airport lounge access across the world, 10 percent discount on hotel bookings worldwide, and 10 percent discount on tickets to museums and attractions during overseas trips. Vodafone is also bundling content from Netflix (Rs 499 plan for 12 months), Amazon Prime (for 1 year), Zee5 (for 1 year), and Vodafone Play (unlimited). Additionally, users also get special deals on Samsung devices and ISD calls to the US and Canada at just 50p/min.

Avneesh Khosla, Operations Director – Marketing, Vodafone Idea Limited, said, "REDX is targeted towards the discerning few who are used to the best that life has to offer – from seamless connectivity to world-class entertainment to travelling in luxury while abroad or buying the latest high-end smartphone. Superior network, differentiated offerings on international roaming and exclusive privileges at international airport lounges reflect our customer-first philosophy which we believe will make the experience with us much more holistic and gratifying."