"The new Vodafone Rs 558 prepaid recharge plan is right now available only in Mumbai and Madhya Pradesh circles."
Vodafone has introduced a new prepaid plan that offers 3GB data per day, along with truly unlimited calling, 100 national SMS messages per day, and subscriptions for Vodafone Play and Zee5, at Rs 558. The new prepaid plan comes with 56 days validity, and is presently available only in Mumbai and Madhya Pradesh circles of operation. So far, it is not clear whether the Rs 558 Vodafone plan has been introduced on a long term basis, but given that the tariff has been introduced only in two circles, it is likely that the same will work as a ground test for Vodafone, before rolling out to other circles in India.
The new plan offers a total of 168GB of 4G data spread across 56 days, which roughly covers two monthly billing cycles. Alongside the data, users will get unlimited free calls between any networks, as well as 100 SMS messages per day. Bundled entertainment services include access to Vodafone Play, as well as one year Zee5 subscription with the prepaid plan. The plan offers an even more affordable overall pack, the nature of which is not available in every circle.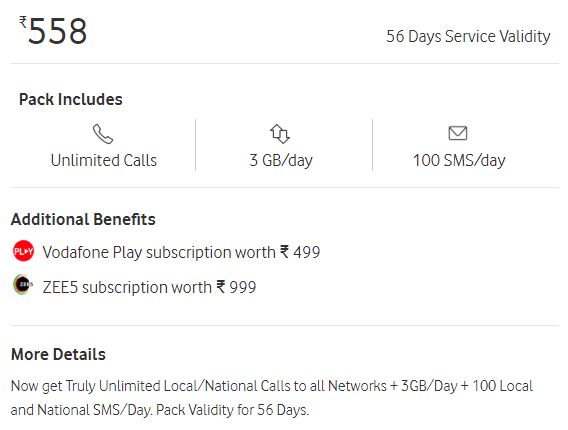 For instance, in Delhi, users can only get up to 2GB data per day along with other similar perks, through Vodafone's Rs 449 prepaid plan with 56 day validity. Low data users can also opt for the Rs 399 prepaid plan, which offers reduced per day data of 1.5GB per day. The new plan, hence, would make sense for high data consumption users, who would have otherwise had to purchase add-on data packs that push up the overall monthly cost. In comparison, Bharti Airtel offers a similar Rs 558 prepaid pack, offering 3GB data per day, unlimited calling and bundled entertainment plans at the same cost.
Reliance Jio, meanwhile, only offers a 28-day pack worth Rs 349 in terms of 3GB data per day plans. Its 56-day recharge plans include Rs 399 and Rs 444 recharge packs that offer 1.5GB and 2GB data per day. While Jio also provides bundled entertainment services, its calling minutes are restricted to unlimited Jio to Jio calling and 2,000 minutes of non-Jio phone calls, because of the interconnect usage charges that are levied on Jio calls right now. It is, however, important to note that Airtel and Jio's plans are available for any subscriber, based anywhere in India.