"Up until now, the process of setting up a group voice or video call on Android devices was way too tedious to execute swiftly"
WhatsApp for Android has received a new update that upgrades the version number to 2.19.9. The new update will be a much anticipated one, for it finally resolves the rather convoluted process that Android users had to go through for executing a group voice or video call. With the new update, members of WhatsApp groups using Android devices will also get a dedicated shortcut button to make voice/ video calls. The update for the same feature for iOS devices was rolled out about a month ago and was present on WhatsApp beta on Android so far, but is now being rolled out for all Android users.
Follow us on WhatsApp, Click to Join
Previously, to make a group call via WhatsApp on Android devices, users had to first call a fellow member of a particular group, as a one-on-one call. Once connected, a new button would then appear to add another member to the conversation, and the same procedure had to be repeated in order to add more members to a group call. In contrast, members of group chats on WhatsApp will now get a dedicated group calling button, tapping which a slide-out menu will appear, displaying names of all group members.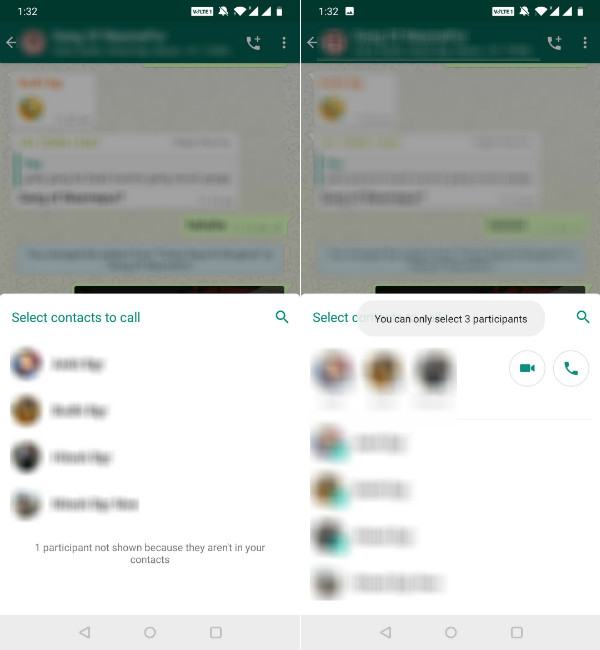 It is important to note that a group call (voice or video) can only be established with people whose contacts are already stored on your phone. Furthermore, a maximum of only three members can be selected for making a group call, although we're not entirely sure if group calling altogether is now restricted to three-way calls only. It is also important to note that while the WhatsApp v2.19.9 update has been said to be publicly available now on the Google Play Store, we could only see v2.18.x on some of our devices. A quick check on the Play Store reveals that the latest version number presently varies per device.
As a result, it appears that WhatsApp's latest version is presently seeing a phased rollout on Android devices. If your device is not getting this update at the moment, you can simply head over to the official site and update your phone to get the group calling shortcut button.