"WhatsApp dark mode has been added within the Chats section of the Settings menu, with v2.20.13 update"
After months of trial, WhatsApp has finally started rolling dark mode to Android beta testers. The update is part of the WhatsApp's latest firmware v2.20.13, which is available for download on Google Play Store. The dark mode feature is buried inside the WhatsApp settings menu, within the Chat option under 'Themes'. The feature is disabled by default and is likely to support devices running Android 8 Oreo or 9 Pie, and not just Android 10 which comes with system-wide dark mode. The WhatsApp dark mode update is currently limited to Android beta users and a public version should be released once all the bugs are fixed. There is no word when the dark mode feature will arrive for WhatsApp for iPhone and iPad users at the moment.
How to download and enable WhatsApp dark mode
The new WhatsApp update, which as stated above is available for Android beta users only, has hit the Google Play Store. In case, it's not showing, you can download the WhatsApp beta APK v2.20.13 from here and sideload the app from the phone. Since the update is in the beta form, we must warn you that it may be buggy. If you don't want to experience that, we would advise you to wait until the public version is released.
Once downloaded, follow the below steps to enable WhatsApp dark mode:
Open the app and click on the 3-dot menu on the top-right corner
In the menu, click on Settings and open Chats section
Under Chats, tap on the new Theme option and tap on Dark
If you have Dark Mode enabled on your Android phone (and not just on WhatsApp), you can also choose System default option. With this, WhatsApp will turn to Light mode when you change the phone's UI from dark to light
What does WhatsApp dark mode look like?
Talking about WhatsApp dark mode, it falls easy on eyes especially in the environment with low light. In its current beta form, dark mode is plastered across the whole WhatsApp UI, from the Chats pages to the Status and from the Calls log to all the Settings pages. Once enabled, the feature shifts the colour of the app's UI from light to a darker shade, it isn't completely black though. The hue is more towards dark grey, with white font and green tone to highlight new messages and settings. The chat boxes will also be transformed into dark grey and green hue from white and green hues in WhatsApp's Dark Theme mode.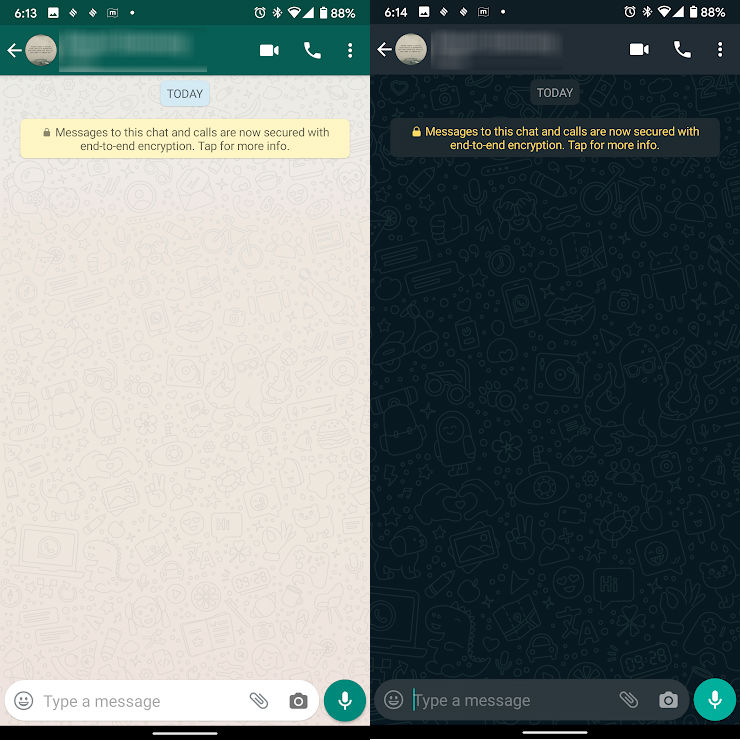 WhatsApp dark mode is a welcome change for the popular messaging app, but as mentioned above the larger user base will have to wait for the public rollout of the feature. Similarly, Android users will be waiting with bated breath for the feature to become available.