WhatsApp, the world's most popular and widely used instant messaging platform, is always in continuous development. The messaging platform continues to add new features and improve upon the user experiences to provide its users with new and intuitive ways to connect and communicate with people. Recently, WhatsApp increased the file sharing limit up to 2GB and introduce a new feature called Communities. Similar to these, Whatsapp has announced several new features coming to the instant messaging platform. In this article, we take a look at the new WhatsApp features expected to launch in 2022. We'll also take a look at the several new in-development features that have been spotted in the wild by the community. So, without further ado, let's get started.
11 new WhatsApp features expected to launch in 2022
1. Communities
Currently, Whatsapp allows users to create groups to share messages, images, videos, and more with a group of people. Soon the instant messaging platform is all set to introduce a Communities feature where users will be able to create several individual groups and bring them together under a single Community and manage it. For instance, Whatsapp says "Communities will make it easier for a school principal to bring all the parents of the school together to share must-read updates and set up groups about specific classes, extracurricular activities, or volunteer needs."
The Communities feature will also have new tools for admins including the ability to send the announcement messages to the entire groups or select groups. WhatsApp says that they are also making several improvements to how the groups feature works regardless if the user is a part of a Community or not. The company also notes that they are introducing new and improved ways to reduce overload in larger chats in groups. Hopefully, this will help users easily parse through those tens of hundreds of messages in group chats. And as always, the Community feature is protected by the end-to-end encryption technology, which makes the messages, images, videos, and any other media that you share with people, stay between you and the intended recipients.
2. Larger group size
WhatsApp is increasing the group limit to 512 people from the current allowed 256 people. The increase in limit comes as a relief for users and admins who wanted to add more people to the group chat discussions. With this WhatsApp is now one step closer to the competitor Telegram. This allows users to create groups as large as… 1,00,000 people in it using "Supergroups".
3. More Emoji reactions
WhatsApp is currently rolling out an Emoji reaction feature that allows users to react to chat messages using Emojis. Currently, the Emoji reactions are limited to just six emojis, which are: Thumbs up, Red heart, Face with tears of joy, Hushed face, Crying face, and Folded hands emojis. WhatsApp says they are adding more emoji reactions over time.
4. Ability for admins to delete unwanted messages
One of the several features coming to WhatsApp in 2022 is the ability for admins to delete certain messages in a group chat. When the Admin Delete feature rolls out to WhatsApp in the coming months, administrators of the groups will finally be able to remove problematic messages from everyone's chats at any time. Once the admin deletes the message, it'll no longer be available to any member of the group.
5. More participants in voice calls
WhatsApp has announced that the company is increasing the group voice call limit to up to 32 people. At present, only 8 people can be added to a group call. This brings the instant messaging platform closer to the other chat apps like Telegram, which has no limit on the number of people you can add to a group voice chat. It is worth noting that the limit for video calls remains the same.
6. Chat filters
WhatsApp introduced chat filters to business account users a while ago, and now according to a report from the WABetainfo, the company is working on bringing the chat filter feature to the standard user accounts. As you can see in the screenshot, once the feature rolls out users will be able to filter chats by unread chats, contacts, non-contacts, and groups. This will be a welcome addition since currently, users can only find chats by tapping the Search button in the three-dot menu and searching for individual messages. The chat filter option will make it even easier to find the desired message by filtering chat messages by groups and criteria.
7. Companion Mode for multi-device sync
It looks like WhatsApp is going to add a multi-device sync feature called "WhatsApp Companion Mode," which will allow users to link a secondary mobile device to their WhatsApp account, including tablets. As of now, users can only link the existing WhatsApp account to a desktop. The above screenshot reveals more details about how the Companion Mode feature is going to work when it releases. Users will be able to access the WhatsApp account on multiple devices. The report also indicates that if the user decides to switch to the Companion mode and tries to connect a registered WhatsApp account to a new device, all the existing local data including chats and media will be erased and the user will be switched to the new WhatsApp account. According to WABetainfo, Companion Mode will be available for iOS devices as well.
8. Polls
It looks like users will get the ability to create polls on WhatsApp in a future update. As you can see in the screenshot, users can create group polls and add up to twelve options to them. A similar feature has been spotted in the WhatsApp desktop client as well. Seems like WhatsApp is widely testing the Group Poll feature. It is unfortunately unknown when this feature is going to land on the stable version.
9. Quick reactions to status updates
As you can see in the screenshot from WABetainfo, the instant messaging giant is working on a feature where you can react with emojis on status updates. The Emojis you can react with include: Smiling Face with Heart-Eyes, Face with Tears of Joy, Face with Open Mouth, Crying Face, Folded Hands, Clapping Hands, Party Popper, and Hundred Points. When the feature rolls out officially, WhatsApp might decide to add more Emojis to the list.
10. More time limit for deleting sent messages
WhatsApp currently allows you to delete the sent messages within the time limit of 1 hour, 8 minutes, and 16 seconds. But, it seems WhatsApp might be planning to increase the time limit to up to 2 days and 12 hours. It is worth noting that, according to previous reports, WhatsApp was planning to increase message delete the limit to up to a week, but seems like it has changed its mind and settled on a more reasonable 2 and a half day limit. As of now, we don't know when the company plans to officially change to this new time limit for deleting chat messages.
11. Profile photos in message notifications
WhatsApp is also working on a feature where message notifications will include the profile pictures of the sender. As you can see in the screenshot, when you receive a message from your contacts or groups, the notification will have the profile photo on the lock screen as well as the notification centre. The feature may not seems like a huge addition, but it'll make it easier to quickly identify who has sent the message without ever needing to open WhatsApp.
12. WhatsApp logout
WhatsApp logout will replace the 'Delete Account' button and support the upcoming multi-device feature. As per a report of WaBetaInfo, which keeps a track of WhatsApp updates, the app will finally bring in a logout option for its users. The option will allow users to log out of WhatsApp accounts from their devices, just like Facebook and other social networking apps. The feature was recently spotted on the new beta version of WhatsApp and is said to roll out to both iOS and Android versions of the app soon. The WhatsApp logout feature is likely to allow people on the app to use their accounts on multiple devices at the same time.
13. Instagram Reels on WhatsApp
WhatsApp to get the Instagram Reels section going forward. The feature will reportedly allow users to watch Instagram Reels directly from the messaging app. This could be a part of WhatsApp's integration plan with other Facebook-owned apps. For those unaware, Instagram Reels is the short video feature, which was added to the picture-sharing app last year after the government banned TikTok.
14. Read later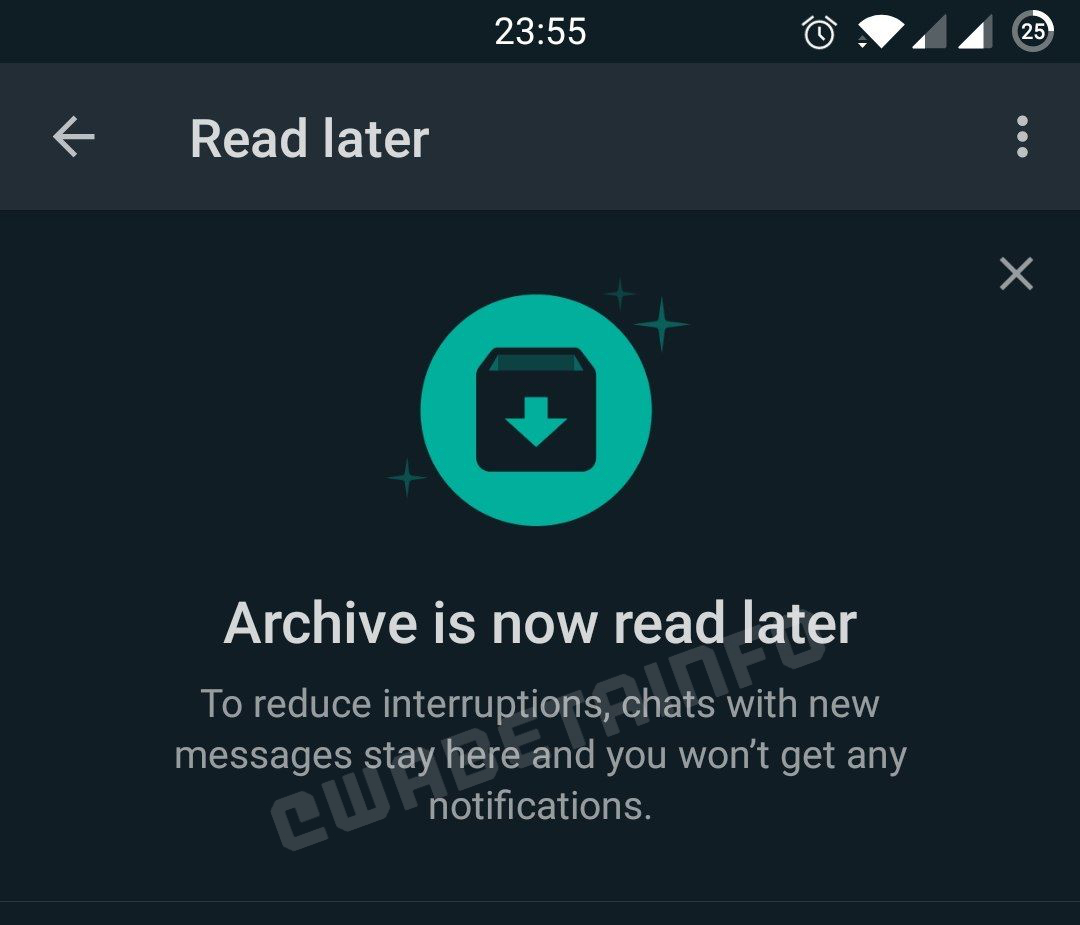 'Read later' is said to be an improved version of the existing Archived Chats feature on WhatsApp. When a chat is moved to read later, WhatsApp won't send notifications for that chat. Additionally, the feature will include a 'vacation mode', which will ensure that the 'read later' chats work the same way as archived chats on the current stable version. Read later will also come with an edit button for users to customise settings. WhatsApp users will also be able to select multiple chats at once to quickly unarchive them.
15. WhatsApp Insurance
You'll soon be able to buy insurance via WhatsApp in India. The Facebook-owned messaging platform is set to roll out health insurance and micro-pension products on its messaging platform in India through tie-ups with licensed financial services players. Initially, WhatsApp will sell SBI General sachet-health insurance cover and HDFC Pension schemes via its platform.
So, these were some of the features that WhatsApp seems to be working on for 2022. As noted above, WhatsApp is continuously in development and the instant messaging platform constantly tests new features, some make it to the stable version of WhatsApp and others get shelved. But we hope some of the more useful features stick around and land in the stable version.