"Not all sections of the app are darkened yet, as the group chat info section is still white as usual"
WhatsApp is known to be working on a dedicated night mode for quite a long time, and despite being spotted in many beta builds, we still don't have a timeline for the feature's public release yet. Last week's beta update for Android offered us a glimpse at a working Night Mode along with a revamped emoji layout and 155 redesigned emojis. Now, WhatsApp for Android is receiving yet another beta update with version number 2.19.145. While it doesn't bring any significant changes or new additions, it does offer an even closer look at the Night mode, as spotted by noted WhatsApp tracker WABetaInfo.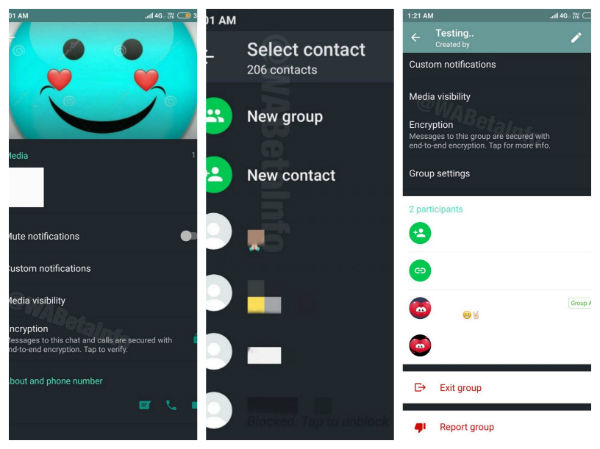 However, the feature — first spotted by WABetaInfo — is still in development phase and isn't available for users to try just yet. Screenshots of the night mode suggest that not all sections of the apps are darkened, as the group chat info section is still white as usual. But the contact picker and contact info sections seem to be ready. WhatsApp Night Mode doesn't seem to be completely dark; instead, it bears a deep grey colour scheme, similar to Twitter's 'dim mode.' But then again, since the feature is still in development, it could change to completely dark when it releases.
WhatsApp recently added a new emoji layout and 155 redesigned emojis. The new emoji layout will be available for everyone with the next stable update for Android as well as the Web. Out of the 155 emojis, some are fully redesigned, while others get small design tweaks. It also removed the ability to save profile pictures of contacts. However, users can still save group icons as usual.