Highlights
WhatsApp Pay is finally rolling out to all users in India
The payments option will be available in ten Indian languages
WhatsApp Pay will be available for both Android and iOS
After testing it with around 1 million users in 2018, WhatsApp has finally started rolling out WhatsApp Pay for all users in India. The Facebook-owned company says its UPI payments solution is secure and makes it easy for anyone to send money. WhatsApp Pay will be available in ten Indian languages and is rolling out via a stable update for Android and iOS. Like with Google Pay and others, WhatsApp Pay is built based on UPI. National Payments Corporation of India (NPCI), the body that operates UPI payments infrastructure, said that WhatsApp can expand its payments service to users in a graded manner — it can start with 20 million users only and will need to work with multiple banking partners. WhatsApp mentioned it is working with five leading banks – ICICI Bank, HDFC Bank, Axis Bank, State Bank of India, and Jio Payments Bank.
How to send money on WhatsApp
To send money on WhatsApp, open a chat to whom you wish to make a payment
Click on the 'attachments' icon present beside the camera icon on Android or the 'plus' icon on iOS
Select the 'Payment' option and choose your bank account. WhatsApp Pay has over 160 supported banks.
Next, you will have to verify your account using your mobile number
This will set up your WhatsApp payment. But to send money, the recipient will also need to set up their payment as well
After both you and your friend have added your payment information, you will be able to send and receive money on WhatsApp. Enter the amount you wish to send and authenticate through UPI ID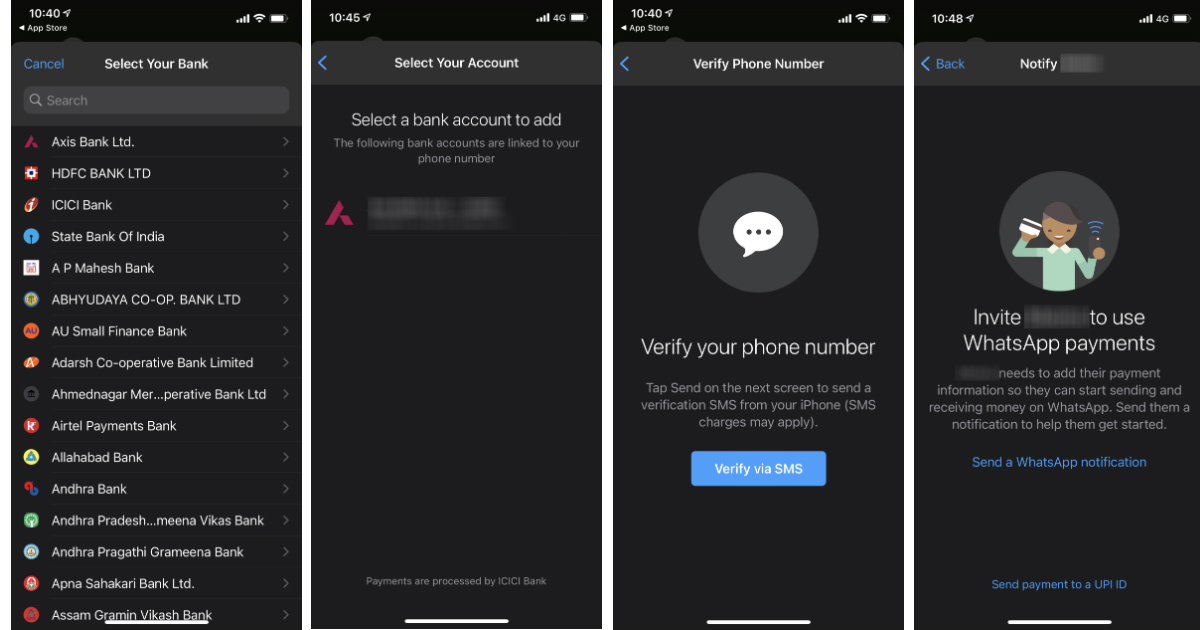 Despite rolling out in India in early 2018, WhatsApp Payments ran into troubles as concerns were expressed over the payments data and whether Facebook-owned service had an advantage over other payment apps. Interestingly, NPCI yesterday put a cap on third-party apps, ensuring no single app can process more than 30 percent of all UPI transactions in a month. This could hurt WhatsApp payments in the long run despite having the largest active user base in the country – over 400 million active users. Initially, however, WhatsApp Pay is expected to see a faster adoption rate compared to rivals since it is embedded in the chat service that is used widely on a daily basis.