"WhatsApp 'Disappearing messages will be available for group chats but should make its way to private messages as well"
WhatsApp for Android received a new V2.19.275 beta update, and while it didn't bring any changes to the table, it hints of a new Snapchat-like feature. According to noted WhatsApp tracker WABetaInfo, the social media giant is said to be working on a 'Disappearing Messages' feature. As the name suggests, messages will be automatically deleted from the chat when it is enabled. Since it's still a work in progress, the feature isn't accessible at the moment. But once rolled out, it will be available for group chats, for now, but, it should make its way to private messages as well down the lane.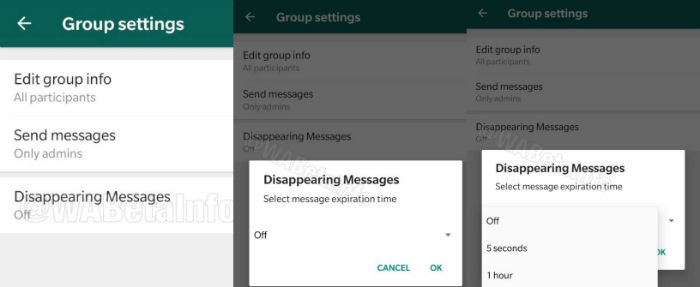 Furthermore, the screenshots suggest that the user will have to choose setting for the messages beforehand, meaning either all the messages would disappear or none of them will. There's also an option to set the expiration time for the messages, choices being five seconds or an hour. However, a timeline for the roll-out of this feature isn't revealed, but we hope to learn more about the feature in the forthcoming beta updates.
WhatsApp's recent beta update for Android added 'Muted Feature' that completely hides status updates that the user has muted. Prior to this, users were only able to partially mute the status updates, as they would still surface at the bottom in the Status page on the app. Now, with this change, the muted status won't appear anywhere. However, if you wish to see the muted messages, you can do that by tapping on the 'Down arrow' button.