"The WHO MyHealth app is being built as an open-source app, and is being developed by a group of volunteers called the 'WHO COVID App Collective'."
The World Health Organisation is progressing steadily in its role in our battle against the coronavirus pandemic, but contributing to medical research is not the only role that it plays. Due to the global nature of the pandemic, there are plenty of misinformative articles on the internet about COVID-19, which can potentially create significant confusion around the viral disease's symptoms, cures and recommended practices. In a bid to primarily tackle this, the WHO, led by a team of volunteers that are experts in a variety of fields, is launching a new app for Android, iOS and the web. The app is called WHO MyHealth.
The team of volunteers that have come together for this project is formally known as the 'WHO COVID App Collective', and has former employees of Google and Microsoft, advisors and brand ambassadors of the WHO, and other relevant industry experts as well. In a report by 9to5Google, which managed to get their hands on an early, work in progress version of the app, which revealed that it is largely the standalone app version of the automated chatbot service that it recently launched on WhatsApp.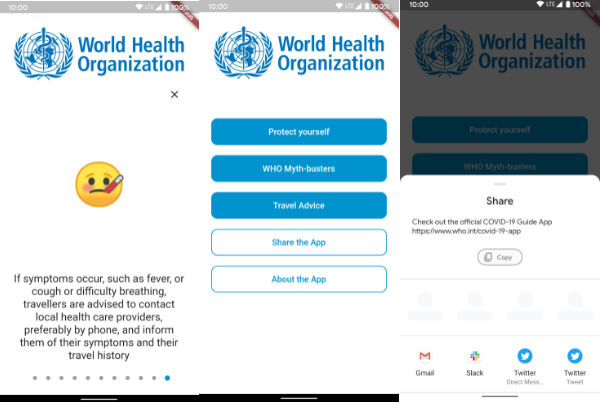 There is bound to be some overlap of features, since both the WhatsApp helpline and the standalone app would be aiming to curb misinformation, offer an official source of information, collate reportage on COVID-19, offer the latest numbers, list down symptoms and offer self-evaluation tools for individuals to check whether they are showing one or more of the symptoms that are typical to COVID-19. The report goes on to state that WHO's app also has plans to ask for access to a user's device location, as well as their location history, to perform 'contact tracing' — something that even the Indian government is believed to be working on, with its upcoming CoWin-20 app.
This feature, however, will be controversial, since there are obvious privacy concerns in gaining access to a user's historic location data, and while the WHO may be a trusted source, there is no guarantee that cyber attackers will not attempt to infiltrate this information and exploit it at a later date. The WHO MyHealth app is also going to be offering location-specific information and updates about the coronavirus outbreak, making it an all-encompassing app that should remove the need for anyone to rely on unverified information sources.