Highlights
Xiaomi has been blacklisted by the US Department of Defense
US investors will no longer be able to invest in the Chinese tech company
Xiaomi is not in the same position as Huawei though and will continue to have access to Android
Xiaomi Corporation has been branded a "Communist military company" and blacklisted by the Donald Trump-led US government. In addition to Xiaomi, the US Department of Defense (DOD) has also blacklisted 8 other Chinese companies including China's third-largest oil company as well as the state-owned Commercial Aircraft Corp. of China (COMAC). Xiaomi is one of China's biggest consumer technology companies and competes with telecom giant Huawei for the title of the No. 1 Chinese mobile device brand. While Xiaomi does not sell any smartphones in the US as of now, it does sell internet-connected air purifiers, security cameras, plugs, TV streaming sticks, bulbs, and more in the country.
Here are the top 10 things you need to know about the US government's decision to blacklist Xiaomi: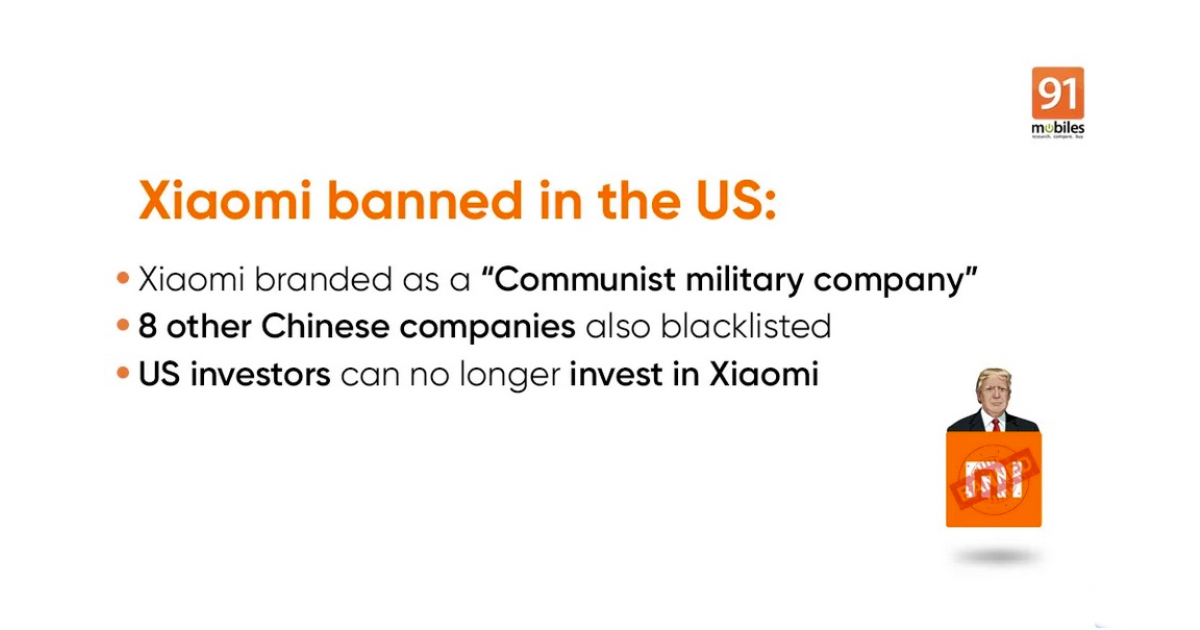 The US Department of Defense claims Xiaomi — along with the other 8 companies — is part of China's 'Military-Civil Fusion development strategy', through which the People's Liberation Army (PLA) uses the advanced technologies and expertise acquired and developed by civilian PRC companies, universities, and research programs.
According to an executive order signed by outgoing US President Donald Trump in November last year, US investors will no longer be able to invest in Xiaomi and the other eight companies. Not only are people banned from purchasing new securities and shares of these companies, but those with existing holdings will also have to divest the same by November 11th, 2021. The November order states China is "increasingly exploiting United States capital to resource and to enable the development and modernisation of its military, intelligence, and other security apparatuses, which continues to allow the PRC to directly threaten the United States homeland and United States forces overseas."
Xiaomi currently receives a large amount of investment from US-based companies, including Qualcomm Inc, which is one of the world's largest smartphone chipset suppliers. The Chinese company recently worked closely with Qualcomm on the Xiaomi Mi 11 – which was launched in China late last month as the world's first commercial phone with the Snapdragon 888 5G chipset.
Xiaomi shares plunged 11 percent on Friday following the announcement. Unless the US government reverses the blacklisting, the company risks being deleted from US exchanges as well as global benchmark indexes. With just a week left before President-elect Joe Biden's administration takes power, there is hope that the decision to blacklist Xiaomi might be reversed.
The US DoD defines Communist military companies as "any person identified in the Defense Intelligence Agency publication numbered VP-1920-271-90, dated September 1990, or PC-1921-57-95, dated October 1995", as well as "any other person that – (i) is owned or controlled by the People's Liberation Army and (ii) is engaged in providing commercial services, manufacturing, producing, or exporting."
This is not the first time the US government has blacklisted Chinese companies for having ties with the Chinese military. To date, the US Department of Defense has blacklisted over 60 Chinese companies including Chinese smartphone and telecom giant Huawei, China's largest chipmaker Semiconductor Manufacturing International Corp. (SMIC), security systems and IoT solutions manufacturer HikVision, and China Electronics Corporation, which is amongst the largest producers of telecom equipment in China.
It must be noted that Xiaomi's situation is different from the one faced by Huawei. Xiaomi has not been added to the US Commerce Department's Entity List, which is a trade blacklist restricting a company's access to items produced domestically and abroad from US technology and software. If Xiaomi were to be placed on the Entity List, the company would be banned from conducting any business with US-based companies. In addition, any company using hardware and software developed in the US will also be subject to a trade ban with Xiaomi. Due to its inclusion in the list, Huawei lost access to Google's services including the Google Play Store, YouTube, Gmail, and even future Android updates for existing smartphones. It also lost the ability to design ARM-based chips and sell Android-based smartphones internationally. The move also forced Huawei to sell HONOR to a consortium of companies in order to save its supply chain.
The eight other companies banned by the US Department of Defense in the latest order include Advanced Micro-Fabrication Equipment Inc., Luokong Technology Corporation, Beijing Zhongguancun Development Investment Center, Grand China Air Co. Ltd., Global Tone Communication Technology Co. Ltd., China National Aviation Holding Co. Ltd., and Commercial Aircraft Corporation of China, Ltd., and GOWIN Semiconductor Corp.
A US Department of Defense press release stated: "The Department is determined to highlight and counter the People's Republic of China's (PRC) Military-Civil Fusion development strategy, which supports the modernisation goals of the People's Liberation Army (PLA) by ensuring its access to advanced technologies and expertise acquired and developed by even those PRC companies, universities, and research programs that appear to be civilian entities."
In a statement, Xiaomi said it "has been in compliance with law and operating in compliance with the relevant laws and regulations of jurisdictions where it conducts its businesses. The company reiterates that it provides products and services for civilian and commercial use. The company confirms that it is not owned, controlled, or affiliated with the Chinese military, and is not a 'Communist Chinese Military Company' defined under the NDAA. The Company will take appropriate course of actions to protect the interests of the company and its shareholders. The company is reviewing the potential consequences of this to develop a fuller understanding of its impact on the group. The company will make further announcements as and when appropriate."
Read more
:
What does the US ban mean for Huawei, and more importantly, for Indian smartphone buyers