"Xiaomi's foldable flip phone design includes dual camera setups on both the front and back, as well as a small cover display to show notifications, time, etc"
Moto razr is the Lenovo-owned company's latest foldable phone that folds vertically, thanks to its flexible flip display, similar to the iconic design from 2004. Samsung is also actively working on another foldable phone with a similar flip design, as teased at SDC 2019 conference. But nothing much is known about the handset yet. Now, amidst all this, Xiaomi also seems to be planning on launching a foldable phone with the same flip design. The Chinese brand has been granted a patent by the CNIPA (China National Intellectual Property Administration) for a vertically folding phone; the patent was filed back in August 2018 and was issued and published recently.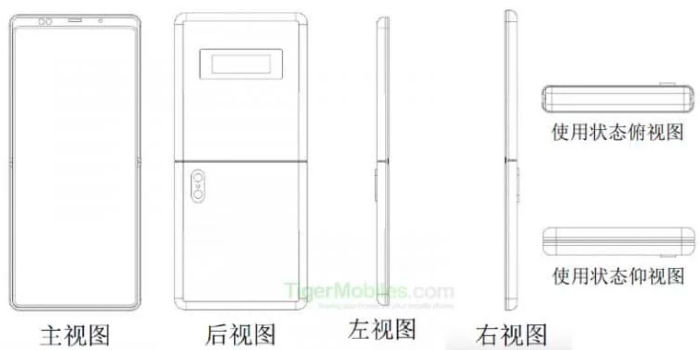 The patent sketches show the phone has a small display at the top when it's folded. It's possible the small screen would display caller ID, notifications, time, and more. On the other side, there are vertically-arranged dual-rear cameras. When unfolded, the primary display seems to have dual selfie cameras, earpiece, and extremely slim bezels on the sides as well as the bottom. Unlike the Motorola razr, there is no notch at the front. There is no visible cutout for a fingerprint sensor; this means it should either be present in-screen or the side. Since the design is just in the patent stage currently, there's no way to tell if Xiaomi would ever implement the design and launch a flip smartphone.

Xiaomi earlier this year showed off a working prototype of a dual-folding smartphone, but hasn't launched it so far. It folds outward on both the left and the right side and comes with a 3:2 aspect ratio. The prototype was seen running on MIUI skin atop the Android OS and interface seems to be well optimised for the foldable form as the content seamlessly scaled itself when the phone is folded. The two folded sides move to the back when folded.