"A new Xiaomi foldable phone patent shows a design with a pull-out display suggesting a rollable screen"
Xiaomi is yet to launch its first commercial foldable phone, but it did tease a concept phone back in January. The company later introduced the Mi MIX Alpha with a surround screen and 180.6 percent screen-to-body ratio, but it isn't a foldable phone technically. Now, Xiaomi has granted a new patent design, as discovered by the LetsGoDigital. The patent was applied back in 2018, and the sketches reveal a pull-out display with a sidebar that has a form factor of a tablet. This means a normal-sized Xiaomi phone can be pulled from the left spine and roll out the display further. The design is something similar to an LG patent.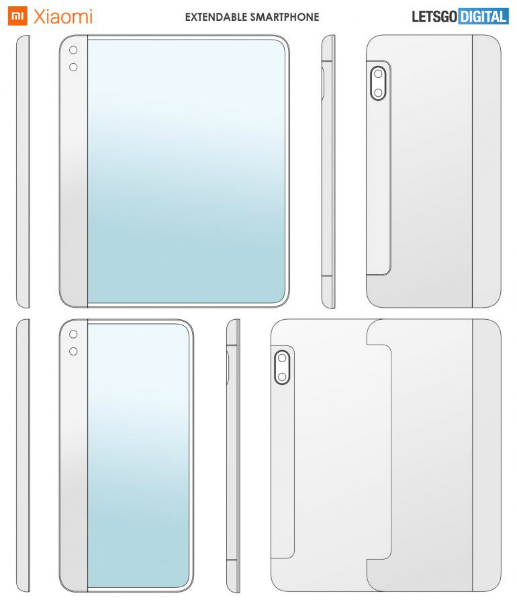 The dual rear cameras are present on the pull tab at the back, while the front cameras are present on the sidebar, a similar arrangement to the rear camera placement on the Mi MIX Alpha. Since it's in the patent stage at the moment, there's no way to tell if Xiaomi would actually implement it on a commercial phone and launch it widely. It's a common practice for brands to patent newer smartphone designs and never launch them.
Separately, Xiaomi recently patented another unique design with a secondary display at the back and another foldable design that is similar to the Motorola Razr 2019. The secondary screen isn't nearly as big as the Vivo NEX Dual display or the Nubia Z20. It is placed on the other side of the camera housing and seems to be in symmetry. The small screen could surface caller ID and notification alerts when the phone is placed face down. One can expect music playback controls and also work as a viewfinder to click selfies.
As for the clamshell foldable phone, Xiaomi has added a motorised panel at the top, which could serve as a front camera when folded and primary sensors when opened up. The motorised flip-out camera module isn't easy to achieve, considering it takes up a fair bit of space to operate, and this would add bulk.