Highlights
Xiaomi's CEO Lei Jun teased an RMB 10,000 (about Rs 1.12 lakh or $1,500) phone on Weibo
He asked fans what should it look like and whether they would be interested in buying such an expensive device

Current Xiaomi flagship Mi 11's high-end variant is priced at RMB 4,699 (~Rs 52,900)
Should Xiaomi launch an RMB 10,000 (around Rs 112,900 or $1600) phone and what should it look like? And, more importantly, would you buy it? That's what the company's CEO Lei Jun asked fans on Weibo. Mi 11, the current Xiaomi flagship, starts at RMB 3,999 (~Rs 45,000) and goes all the way up to RMB 4,699 (~Rs 52,900), which is significantly lesser than the suggested RMB 10,000 price tag. While the company is rumoured to be working on an alleged Mi 11 Ultra, its price likely will be only slightly higher than the standard Mi 11's. Since Xiaomi is rumoured to be actively working on a foldable phone for some time, so there's a pretty good chance the CEO might be hinting at its arrival.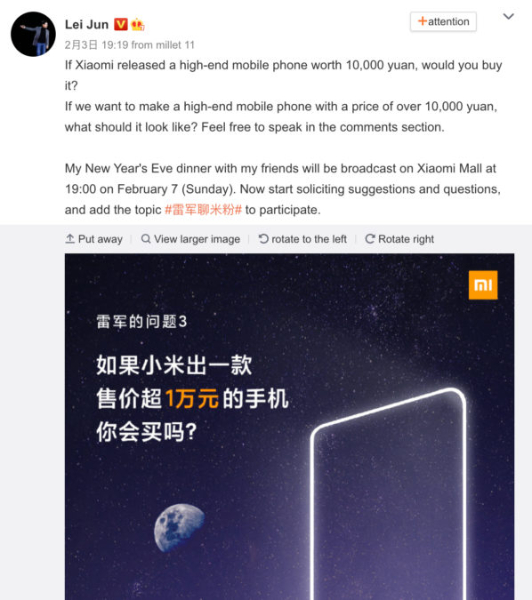 However, there's a possibility that Xiaomi wants to see users' reactions before jumping the foldable bandwagon as it will be a totally new price demographic for itself and its users. Considering the company is popularly known to offer 'affordable and budget' phones, it only makes sense for it to see how the fans would react if it forays into the ultra-premium smartphone segment. Xiaomi has been trying to wash away the 'budget smartphone maker' image globally for some time and introduced the Mi 10 and Mi 10T series in India with premium price tags to that effect. However, the reception to those devices seems to be only decent at the moment.
In the past, Xiaomi showed off the Mi MIX Alpha with a wraparound screen, an impressive 180 percent screen-to-body ratio, a vibrating display for speaker, and pressure-sensitive virtual buttons. Though the phone never went on sale, it had a price tag of RMB 19,999 (roughly Rs 225,800) in China. It's possible Xiaomi could launch its foldable phone under the Mi MIX branding and it may have an open-close design like a book. We expect to learn more details about the company's so-called RMB 10,000 phone if it's actually in the works on February 7th, the Chinese New Year.