"While Xiaomi leads the wrist band market, Fossil and Apple lead the smartwatch and ear-wear segment, respectively"
A new report from the International Data Corporation (IDC) is out now, which reviews the wearables market in India. According to the report, the wearables market in the country saw a growth of 168.3 percent in 2019 compared to last year. Over 14 million units of wearables, including wrist bands, smartwatches, and ear-wear, were sold in 2019. The Worldwide Quarterly Wearable Device Tracker for 4Q19 also reveals some other interesting facts about the market in India.
The market is currently dominated by basic wrist fitness bands, which leads all wearables with a 96.2 percent share. Smartwatches come second, and own 3.8 percent of the market. The ear-wear category saw a 77.5 percent increase when compared to last year and shipped over 8.5 millions in total. In comparison, the wearable category only saw shipments of 5.1 million, with wrist bands account for 1.5 million of those units.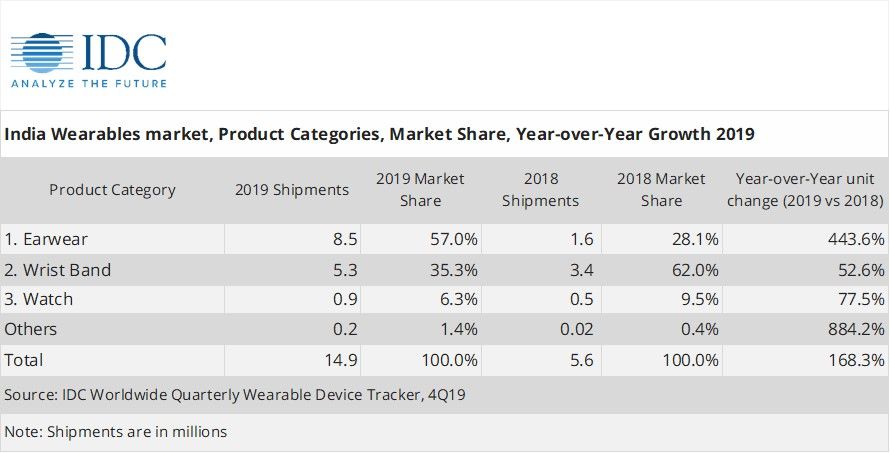 The wrist band segment saw double-digit growth compared to last year and was lead by Xiaomi. The Chinese manufacturer has the popular Mi Band series under its belt, which sells like hot cake. Xiaomi's market share is currently at 48.9 percent and has grown 54.7 percent since 2018. Titan managed to gain 14.5 percent share and grabbed the second place.
Coming to smartwatches, about 933,000 units were shipped in 2019. This category was lead by Fossil, who managed a 30.3 percent share. It was followed by Apple with 26.6 percent share. In the budget smartwatch category, Huami's Amazfit brand was the leader. Next up, the earwear segment, which includes wireless headphones, earphones, truly wireless buds, saw a massive 443.6 percent growth last year. It was one of the fastest-growing consumer electronics in India.
Local brand boAt Lifestyle was the market leader with 27.3 percent share. The company has affordable Bluetooth headphones and is available across multiple online and offline stores. In the truly wireless category, Apple continues to hold the top spot thanks to its AirPods. The company has a 43.1 percent market share in this segment. Overall, it is interesting to see the growth of wearables in the country, especially in the wireless headphones market.