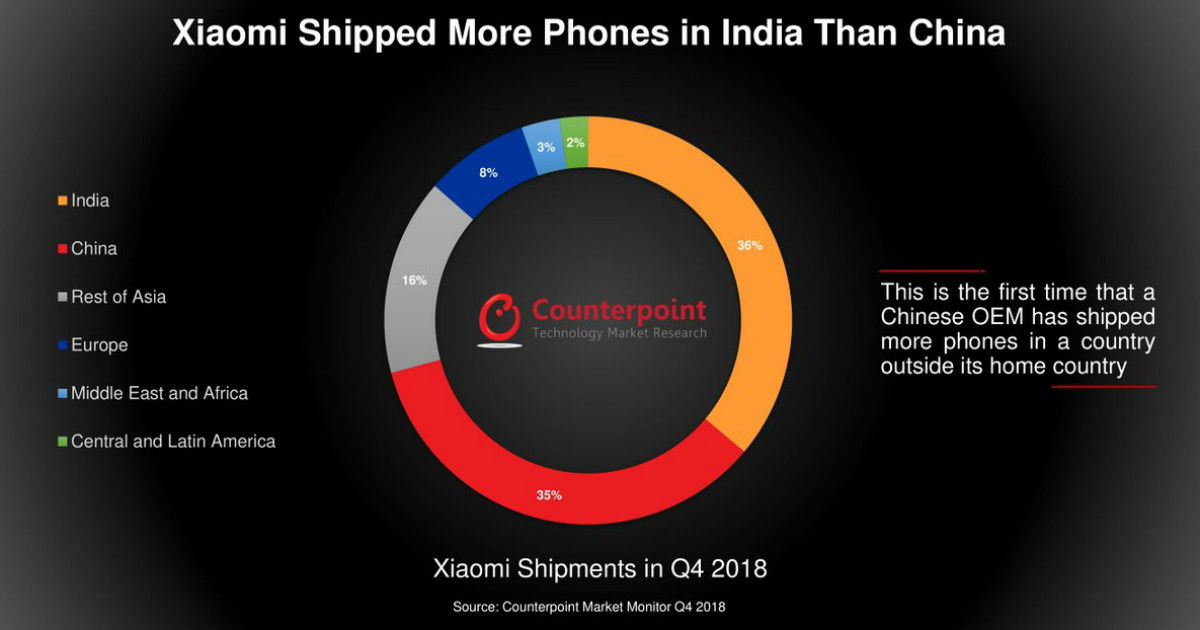 "Xiaomi's Q4 2018 shipments show India surpassing that of China, the company's home ground and regarded widely as the world's biggest electronics market"
A statistic shared by Counterpoint Research has revealed an interesting development – a Chinese OEM has shipped more phones to a particular nation outside of its home market, China. The statistic reveals Xiaomi, India's leading smartphone vendor, as having shipped more of its devices to India than within its home country in Q4 2018. The two markets, widely hailed as among the largest consumer markets in the world, accounted for 71 percent of all Xiaomi smartphones shipped globally, with India getting 36 percent of all devices.
Xiaomi is presently India's largest vendor in terms of shipments, holding a considerable lead in terms of its market share. Earlier this week, an IDC report revealed figures for the Indian smartphone market for 2018. Not only did Xiaomi usurp the number one market spot held for a long time by Korean electronics giant Samsung, it even outran the competition by a sizeable margin. As per that statistic, Xiaomi saw a 58.6 percent increase in device shipments, raising its market share to 28.9 percent of the Indian market. In contrast, Samsung fell from its market-leading 24.7 percent share to 22.4 percent despite a gradual increase in shipment numbers.
Trendpoint to note!@XiaomiIndia becomes the top market for @xiaomi even bigger than China in Q4 2018, first time for any Chinese brand.

It showcases the importance of India market, Xiaomi's strong performance here but weakness in home market China.https://t.co/wcCohAbPVZ

— Neil Shah (@neiltwitz) February 14, 2019
Xiaomi's meteoric rise in the Indian smartphone market has been widely reported and studied at every quarter of 2018. The company has seen runaway success with a number of its devices, particularly concentrated in the sub-Rs 20,000 market segment. Devices such as the Mi A1, Mi A2, the Redmi Note 5 series, Redmi Note 6 Pro, and budget Redmi devices have heavily contributed to a massive rise in shipments for Xiaomi. Its sub-division, POCO, has also contributed its part to these numbers.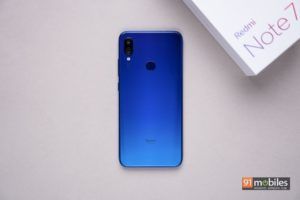 The Chinese OEM responded to its massive user base in India by bringing in a wider selection of electronics, such as the Mi TVs, Mi air purifiers, Huami smart wearables, the Mi smart shoe, and more. It has also dabbled into the offline electronics industry of India via its Mi Stores, most of which it has, for the time being, set up in metropolitan hubs. Eventually, the company will aim to create a robust network of offline stores to cater to an even wider audience base. It's already-established reputation in India further aids its case of growth in business, and will be a cause of concern for companies such as Samsung, which has long held a position of overall dominance in India.
It is interesting to note that despite global slowdown in shipments and sales of smartphones, the Indian market has been providing consistent growth. This makes it a market worth focusing on, and the onslaught of Chinese OEMs such as OPPO, Vivo, and OnePlus appear to be milking the opportunity to the fullest with steadily increasing sales and shipments in the country.