"The Xiaomi Mi 8 is speculated to be the 8th Anniversary Special Edition smartphone for the brand"
Xiaomi recently sent out the media invites for its upcoming 2018 Annual Product Launch event and the brand is expected to announce the 8th-anniversary edition Xiaomi Mi 8 at the event. Earlier today, the alleged retail box and the front panel of the
smartphone was spotted as well. Now, a new video has turned up on Weibo and allegedly shows the under-display fingerprint scanner on the handset in action.
In the leaked video, a user is seen unlocking the Xiaomi Mi 8 by touching the display on the smartphone. The fingerprint scanner invokes a similar animation when touched as the Vivo X21 UD, which was launched in China earlier this year. Notably, in the past, a leaked firmware revealed that Xiaomi might be launching a smartphone with an under-display scanner and it could be the Xiaomi Mi 7 Plus. However, we now have all the reasons to believe that the firmware could belong to the Xiaomi Mi 8. A previous report also revealed that Xiaomi might use sensors from either Synaptics or Goodix.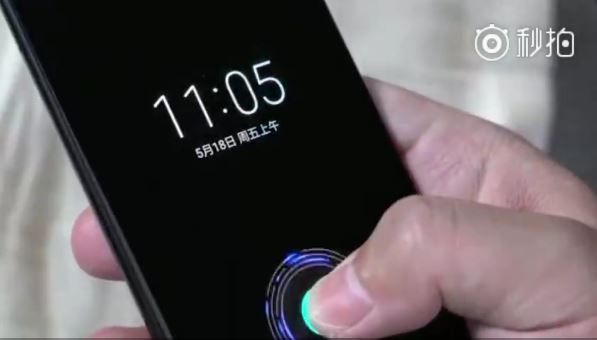 Previous reports have hinted that the smartphone might come with a Qualcomm Snapdragon 845 processor, and a beefy 4,000mAh battery. The handset is expected to flaunt an OLED display with a notch at the top. The Xiaomi Mi 8 is rumoured to be equipped with 3D face recognition and the leaked front panel from earlier today revealed the 3D module for all to see. As of now, no other details regarding the upcoming smartphone is known.
We suggest you take this leaked video with a pinch of salt since it's merely a speculation at this point. We will bring you more updates about the Xiaomi Mi 8 whenever they turn up, so stay tuned.