"According to screenshots of the feature, 3D Air Gestures will add four presets that users can use to create gestures with and access apps"
Xiaomi has reportedly rolled out a new feature with its MIUI beta for the Mi 9 flagship smartphone in China. According to several posts across the internet, the new feature is dubbed 3D Air Gestures and offers a new way to open apps. This may be released on the stable MIUI build to make using Xiaomi's phones more interesting. Of course, this would be subject to how interesting you find gesture operations to be, since for many the usage of gestures often seem more tedious than helpful.
As described in a post by XDA Developers, 3D Air Gestures will allow users to launch apps on Mi 9 units running the latest MIUI beta by drawing C, M, W or Z in the air. While drawing C launched the camera app, W was configured for TikTok. To access the gesture, the home screen must be unlocked already, on a phone that Xiaomi decides to roll the feature out to. In the screenshot shared by XDA from the Chinese MIUI beta interface, the description reads, "Draw a pattern in the air with your phone to open an app. Open your Home screen and draw one of the patterns in the air with your phone to open selected apps."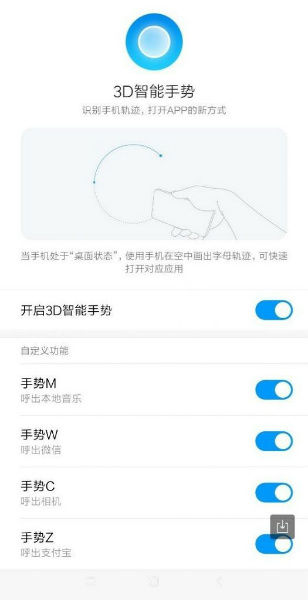 From videos shared by users on Twitter, the feature appears to have been integrated fairly well on to the MIUI Chinese ROM. The feature likely uses the gyroscope and accelerometer in the Mi 9 to enable recognition of the said gestures, and given that these two sensors are present on pretty much any smartphone, Xiaomi may even choose to introduce it in other smartphones as well. It is also likely that while the number of presets would remain constant, each of the gestures would be user-configurable, so as to allow users to customise what apps they wish to access via these gestures.
While the idea of using gestures as quick shortcuts to access apps has been around for some time, many gestures have been seen to not work properly, or consistently. Furthermore, seeing that the homescreen is to be unlocked before any of these gestures come in effect, it becomes counter-productive to use gestures when a simple tap would suffice. It remains to be seen how Xiaomi implements this feature in its stable build and whether they aim to solve any accessibility issue with the 3D Air Gestures than have them as mere cosmetic features that work as a neat gimmick.