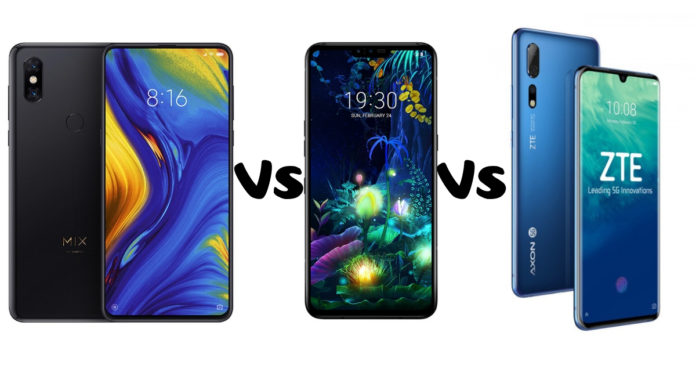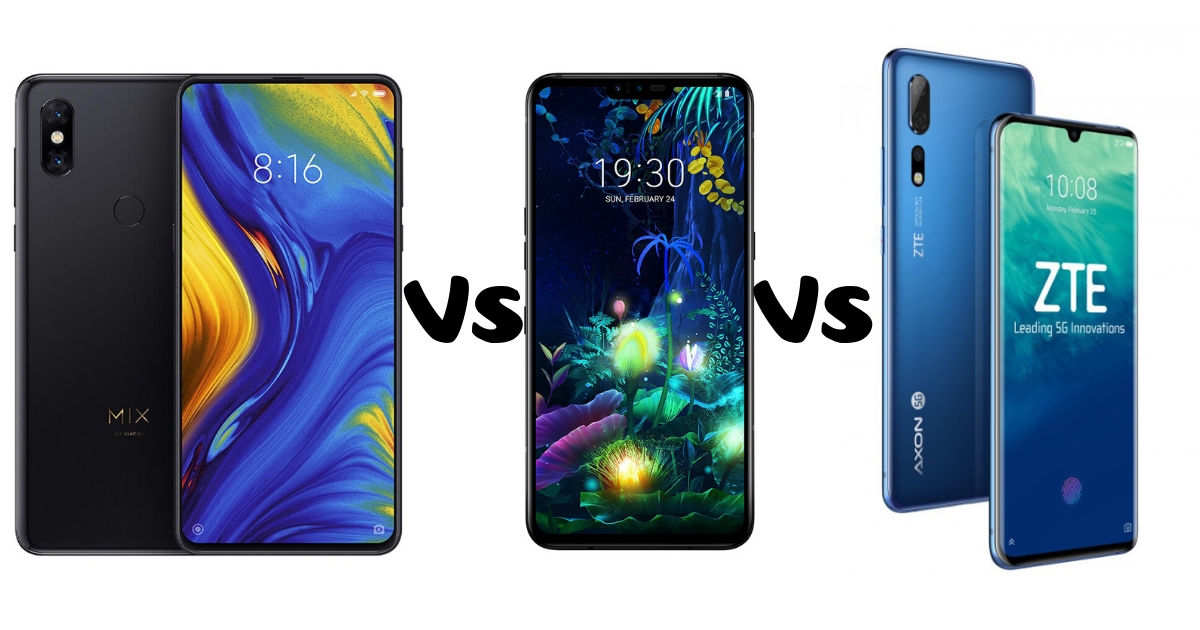 There are two answers to the question, "what's the buzzword at this year's MWC?" – one is foldable phones and the other is 5G phones. The latter is a new wireless data standard on the verge of being deployed in major markets, and manufacturers are hence running from pillar to post to quickly put forth the devices to take advantage of it. 5G phones in 2019 will provide ultra-fast download speeds to consumers thanks to their advanced hardware. Three new such phones have been unveiled at MWC 2019, namely Xiaomi Mi MIX 3 5G, LG V50 ThinQ, and ZTE Axon 10 Pro 5G. Let us give you a detailed comparison of them.
Xiaomi Mi MIX 3 5G vs LG V50 ThinQ vs ZTE Axon 10 Pro 5G price
For the time being, the Xiaomi Mi MIX 3 5G is only meant for sale in Western Europe. When it's released this May, it will cost €599 which comes to about Rs 48,999. The LG V50 ThinQ price hasn't been announced unfortunately, but we can expect it to retail somewhere around $900 (around Rs 63,700) since that's also the price its predecessor had launched with. The ZTE Axon 10 Pro 5G has only partly been revealed, so this another model without a price tag.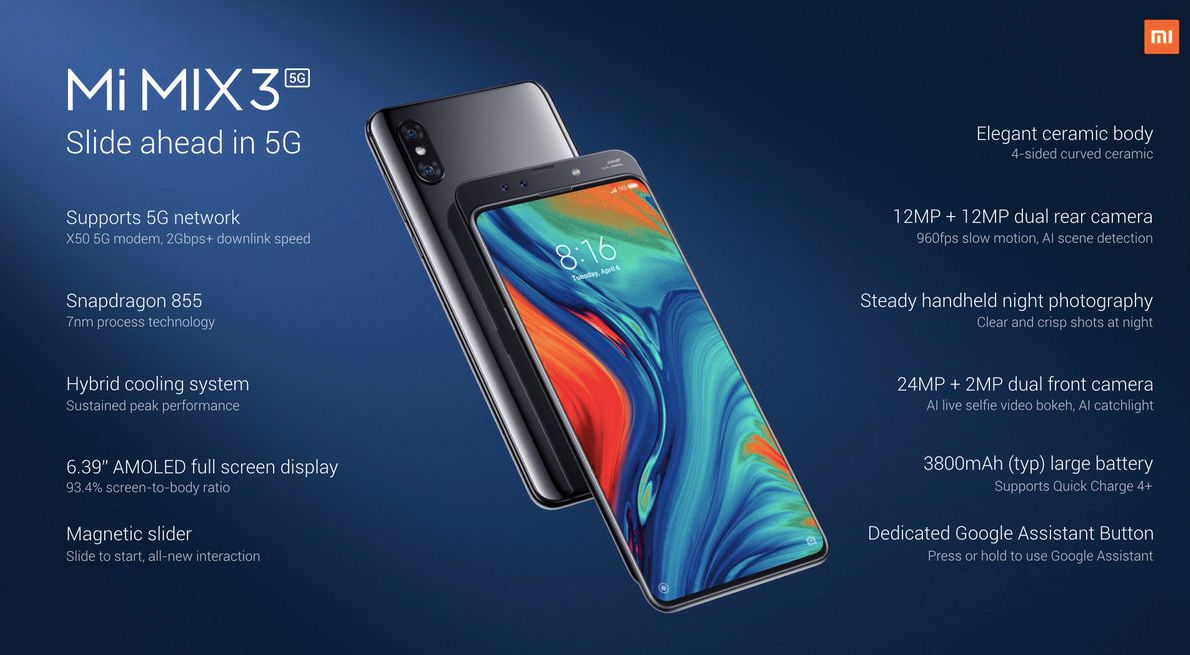 Xiaomi Mi MIX 3 5G vs LG V50 ThinQ vs ZTE Axon 10 Pro 5G specifications
The Xiaomi Mi MIX 3 5G has the same design as its non-5G model. You get a slider mechanism that hides the front camera apparatus. When you need to click a selfie, you just need to slide the display down and you're good to go. This has of course been done to ensure the display covers the entire fascia. Another unique aspect of this phone is that it features coloured ceramic material on its back surface. The other phones have glass rear surfaces. The V50 ThinQ's display has a traditional notch, while the one on the Axon 10 Pro 5G bears a teardrop notch. Both these phones have three cameras on their glass backs, while the Xiaomi handset just has two.

The most unique trait is definitely owned by the LG device. You'll be able to purchase a special folio case for it, which will actually double up a second display. Once attached, it will allow you to run two apps at a time, play games using the bottom screen as a controller and the top one as a monitor, and other such functions. To make this work, the additional case needs to grab battery power from the phone itself, which it does using the pogo pins placed on its back surface. The V50 is also the only device among these three to feature a headphone jack, and it has moreover, paired that with a Quad DAC. It has a rear-mounted fingerprint scanner, just like the Mi MIX 3 5G, but the ZTE phone has instead gone for an in-display fingerprint reader.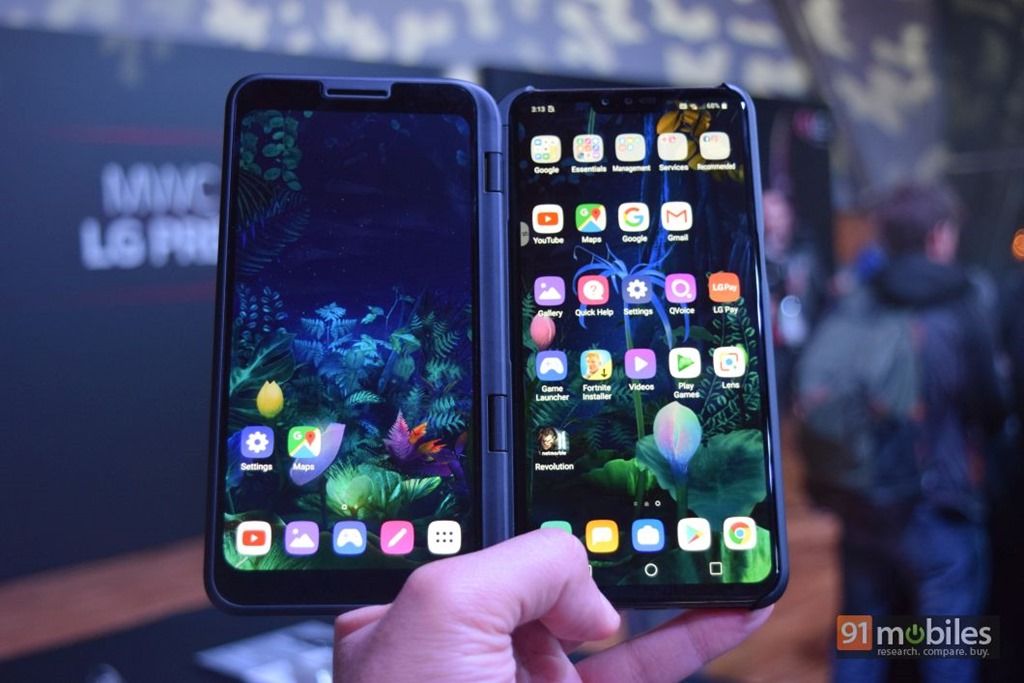 The screen on the Xiaomi handset is a 6.39-inch Super AMOLED panel with a full HD+ resolution. That of the LG V50 ThinQ is a 6.4-inch AMOLED panel with a Quad HD+ resolution. And as per a report cited by 9to5Google, the Axon 10 Pro 5G's display is a 6.47-inch AMOLED panel with a full HD+ resolution. All three are HDR-compliant panels. There is no IP rating for the Xiaomi model unfortunately, but the other two phones are IP68 rated. In fact, the LG handset is even MIL-STD-810G compliant.
The 7nm Snapdragon 855 chipset is the platform of choice for all three phones, and they use Qualcomm's X50 modem for rendering 5G services. The phones have 2.84GHz octa-core processors and Adreno 640 GPUs. The Xiaomi device ships with 6GB of RAM and either 64GB or 128GB of storage. The LG one has 6GB of RAM and 128GB of storage and the ZTE phone is expected to ship with the same configuration. Moving to software, the Mi MIX 3 5G, of course, runs MIUI 10, while the V50 ThinQ and the Axon 10 Pro 5G have their custom skins to accompany their base Android software too. All three phones have plenty of AI-based camera features embedded into them and run Android 9.0 Pie.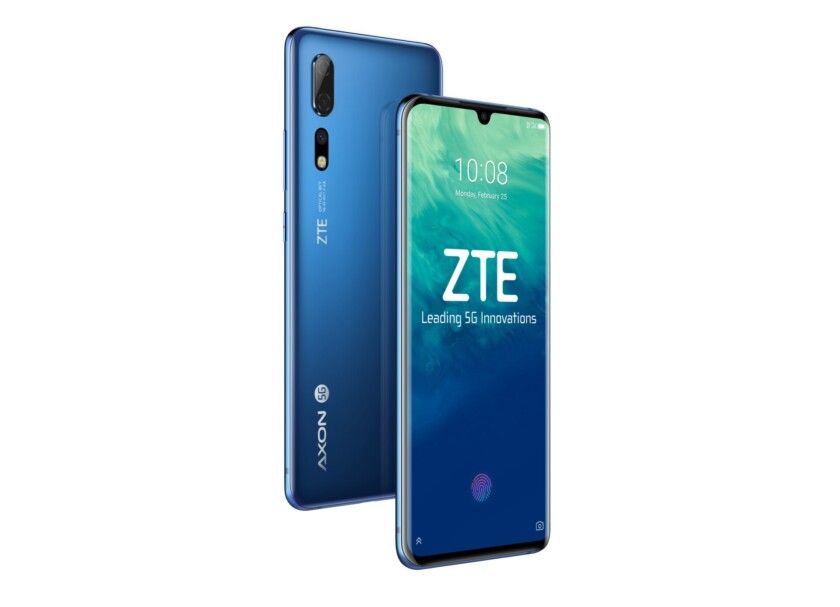 Both the rear cameras of the Mi MIX 3 5G are 12MP in resolution, and the main one among them has f/1.8 aperture. The secondary camera has a telephoto lens, which allows you to access optical zoom and portrait effects. This phone even has two cameras on the front, a 24MP primary sensor and a 2MP depth sensor for portraits. The three rear cameras of the V50 ThinQ consist of a 12MP f/1.5 main camera, a 12MP snapper with a telephoto lens and a 16MP snapper with an ultra-wide angle lens. This phone too carries dual cameras on the front, in an 8MP + 5MP setup that enables wide-angle selfies. Lastly, the ZTE Axon 10 Pro 5G comes with a 48MP f/1.8 main camera, a 20MP ultra-wide angle camera, and an 8MP telephoto camera. Its lone front camera has a 20MP sensor.
You get a 3,800mAh battery with the Xiaomi Mi Mix 3 5G, while both the LG V50 ThinQ and the ZTE Axon 10 Pro 5G have 4,000mAh cells. All three handsets support 18W fast charging as well as wireless charging.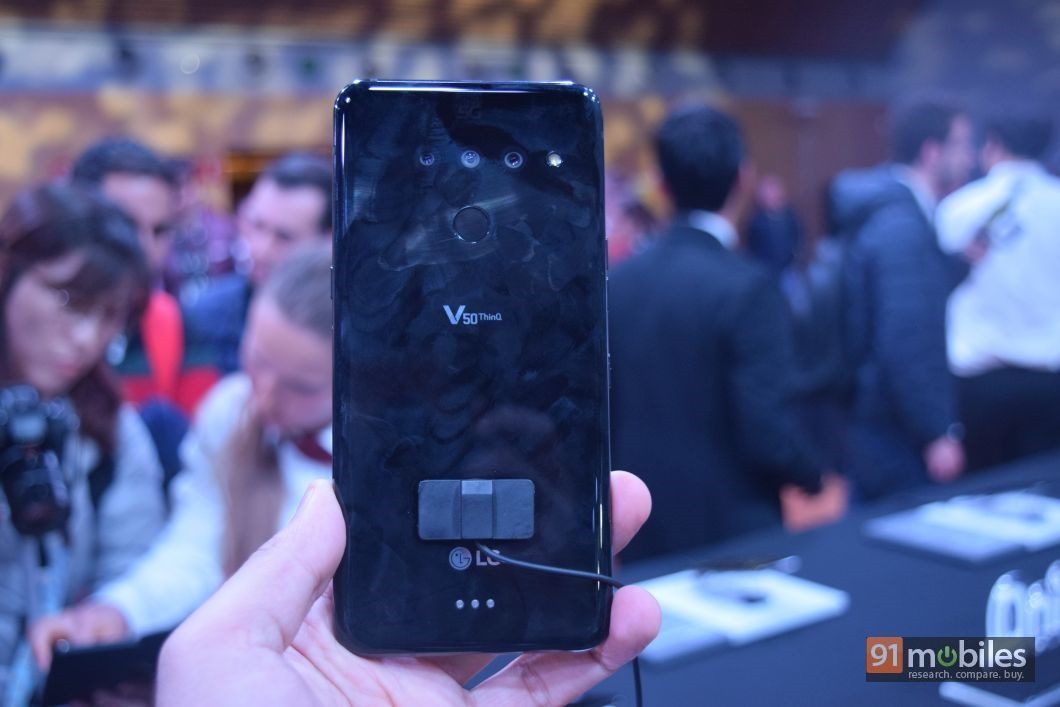 All three are excellent offerings in their own right. If you're someone who wants to stay prepared for the 5G revolution, pick any one that suits your budget, depending on availability of course.