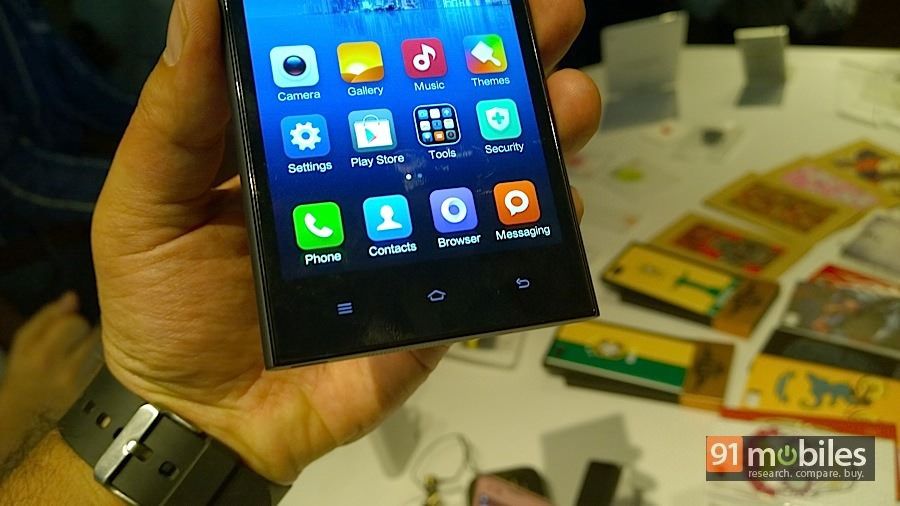 "The Xiaomi Mi 3 is a killer device for its asking price"
The Apple of China, as Xiaomi is known in its home country, has just become the apple of our eyes too. The Chinese brand is well-known for its loaded devices offered at aggressive price points, and in case you missed it, has just pulled off the same in India as well, launching its flagship, the Mi 3 in India for Rs 13,999. We know it's the age of the budget-performance devices, but if you consider the kind of specs this smartphone offers and then glance at its price, you might think of it as a typo or dismiss the Xiaomi Mi 3 as cheap low-quality device. If you haven't heard of Xiaomi (pronounced 'shaaomee') before, we'd urge you not to dismiss it as just another brand offering poorly-built devices that might just die after a couple of months of use. Our brief tryst with the Mi 3 was nothing short of a revelation.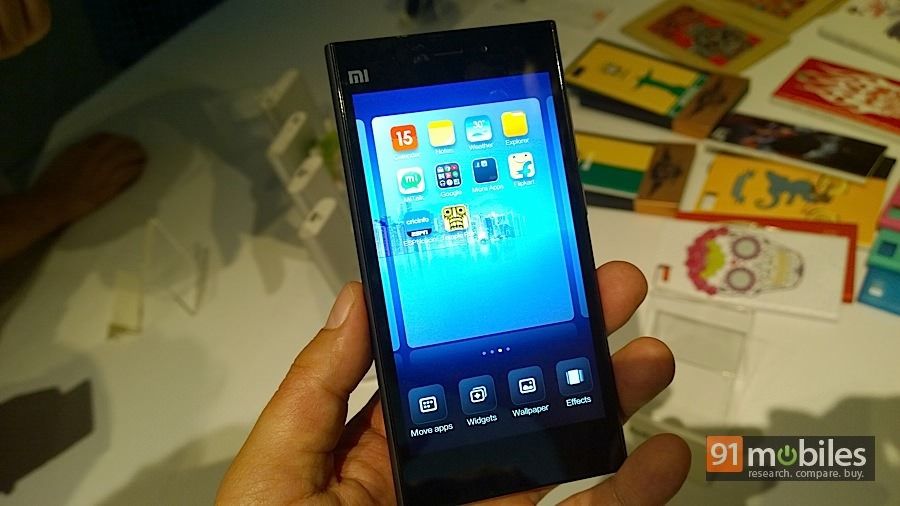 Build quality is one area where most affordable devices compromise on, but not the Mi 3. Don't let its weight fool you too. It feels very light in the hands, but comes clad in a sturdy metal-finished casing that boasts a lightweight aluminium-magnesium frame inside, complete with curved sides that make it comfortable to grip. The design reminds us slightly of high-end Nokia Lumia devices. Overall, it feels quite premium and well built, and looks worth much more than its asking price.
In terms of controls and port placement, it offers the usual – there's the 3.5mm audio socket on top, along with a removable tray that accepts a regular-sized SIM, the micro-USB port and a speaker grille at the bottom, and the volume rocker along with the power key on the right.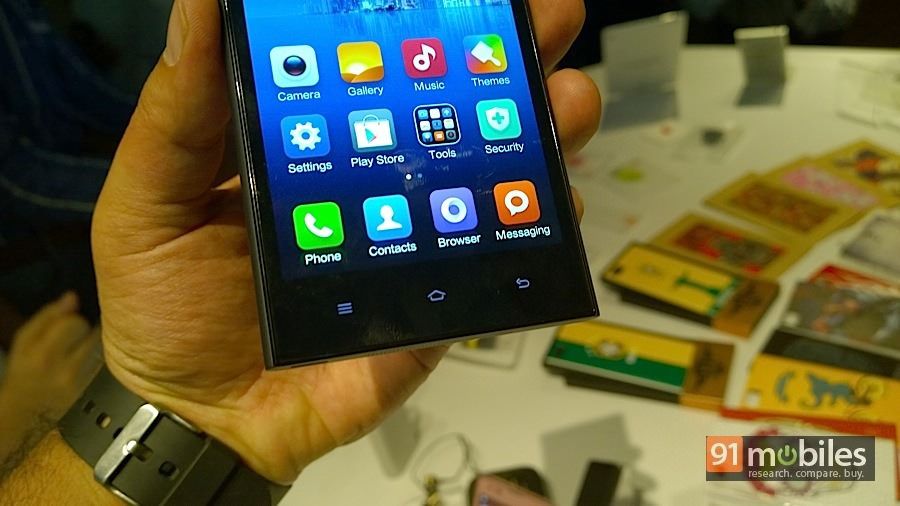 The front is adorned with the 5-inch full HD display, and the bezels above and below it are quite wide, making the overall dimensions quite large. You'll find the three Android navigation keys at the bottom, of the backlit capacitive variety, plus the standard set of stuff on top, including the earpiece, 2MP front camera and the sensors.
The rear is completely flat, and sports the 13-megapixel primary camera that boasts a Sony BSI sensor and f/2.2 aperture, along with the dual-LED flash and the secondary microphone. You'll also find Mi branding and regulatory info here.
Inside purrs a quad-core Qualcomm Snapdragon processor, clocked at 2.3GHz. Then there's 2GB of RAM, and 16GB of internal storage, which isn't expandable, alas. Roughly about 12GB is available to use. The show is powered by a 3,050mAh battery.
More than just offering great specs at dirt-cheap prices though, the Mi 3's real strength lies in the software. Sure, it uses Android 4.4 KitKat as base, but its mainstay is its MIUI (pronounced Mee-UI) interface. MIUI is more than just a skin though, since its features and customisations are baked deep inside the ROM.
Xiaomi's Hugo Barra emphasised that while at one end, MIUI has been designed to be extremely simple to use, even for first-time users, it also attempts to offer immense control and customisation options to those who like mucking about with their smartphones on a regular basis. And from what we saw of MIUI, it manages to balance the two, almost contradictory aspects, quite well.
First up, the lockscreen provides previews of notifications such as text messages, and the double-tapping the dot in the centre that you slide for unlocking changes the controls to music playback.
There's no separate app drawer, and all the apps are available right on the home screens, and you can choose to organise them under custom folders, just like iOS and Gionee's Amigo. The home screens support widgets too, and the smartphone handily groups multiple widgets from the same app together.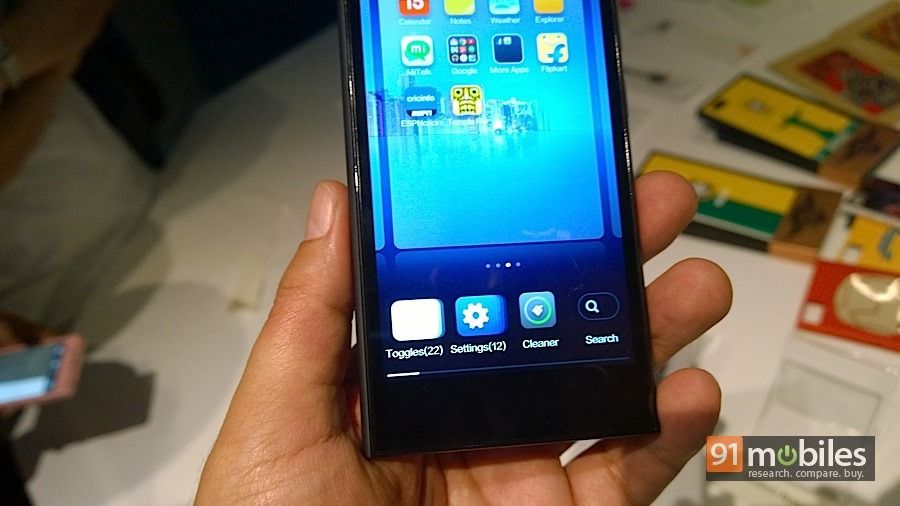 Various effects are available when it comes to screen transitions, and as one of its highlights, the UI supports themes too. Xiaomi will be offering a variety of themes via its Indian theme store, all for free, and we got to see a few gorgeous ones. These themes change everything from the lockscreen to the icons, with some of them even offering animated onscreen elements.
The in-call menu boasts support for recording voice calls too, and you can choose to enable it manually, or set the call settings to record all calls, or just from a few specified contacts. You can also take notes while in a call, and the note pops up automatically after you're done with the call. If you're working on something, say composing an email for example, an incoming call will pop up on the notification bar instead of covering the entire screen and interrupting what you were doing. You can choose ignore the call and continue with what you were up to, or accept or reject the call from the notification bar.
There's a feature that lets you schedule outgoing SMS messages for a specified date and time too, plus a password-protected secure zone in case you'd like to hide messages from certain contacts. If you'd like to tweak settings and performance, MIUI also offers you tons of features in the form of a task manager, a cleaner, and control over the apps that get launched automatically at startup, or the ones that consume data in the background.
We've just touched upon the tip of the iceberg here when it comes to the features offered by MIUI here, but it's clear that it's a highly-useful and loaded software environment, and it'll form one of Xiaomi's key strengths, easily differentiating its offerings from rivals.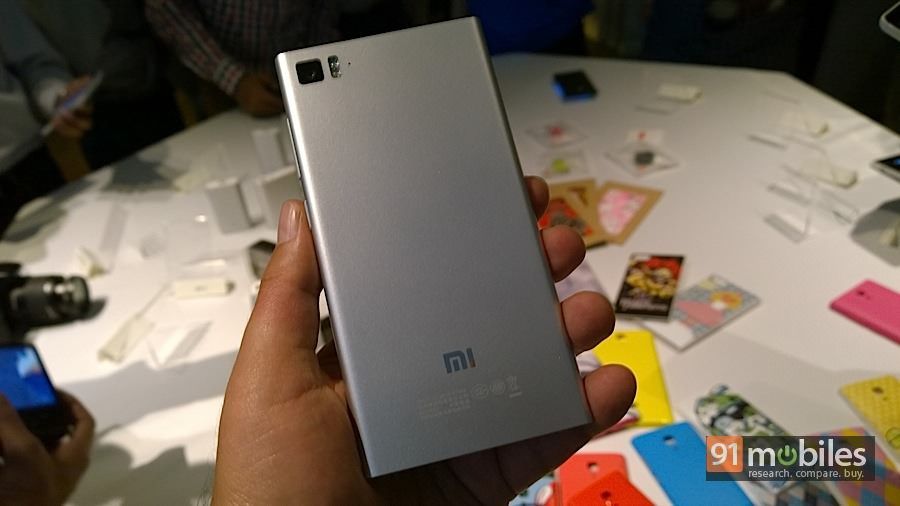 Based upon our brief time with the Mi 3, the screen looks extremely good and we didn't encounter any speed bumps too.
Currently, there's nothing else in the same price bracket as the Mi 3 that matches it for specs, while those MIUI features look really useful too. With this device, Xiaomi seems to have made a shining debut in the Indian market. Early days yet, but if the brand can continue in its tradition of offering premium devices at ludicrously low prices, and offer loads of innovative features via its MIUI, it's clear that it'll win over the hearts and minds of Indians in a very short span of time. As far as the rival brands are concerned, we're sure they must be sweating profusely at the moment, and that's not because of the heat.