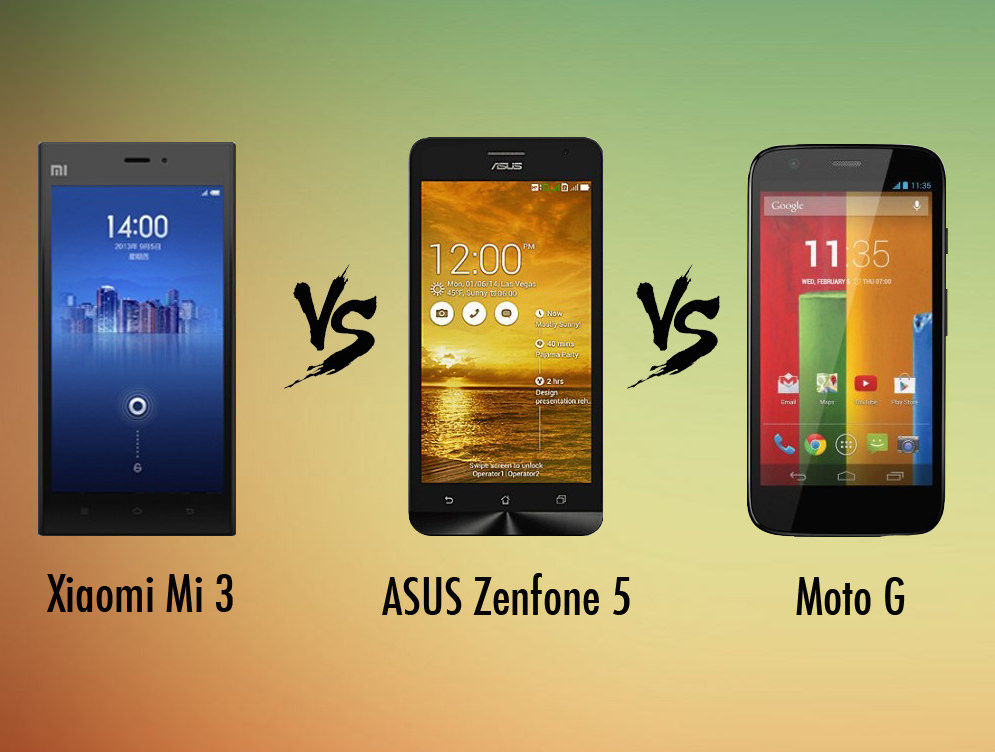 "The competition just got tough in the mid-range smartphone segment. Which one will you pick?"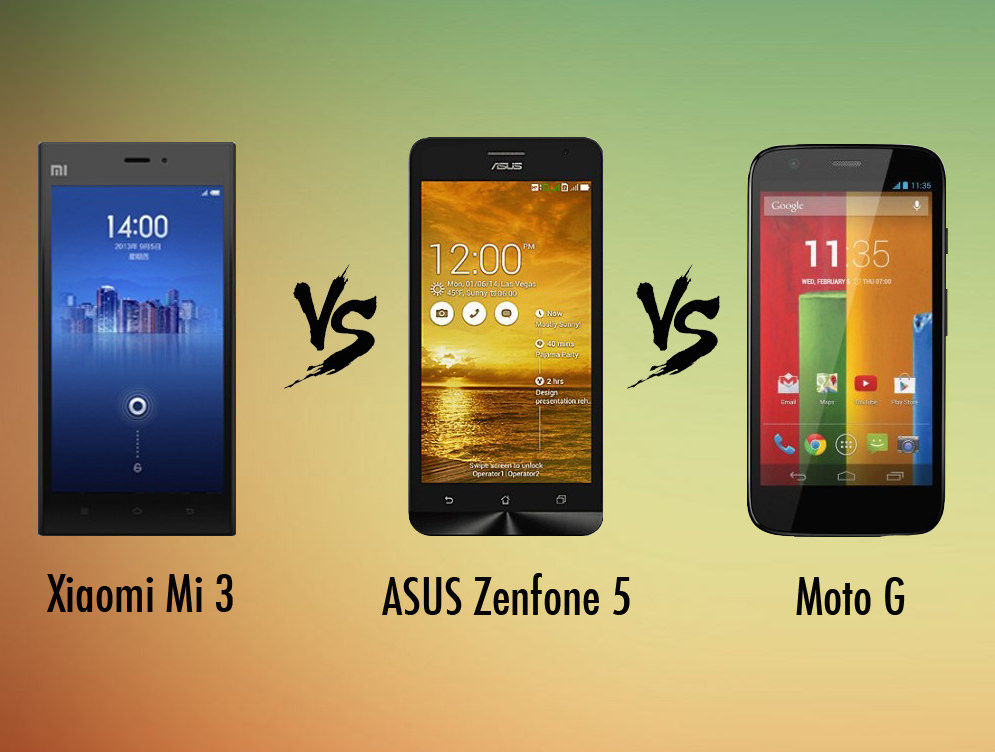 When the Moto G (review | FAQs) was launched in February this year, it caused quite a stir. With specifications that outdid even some high-end devices, it mocked the competition with its affordable pricing. For a few months after its release, the Moto G basked alone in the spotlight, with rivals like Nokia, Samsung, Sony and Micromax failing to deliver a compelling option. All this changed a little over a week ago, when ASUS casually dropped a bomb with its Zenfone range of smartphones. For a company which was missing in action from the mobile handset market, ASUS launched a remarkable line-up, boasting serious specs at killer prices. The Zenfone 5 (review), which sits in the middle of the range, offers similar features to the Moto G, and has been deemed a worthy rival. While manufacturers were just beginning to rethink mid-range devices, Xiaomi stormed in, all guns a-blazing, with the Mi 3 (first impressions). With specs that can rival devices double (and even triple) its price, the Mi 3 could burn the competition to the ground.
There's no doubt that there's a lot of confusion over which one of the three is top dog, and to make that a little easier, we've compiled a spec comparison table and analysis.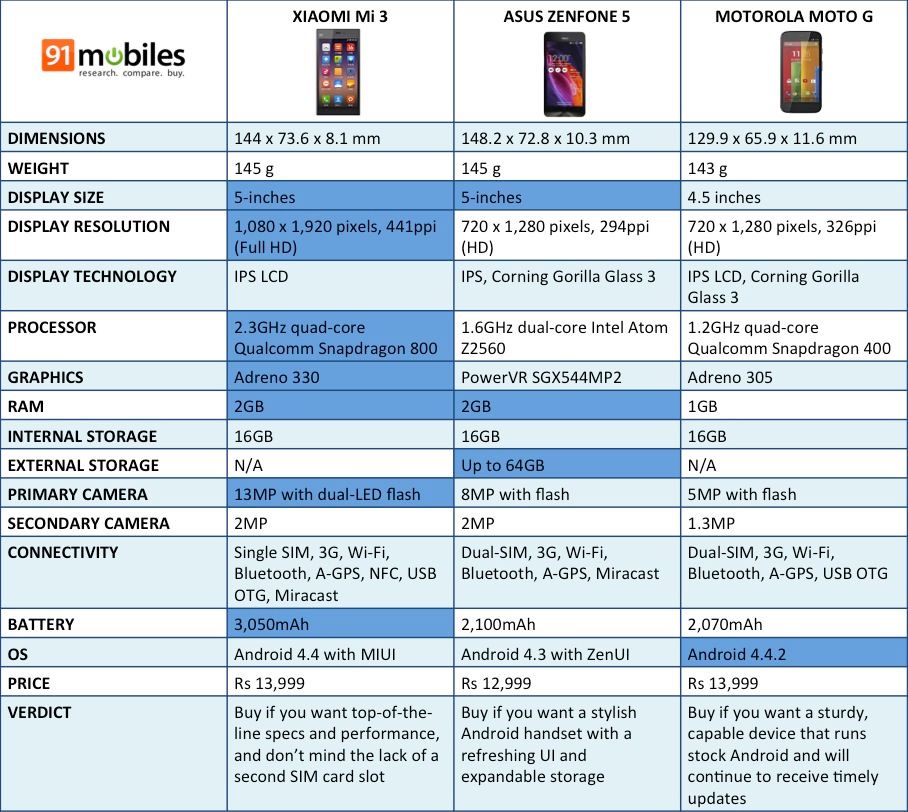 In terms of core specs, the Moto G and Zenfone 5 are pretty much on par, with minor differences that boil down to a matter of personal preference. The Zenfone 5 features a 5-inch HD display, 16GB of internal storage, 8MP primary and 2MP secondary cameras, and a 2,100mAh battery. The Moto G offers a smaller 4.5-inch display also bearing HD resolution, lower-res 5MP primary and 1.3MP secondary cameras, and a 2,070mAh battery. While the Moto G gets a 1.2GHz quad-core Snapdragon 400 processor paired with 1GB of RAM, the Zenfone 5 is equipped with a 1.6Ghz dual-core Intel Atom Z2560 chipset that's augmented with a more generous 2GB of RAM. The Zenfone 5 has the extra benefit of a microSD card slot to expand memory, while the internal storage on the Moto G is fixed. (FYI, both these devices are available in 8GB variants with the same features, if you're looking for even more affordable options).
In terms of software, the Zenfone 5 runs Android 4.3, skinned with ASUS' own ZenUI. Asus has promised an update to KitKat in the future, but taking into consideration the overlaying skin, updates will take their time. That said, ZenUI is a refreshing change from what we've seen on other devices, and offers several useful tweaks. The Moto G runs plain vanilla Android 4.4.2, and will continue to receive timely updates, including Android L later this year. The stock operating system also ensures minimal bloatware and smoother response, and is something Android purists will appreciate. While the Zenfone 5 is available in a few colours, the Moto G is customisable with various colourful rear panels.
When you take the Xiaomi Mi 3 into consideration though, the playing field becomes a battleground. With its plastic casing featuring premium metallic finish, 5-inch full HD display, 2.3Ghz quad-core Snapdragon 800 processor, 2GB RAM, 13MP / 2MP camera combo and a 3,050mAh battery, it's hard to believe that the smartphone carries a price of just Rs 13,999. Apart from its non-expandable 16 gigs of internal storage, we can't find a reason to fault the device, not just yet anyway.
The Mi 3 scores in the software department as well, running the company's custom MIUI firmware, based on top of Android 4.4. While updates will likely get delayed as a result, MIUI does offer several themes, customisations and nifty features. Service and after-sales support are understandably concerns for many potential buyers, and to address this, Xiaomi has already started ramping up its service centers across the country. The main hurdle for the company will be creating awareness and securing the trust of the Indian user, not to mention shaking off the 'cheap Chinese brand' notion.
We've already reviewed the Zenfone 5 and the Moto G, and we can tell you that they're both very capable options. We'll elaborate more on the Mi 3's performance and UI in our full review, but based on specs alone, we'll have to go with Xiaomi's offering as our top choice.