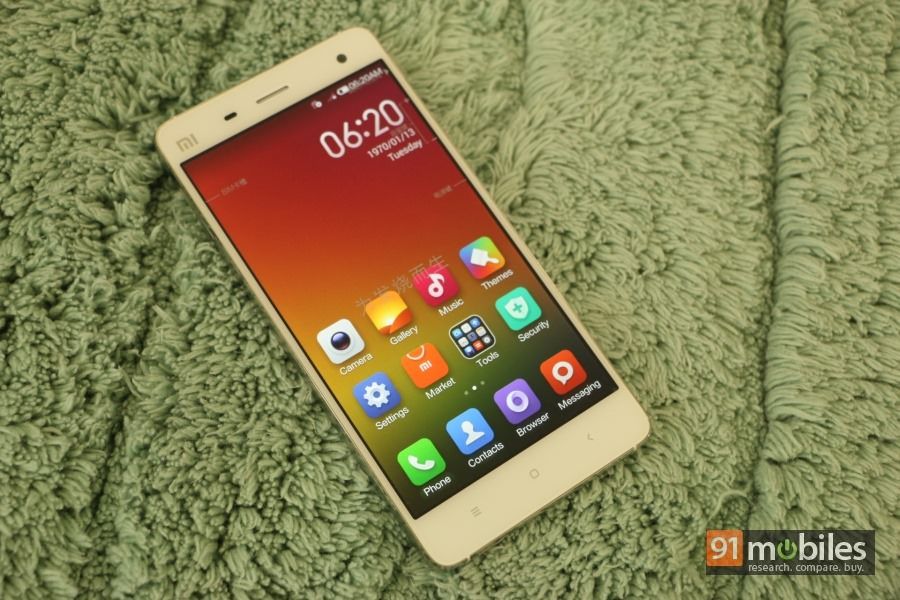 "The yet-to-be-launched Mi 4 definitely looks like it could be worth the long wait"
Unless you've been living inside a cave all this while, you'd have heard of a smartphone going by the name of the Xiaomi Mi 3 (review). The brand's maiden offering in India has been making huge waves in the country ever since its pricing was first announced, and has been selling like the proverbial hot cakes. Xiaomi has been following a flash sales model, selling a limited number on Flipkart on a weekly basis. The Mi 3 units have been flying off Flipkart's virtual shelves, and buying one is more a matter of luck, deft fingers and the blessings of the online gods, than pure spending power. Not that you need a heavy purse to afford one – at Rs 13,990, the Mi 3 offers the world for mere peanuts, and decimates everything else within sight, mighty titans priced double included. Counting the four batches sold till date, there are at least 55,000 proud owners of the Mi 3 in India by now.

In a strange turn of events, the day the Mi 3 went on sale in India, Xiaomi unveiled a new flagship, the Mi 4, in its home country. Many in India wondered if it'd be worth waiting for the Mi 4 (which sports better specs), instead of buying the Mi 3, and we tackled that query in detail earlier. Xiaomi's Hugo Barra later went on record, revealing that the Mi 4's LTE variant will definitely make its way to our shores, but only by the end of the year. Now that's a long time to wait for a smartphone, and as of now, we don't have an inkling of how much it'd be priced at when it lands. We've gone ahead and managed to get our hands on a brand new Xiaomi Mi 4, and even though its official launch in India is way off, here's a look at the contents of the retail box, followed by our first impressions on Xiaomi's latest flagship.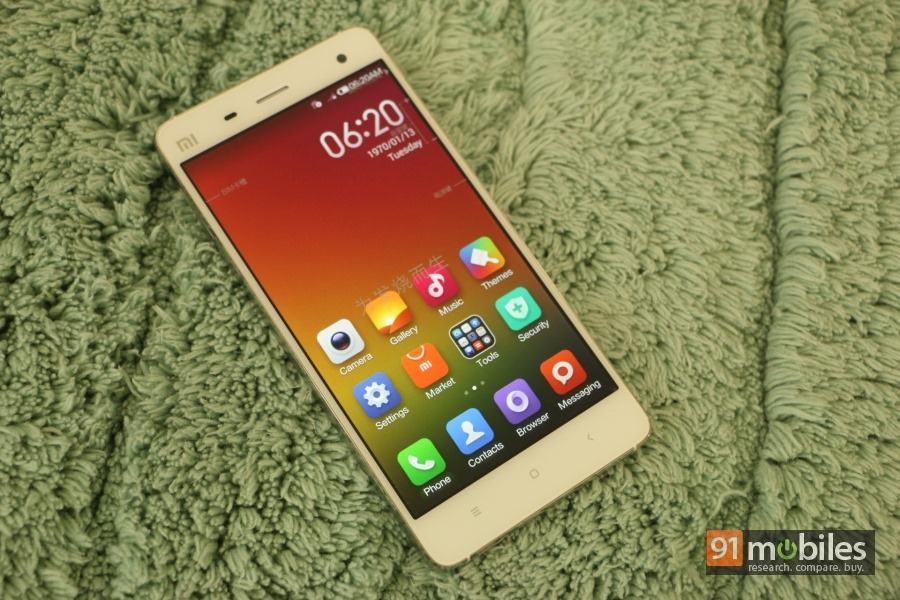 Unwrapping the Mi 4 box from the outer packaging it was shipped in turned out to be anticlimactic, since it's the same plain Jane brown cardboard box the Mi 3 comes in. Save the Mi branding on top, there's nothing to distinguish it from its sibling's retail pack.
We may have been a tad disappointed in not finding a fancier box, but it does make sense for the brand since it only sells its devices online and doesn't need to bother with snazzy packs to flaunt on store shelves.
Our brand new white Mi 4 unit saw first light of day, at least in India, as soon as we tore open the transparent shrink wrap and opened the box. Quelling our first instincts to play with the device as soon as we got our eager paws on it, we put it to the side for the time being to check the other contents of the box.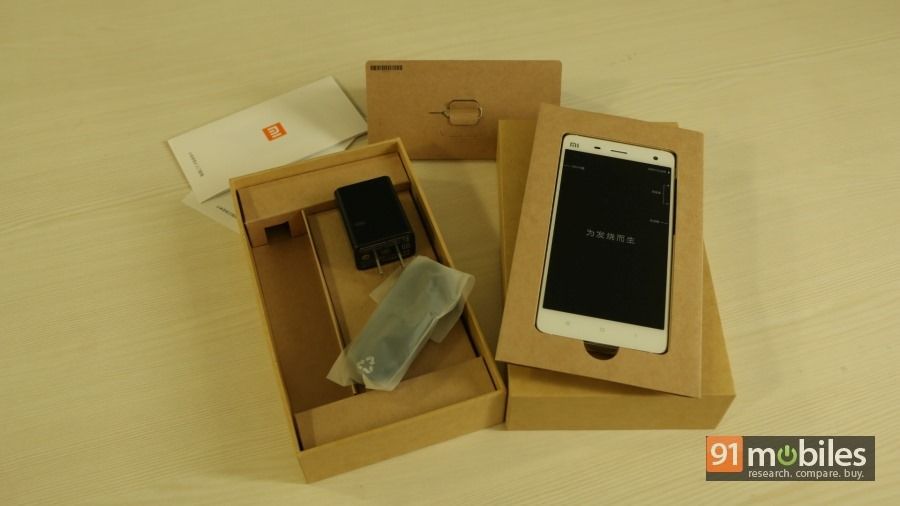 Turns out, the Mi 4 retail box is almost exactly the same as the Mi 3 pack from the inside too. Xiaomi includes a two-pin wall charger and a micro-USB cord, but there's wired headset included. You'll also find a smaller cardboard box, containing the SIM eject tool and the standard quick start guide and other documentation inside.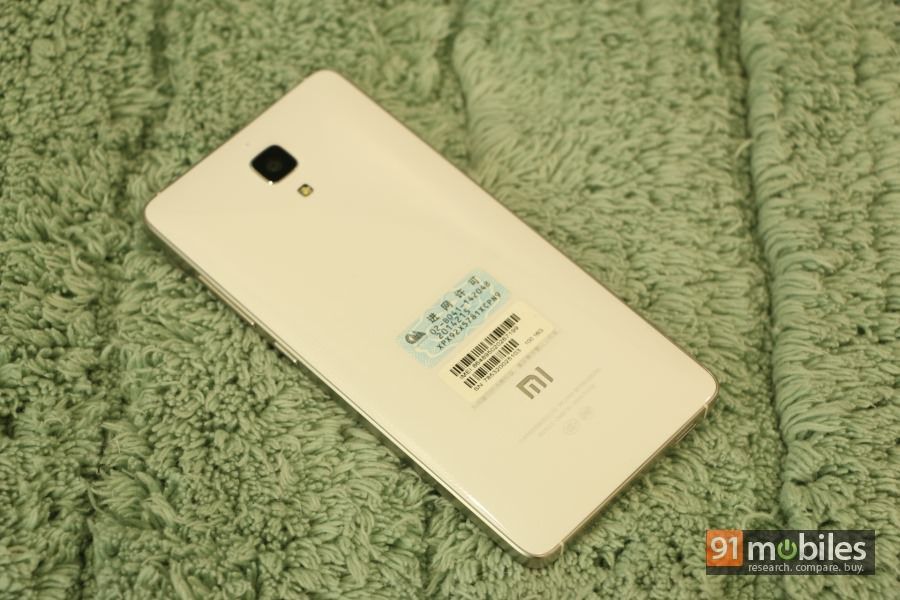 With that out of the way, we showered our affections on the Mi 4 to check it out closely and see its design and build for ourselves. At first glance, the Mi 4 looks more compact, and much more premium than its predecessor. It oozes class, and that's mainly due to the stainless steel frame running around the sides. The chamfered edges make it look like an iPhone, but the Mi 4 manages to stand out with an identity of its own, thanks to a solid build and a glossy rear that totes a subtle textured pattern. The rear panel isn't removable, and hides a 3,080mAh battery inside.
In terms of controls and port placement, you'll find an ejectable SIM tray on the left. This gobbles up a micro-SIM card, unlike the Mi 3 that accepts a conventional mini-SIM by default. A power key and volume rocker are placed on the right, while the micro-USB port and a speaker is located at the bottom. The top is home to a headset socket and an infrared blaster that provides universal remote functionalities in conjunction with a preloaded app.
In terms of the display size and quality, the Mi 4 isn't much different from its predecessor, since the latest flagship also carries a 5-inch full HD display. However, this time, the vendor has chosen OGS technology for the display. The fascia also sports three backlit Android navigation keys below, along with the usual fare including the earpiece, front camera, sensors and notification LED on top. Mi branding can also be found on both the front as well as the rear.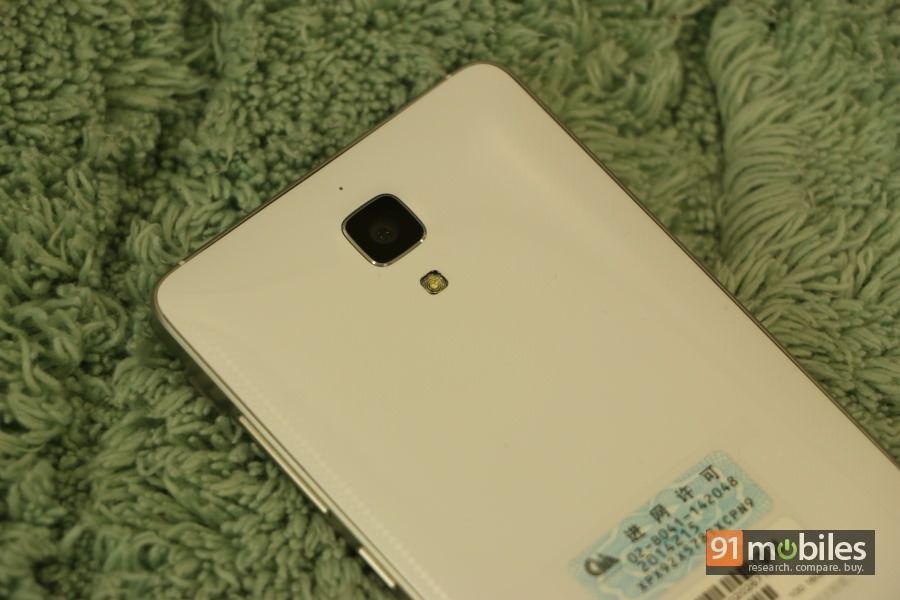 The Mi 4's 13-megapixel primary camera boasts an f/1.8 aperture, as compared to f/2.2 on the Mi 3. This should translate into better low-light imaging, not that the Mi 3's camera is bad in any way. Another feather in the Mi 4's cap is that its primary camera is capable of shooting 4K videos, a feature its predecessor can't boast. Also, keeping the currently raging selfie fad in mind, the front shooter on the latest smartphone has been bumped up to 8MP.
The Mi 3 is hardly a wimp when it comes to pure number crunching capabilities, but the Mi 4 takes things to a different level. The Mi 4 is powered by the top-end SoC from Qualcomm, the Snapdragon 801 chip that utilises four cores clocked at 2.5GHz. Then there's 3GB of RAM, which, in combination with the zippy processor, should make sure that the device makes mincemeat of everything thrown at it, and multitask like there's no tomorrow. Internal storage is still 16GB (there's a 64GB variant too, but it remains to be seen if that'll ever make its way to India), and since the microSD card slot is missing in action, you can't add more. A little over 12GB is available to use out of the box, and you can always make use of the USB OTG support to mate external flash drives with the smartphone. A 4G version of the Mi 4 (and one that'll work with the LTE bands in India too) is incoming, and that'll be the one that eventually be launched in India. As of now, the hooking-up options include 3G, dual-band Wi-Fi (including support for the latest ac standard), Bluetooth 4.0, Wi-Fi Direct, DLNA, Wi-Fi hotspot and wireless display mirroring.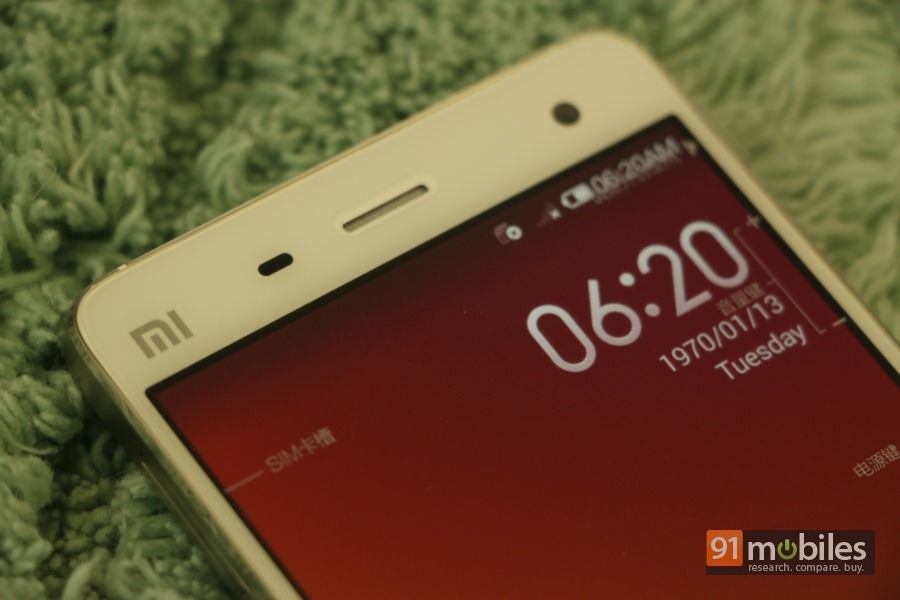 When it comes to the softer side of things, Android 4.4.2 KitKat forms the underlying platform, with Xiaomi's own MIUI v5 ROM on top. An update to MIUI v6 is expected very soon, and we can't wait to see what new features it brings. We'd urge you to to dive into the software section of our Mi 3 review to get a complete lowdown of the interface and tons of useful features offered by MIUI, but suffice to say that the UI is exactly the same as what we saw on the Mi 3, complete with theme support and no dedicated app drawer. All app icons are present right on the home screens, and you can add widgets and custom folders as you deem fit.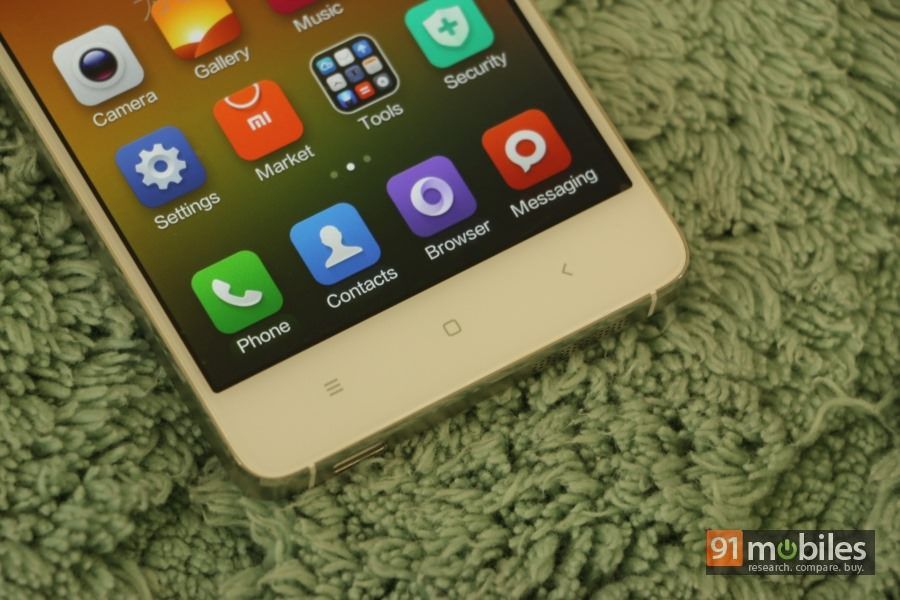 With MIUI, Xiaomi has attempted to change the face of Android as we know it completely, and despite being stock Android fans, it's hard for us to ignore the smorgasbord of useful little touches, along with granular control over every facet of the OS that MIUI offers. Apart from geeks who'd love this aspect, the beauty of the UI lies in the fact that it's also extremely easy to come to grips with, even for newbies. Another of its mainstays is that Xiaomi keeps issuing very frequent updates, adding new features based on user feedback, and squashing bugs as soon as they're discovered. This makes MIUI almost a living, breathing platform, that's highly community driven and keeps evolving at a rapid pace. And more than the hardware itself, this is really where the key to smartphone nirvana really lies.
Needless to add, we'll be bringing you a deeper look at what the Mi 4 can really do, and a detailed evaluation of its capabilities, including the camera, the performance, and the battery life. Keep your eyes glued to this space.
Photos and video by Pratik Vyas