"Xiaomi's product director has promised to improve the user experience with MIUI ads but there is no timeline yet"
Xiaomi prices its phones quite aggressively in China as well as India. The company even put a cap of 5 percent for profit margins on every hardware product it launches, not leaving enough room for high profits. One of the major sources of revenue for Xiaomi is MIUI, where it serves full-screen ads.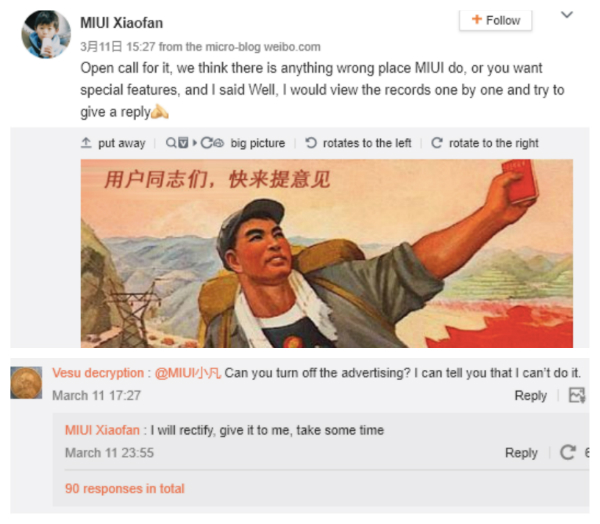 However, these ads are now becoming a serious issue as the company even started showing adds on its pre-installed music, video, and security apps – leaving users pretty annoyed. This ad-riddled UI combined with slower Android updates that Xiaomi is known for makes up for pretty bad user experience. It even put a dent to the company's reputation. Xiaomi's Product director and MIUI Experience General Manager recently posted a feedback forum on Weibo asking users about what they would like to see on MIUI and asked the members to mention what they consider as a flaw in the MIUI.
Among the various responses, one user stood out and asked that Xiaomi provide a feature to turn off the ads. To this, the Xiaomi executive replied that the company will include such a feature but it would take some time. While this sounds like a positive move, it will be counterproductive for Xiaomi's current position since, since advertising on MIUI is one of its revenue sources and most users would turn off the ads if the option is made available.
With the MIUI head responding positively by saying that it will improve the way ads are being served, we will have to wait and watch how it is implemented to improve the user experience without affecting the revenue stream.