"The swipe up and swipe down gestures to access the app drawer and go back to the homescreen doesn't seem to be functional as of now"
Poco F1's (review) Poco launcher came with a dedicated app drawer, even while the traditional MIUI lacked one. However, that's going to change soon as Xiaomi is said to be testing an in-built app drawer option in its custom MIUI skin alongside app shortcuts. The latest MIUI launcher alpha build with version number 4.10.6.1025-06141703 finally brings the much-awaited app drawer. Based on the screenshots, users will need to tap the middle button on the home screen dock to open the app drawer, similar to third-party launchers.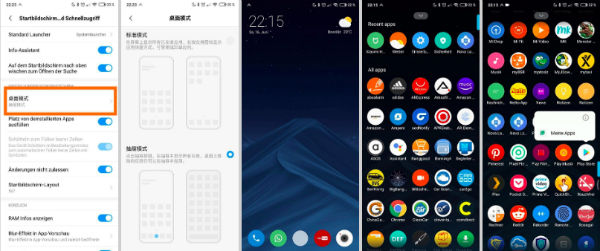 However, the swipe up and swipe down gestures to access the app drawer and go back to the home screen doesn't seem to be functional for now, but it is possible that Xiaomi might include these options with the final build. Upon opening the app drawer, all the recently used apps are placed on the top, while all the other downloaded apps are listed down below in alphabetical order as usual. The launcher also includes a downward arrow on the top, tapping which collapses the app drawer.
Additionally, the MIUI launcher alpha also includes app shortcuts, a feature that was introduced with Android 7.0 Nougat. It surfaces quick actions when an app icon is long-pressed and lets users' perform specific tasks of the app directly. Since the launcher is still in the alpha testing phase, it might not be ideal for daily use, but it should get more polished and ready for release in the coming few weeks, even though a timeline hasn't been revealed yet.