"Users of Xiaomi phones with waterdrop notches are not happy with how the static icons appear on the status bar"
Xiaomi seems to have a bit of a plight with MIUI, specifically concerning those devices that employ a waterdrop notch to house the front camera. In what many would surely consider to be a pretty insignificant issue, or might not even notice at all, many users have seemingly complained to Xiaomi that the arrangement of icons on the status bar of phones with notches are rather disconcerting.
In the era of pre-notch devices, the status bar used to be an undivided bar, which displayed graphic representation of settings that were enabled (or disabled) on a phone. Typically, while the network status was shown to the left of the bar, the clock, battery status and all other settings and notification icons were shown in sequence, from the right hand side of the bar. Now, however, with the waterdrop notch essentially bifurcating the status bar into two equal halves, companies have had to do a bit of a rethink.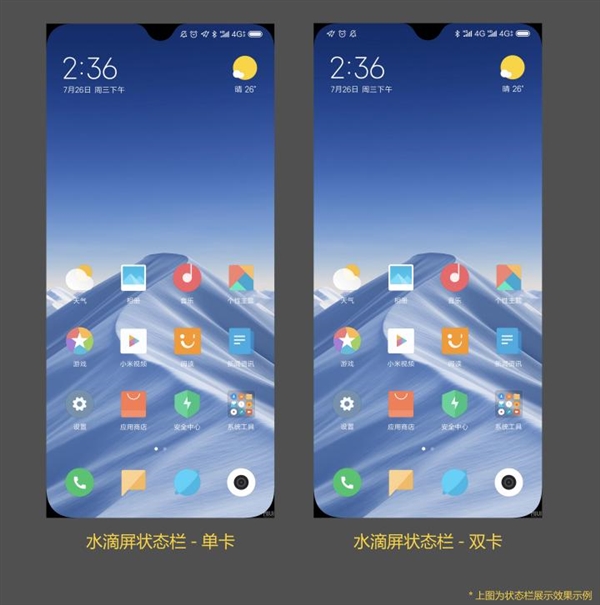 Those who presently use any of Xiaomi's devices with a waterdrop notch will notice that instead of the icons being dynamically stacked, there are certain icons, such as mute and alarm, that have been designated to appear on the left hand side of the notch. Thus, when there are no notifications for you to read or attend to, the right hand side of the status bar remains completely empty. While this will be of little to no consequence to many, a section of Xiaomi's user base found it disconcerting to their senses.
The issue at hand is a case of non-intuitive interface design, which is what the complaining users have brought up to the fore. However, those who have not had any issue with the present design have spoken for it, stating that rather than having to find a specific icon at a new slot every time, it is easier to know that the mute status notifier will always be seen to the top-left of the screen. To make matters simple, Xiaomi hosted a poll on its official forum in China, asking users to vote if they're happy with the present status bar or would rather like to see a dynamic status bar.
As of writing, more users appear to favour the dynamic status bar. While this does not confirm anything right away, it becomes possible that if this is the final verdict, Xiaomi would soon roll out the dynamic status bar design, as part of a future MIUI update.