"The new patent looks close to the new Motorola Razr, but with a motorised rotor at the top housing camera sensors"
Xiaomi has received a new patent from the World Intellectual Property Organisation (WIPO) on December 6th, detailing a new design for a foldable smartphone. The patent description, and subsequent illustrations by Let's Go Digital, show a design that is similar to what Motorola has unveiled with the Motorola Razr 2019. However, while Motorola has stuck to a single camera module due to space constraint, Xiaomi has included a motorised panel at the top of the clamshell, which serves as front-facing sensors when folded, and as rear sensors when opened up.
Given that this is just a patent, it is not quite clear whether Xiaomi's first foldable smartphone would come with this design. From the illustrations, there appears to be a couple of engineering hurdles with this particular design that Xiaomi would need to overcome, to make this a reality. The main hurdle would come with the motorised flip-out camera module — typically, such modules take up a fair bit of space to operate, and hence add to the bulk of a device. In a foldable device, such bulk would tend to make the device unwieldy, and in turn, ruin the ergonomics.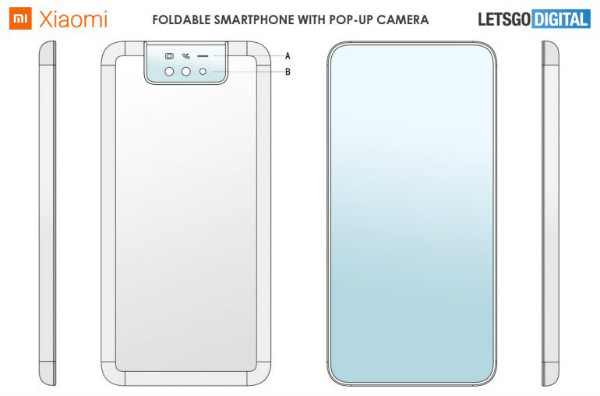 So far, Xiaomi has already confirmed that it is working on a double folding design for its first foldable smartphone, in a bid to stand out from the competition. This design is expected to have two hinges, and have a three-part folding design that can open up to an expansive tablet, or fold in to become a compact smartphone. However, with first-generation products such as a foldable smartphone, design and other decisions getting shelved or altered in later stages. Given that possibility, it is likely that Xiaomi might be looking at an alternate design, from the three-part folding design that they have so far confirmed.
Other patents and leaks regarding Xiaomi's foldable smartphone have also suggested that the device might come with a five-camera pop-out mechanism at the top. However, this seems more like speculation at the moment, and the five-camera pop-out mechanism sounds a bit impractical since foldable devices are anyway not among the sturdiest. Going forward, it will be interesting to see if any further renders or official word comes out regarding Xiaomi's foldable smartphone.
Rival OEMs such as OPPO have already confirmed working on foldable phones for launch in 2020, and given Xiaomi's market position, the latter would not want to miss out on this rising trend, either. With 2020 slated to be the year for folding phones, it will be interesting to see how the first generation foldable smartphone war pans out over the next few months, and what unique design adaptations come to the fore.