Highlights
Mi Browser and Mint Browser have already been removed from the Google Play Store

The Indian government recently banned several Chinese apps, including Mi Browser

Xiaomi will roll out MIUI update which will allow users to uninstall banned apps
Xiaomi, Redmi, and POCO phones will soon get a MIUI update in India that will allow users to uninstall Mi Browser/ Mi Browser Pro and Mint Browser that come pre-loaded. This comes after the Government of India issued an order to ban several Chinese apps. The browsers have already been removed from the Google Play Store. The company was recently accused of collecting user information through the default browser even when browsing from incognito mode and it released an update to disable it.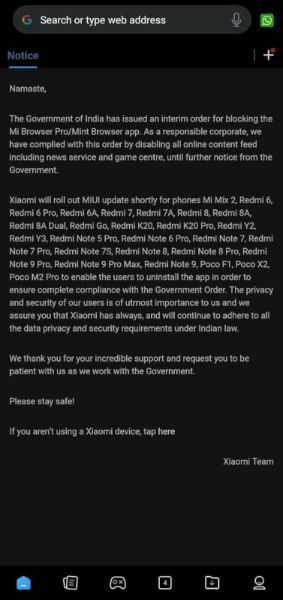 Xiaomi's Mi Browser page now reads, "The Government of India has issued an interim order for blocking the Mi Browser Pro/Mint Browser App. As a responsible corporate, we have complied with this order by disabling all online content feed including news service and games centre, until further notice from the Government." Furthermore, Xiaomi said that it will soon roll out an update that will enable users to uninstall the apps to further comply with the order. This should also remove any of the banned apps that are pre-installed on the phone.
The list of phones that will get the MIUI update includes – Mi Mix 2, Redmi 6, Redmi 6 Pro, Redmi 6A, Redmi 7, Redmi 7A, Redmi 8, Redmi 8A, Redmi 8A Dual, Redmi K20, Redmi K20 Pro, Redmi Y2, Redmi Y3, Redmi Note 5 Pro, Redmi Note 6 Pro, Redmi Note 7, Redmi Note 7 Pro, Redmi Note 7S, Redmi Note 8, Redmi Note 8 Pro, Redmi Note 9 Pro, Redmi Note 9 Pro Max, Redmi Note 9, Poco F1, Poco X2, and Poco M2 Pro.
As for the MIUI Cleaner app, Xiaomi India recently assured that it is different from the Clean Master app that has been banned by the Indian government owing to security issues. "MIUI has its own Cleaner app and we are not using the blocked Clean Master app. Since this might be confusing, we are removing these definitions from the updated MIUI Cleaner app," said Xiaomi. "Users can also manually update the Cleaner app in Settings by going to System Apps Updater on their smartphones," Xiaomi noted.