The Apple of China has played a pivotal role in changing the conventional specs vs price game in India. Right from its debut smartphone, the Mi 3, to the value-for-money Redmi lineup, it has figured out the knack of offering impressive hardware that doesn't cost a bomb. But after revolutionising the budget and mid-range, it looks like the brand is now applying the same formula to the entry-level segment with its latest offering. Priced at Rs 5,999, the Xiaomi Redmi 4A is its most affordable smartphone from Xiaomi's stable and at first look, seems to have everything going for it. While it surely comes across as a worthy choice, it also needs to compete with its own sibling, the Redmi 3S (review) – which is available at a marginal premium of Rs 1,000.
So can the Redmi 4A emerge out of the shadows of its sibling, and earn our recommendation? Let's find out in our review. Since there are quite a few similarities between the two handsets, we'll be mainly focussing on what's different between the two.
Specs at a glance
Display
Size
5.0 Inch
Resolution
HD (720 x 1280 pixels)
Performance
CPU
Quad core, 1.4 GHz, Snapdragon 425
RAM
2 GB
Storage
Internal memory
16 GB
External memory
Up to 128 GB
Battery
Capacity
3120 mAH, Li-ion, Non removable
Talktime
Up to 39.3 Hours (3G)
Standby Time
Up to 168 Hours (3G)
Camera
Primary camera
13 MP
Secondary camera
5 MP
Connectivity
Network support
Dual SIM 4G
Other options
Wi-Fi, Bluetooth 4.1, GPS
Others
Battery Capacity
3120
Operating system
Android 6.0 Marshmallow
What's the same
Both the Xiaomi Redmi 3S and Redmi 4A are built around compact displays measuring 5-inches. The IPS screen on the Redmi 4A bears a resolution of 1,280 x 720 pixels, ensuring rich colours and decent levels of sharpness. Of course, it can't compete with full HD screens, but it's more than sufficient and is easily the best in its segment. The brightness levels are also impressive, and you won't find it difficult to view it outdoors.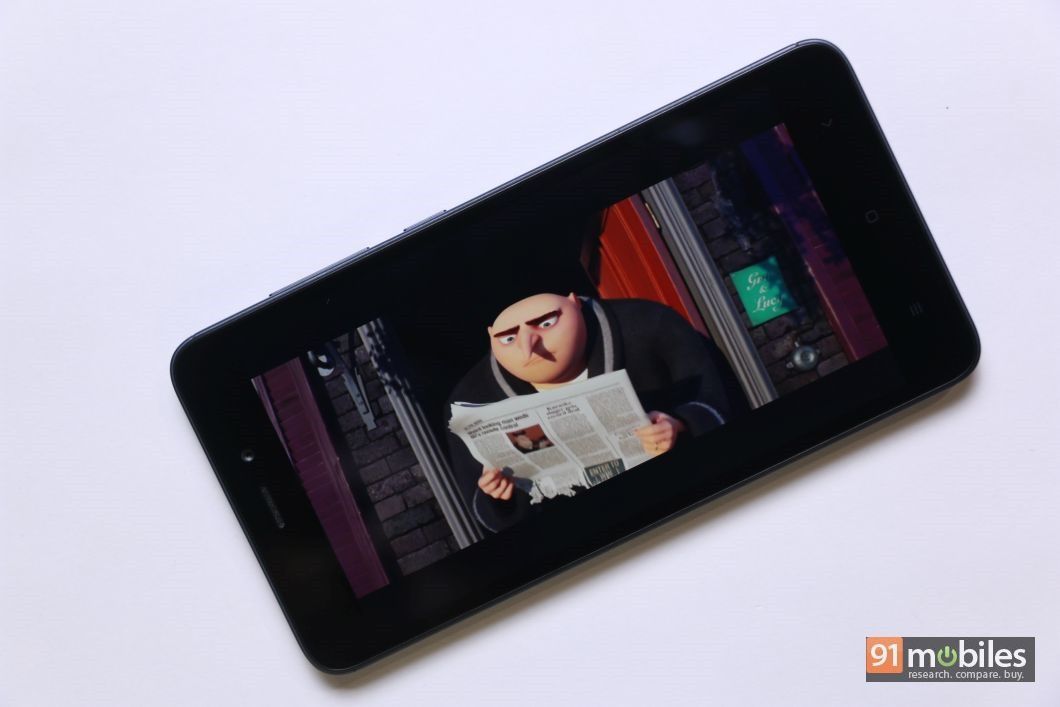 One thing that you can be assured of with a Xiaomi device irrespective of the price segment, is its interface. The Xiaomi Redmi 4A ships with MIUI 8, running atop Android 6.0 Marshmallow, and you get all the goodies you expect – from the custom lock screen and home screen to a spate of preloaded apps. You also get dual apps functionality that allows you to run two instances of apps like WhatsApp and Facebook. Thats said, we'd have preferred seeing Android 7.0 Nougat on the handset, considering even Android O (related read: top features) has now released as a Developer Preview.
Similar to the Xiaomi Redmi 3S, the Redmi 4A sports a 13-megapixel snapper at the back with f/2.2 aperture, complemented by an LED flash. On paper, this is perhaps the best camera setup you can get at this price – and thankfully, it translates to the real life as well. The shooter focusses on the subject quickly, and offers a good amount of detail. The colour reproduction is also quite pleasing. Of course, you can't compare it with high-end smartphones, but the 4A would serve your needs for casual photography well, be it for landscape imagery or close-ups. The images captured in the night, though grainy, are also full of detail. In dim settings, the LED flash does a great job in providing illumination.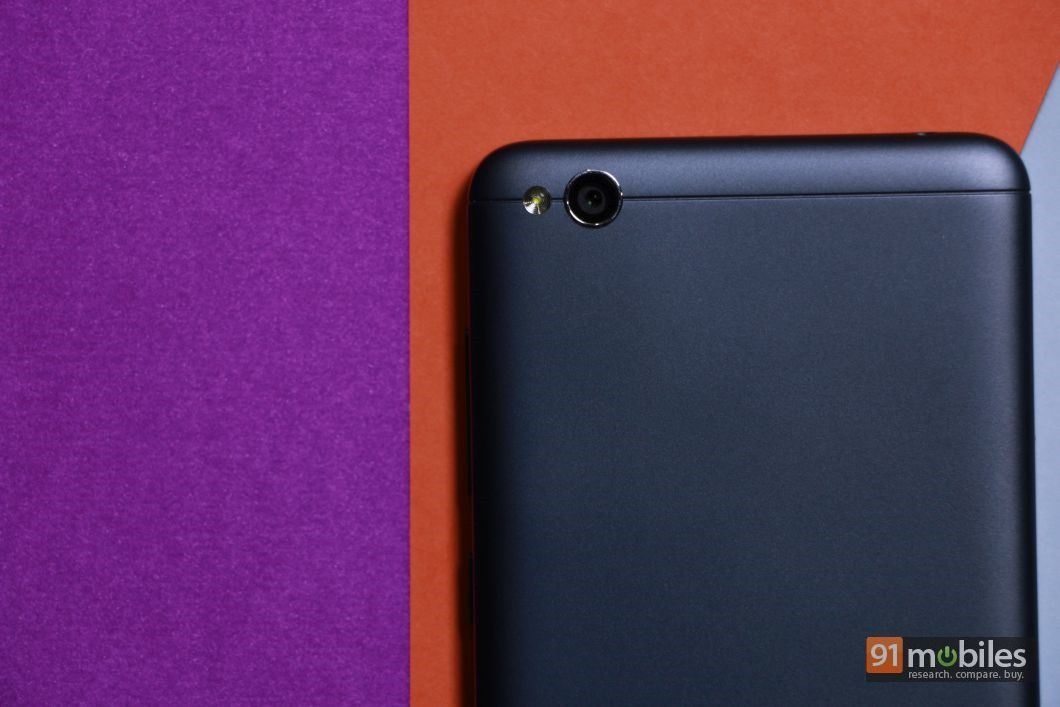 Here are some camera samples which were taken from the Xiaomi Redmi 4A for your viewing pleasure.
Xiaomi Redmi 4A camera samples
What's different
While both the Xiaomi Redmi 4A and Redmi 3S flaunt the same screen size – resulting in a similar footprint – they couldn't have been more different when it comes to the construction material. The 3S features a unibody metal design… lending it a premium look. The Redmi 4A on the other hand, gets a polycarbonate body, but thanks to the metallic finish, it does seem like a solid and classy smartphone. In fact, we had to double check if it wasn't crafted from a single slab of aluminium.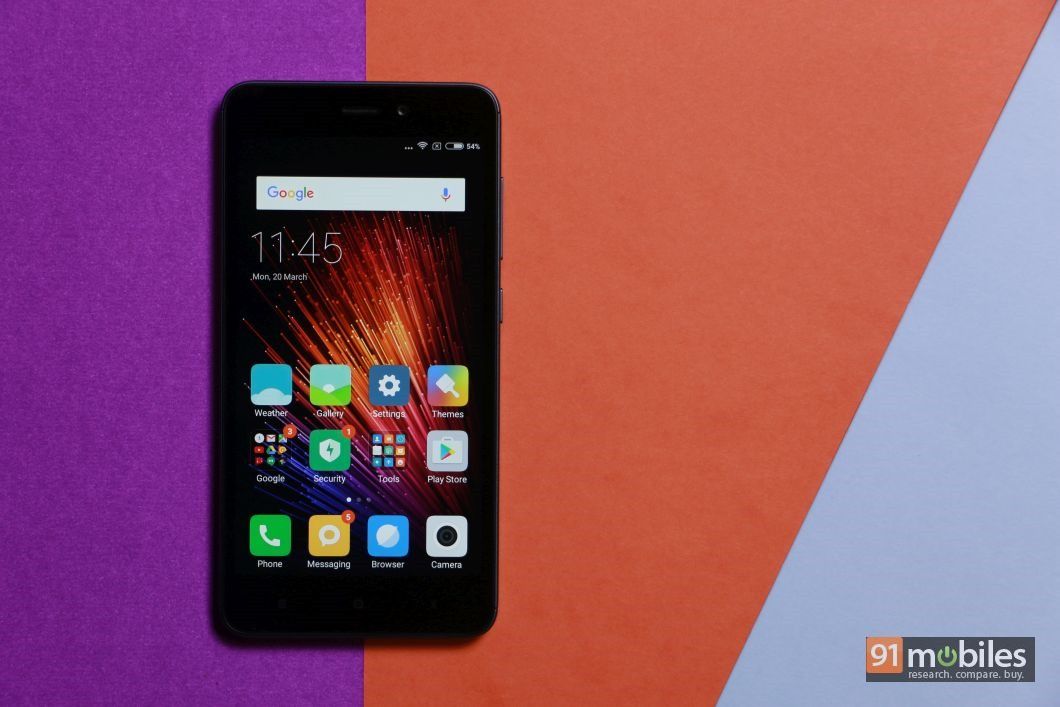 The design ethos however, is fairly standard. The capacitive buttons at the bottom miss out on backlighting. While the device is quite affordable, it's interesting that Xiaomi has offered an IR emitter at the top, letting you control TVs and other home appliances with the Mi Remote app.
Xiaomi Redmi 4A design gallery
The Redmi 4A also gets the tag of the lightest smartphone in Xiaomi's portfolio yet – and that's not just because of its polycarbonate build. While a beefy 4,100mAh battery powers the Redmi 3S, the latest offering from the Apple of China sips juice from a comparatively smaller (and lighter) 3,120mAh unit. But that doesn't mean that the phone fails to deliver impressive battery life. The Redmi 4A easily lasted around a day and a half with the usage comprising a few calls, 4G data being switched on, listening to the music and playing games. In pure numbers, it was able to play a 720p video on loop for close to 12 hours before hanging up its boots – which might be lower than its sibling, but is a great performance nonetheless. While the company might have stopped offering multiple battery-saving modes so as to not confuse the user, the phone does come with a special mode to extend the battery by monitoring background apps and turning off sync. Sadly, the phone lacks fast charging support, and takes around two hours and 30 minutes to juice up from zero to 100 percent, using the bundled adapter.
Another aspect where the two siblings differ is the hardware under the hood. The Xiaomi Redmi 3S comes equipped with a Qualcomm Snapdragon 430 processor, while the 4A draws power from a Snapdragon 425 chipset. While the former offers eight Cortex-A53 cores running at 1.4GHz, the latter has four cores of same microarchitecture tuned at the same clock speed. That said, the benchmark results suggest that the two SoCs aren't that different in single-core performance, though the SD430 certainly has an edge in terms of multi-core performance as per GeekBench 3 (2713 vs 2073). The Adreno 506 graphics engine does a decent job in offering a smooth gaming experience. We loved playing titles like Alto's Adventure and Sniper 3D on the Redmi 4A. Even after playing for long durations, the phone got just slightly warm at the upper half of the rear, which didn't affect the performance in any manner.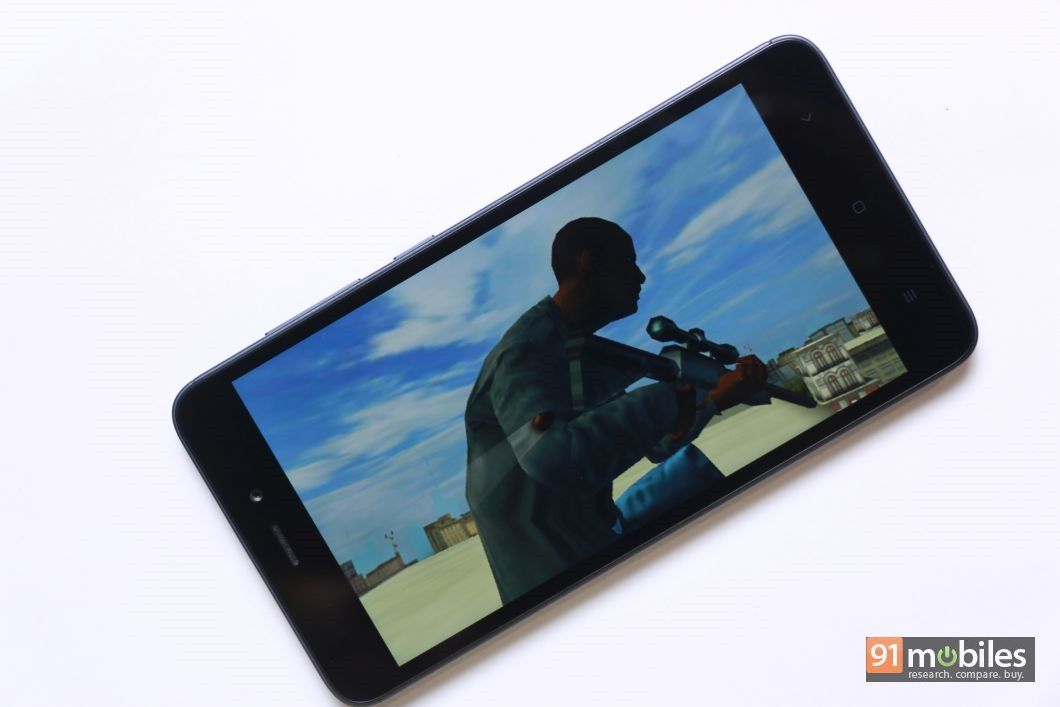 However, not everything is fine and dandy with the Xiaomi Redmi 4A. If you're coming from a more powerful smartphone, you'd notice some lag while opening apps or switching between them. Graphics-intensive games such as Riptide GP2 also take a toll on the hardware. Additionally, MIUI 8 doesn't seem to be as refined as on other Xiaomi smartphones. There were a few inadvertent touches (on one instance, an article got automatically shared on Facebook eight times) without even touching the screen – although this might be an issue with just our review unit.
The Redmi 4A can also work as an excellent secondary phone (or if you're looking for a device to use mainly as a Wi-Fi hotspot), as it comes with support for 4G VoLTE. However because of the hybrid configuration, you can't use two SIMs at the same time if you also want to expand the available 16GB storage. Other connectivity options include Wi-Fi, Bluetooth and GPS.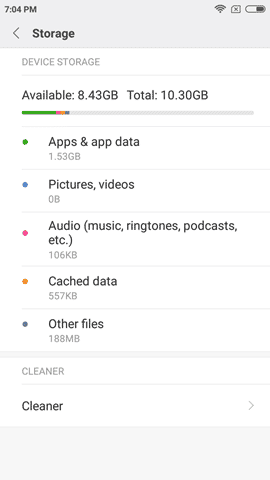 The phone to beat under Rs 6,000?
The verdict for the Xiaomi Redmi 4A is quite clear. At Rs 5,999, it's a complete VFM package which won't leave you asking for more. From display to the performance, camera to the battery life, the device scores high on all aspects.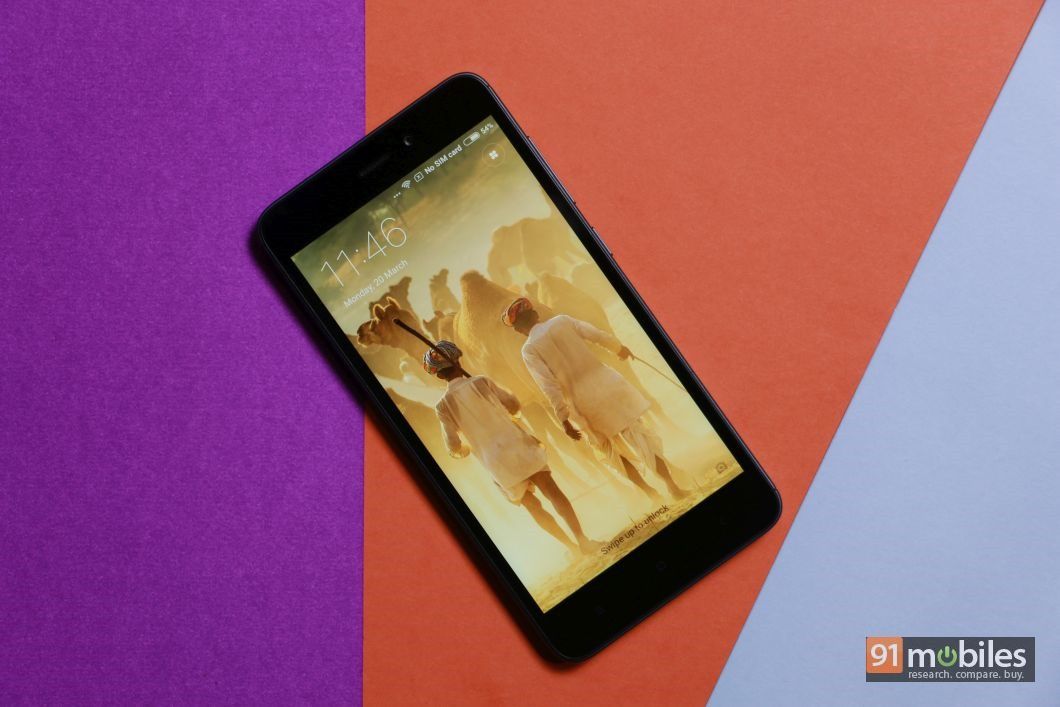 But as we mentioned earlier, the biggest challenger for the Redmi 4A comes from its sibling itself. For just Rs 1,000 more, you get a metal body and more powerful battery in the Redmi 3S. However if you're on a tight budget, then you won't be compromising much with the Xiaomi Redmi 4A. Other competitors include offerings from homegrown manufacturers such as Micromax and Intex, but their phones don't offer the well-rounded experience. You could also choose to wait for the Redmi 4, which is expected to reach our shores by next month.
(Related read: Xiaomi Redmi 4A vs Redmi 3S)
However, keep in mind that if you want to buy the Redmi 4A, then you'd need to be very patient. In its first flash sale itself, the brand managed to sell 2.5 lakh units in under four minutes. If you can't wait, then it's probably easier to get your hands on the Redmi 3S, which has been available in the Indian market for quite some time, albeit via weekly flash sales.
Editor's rating: 4 / 5
Pros
Compact and solid build
Sharp display
Good camera capabilities
Decent performance
Dependable battery
Cons
Touchscreen issues
Takes a long time to charge
Photos by Raj Rout
Competitors for Xiaomi Redmi 4A
| | | | | |
| --- | --- | --- | --- | --- |
| | Xiaomi Redmi 4A | vs | Xiaomi Redmi 3S | |
| | | | | |
| --- | --- | --- | --- | --- |
| | Xiaomi Redmi 4A | vs | Intex Cloud Jewel | |
| | | | | |
| --- | --- | --- | --- | --- |
| | Xiaomi Redmi 4A | vs | Lyf Water 10 | |