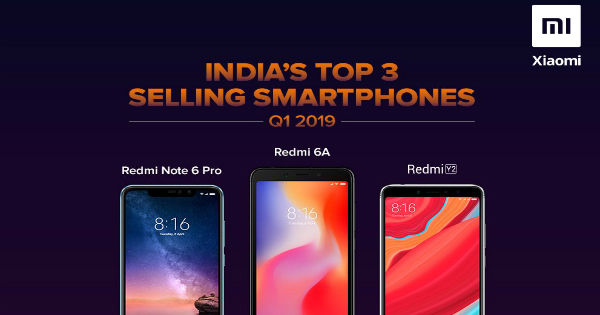 "Seven out of ten top selling phones in India in Q1 2019 were from Xiaomi"
Xiaomi is continuing its dream run in India's smartphone space. The Chinese giant secured its place at the top for seven consecutive quarters, according to IDC and Counterpoint data. Now, Xiaomi India's head Manu Kumar Jain has taken to Twitter and announced that the top three selling phones in India, both offline and online, belong to Xiaomi for the first quarter in 2019. Moreover, seven out of the top ten selling phones in India are from Xiaomi, which is quite a feat.

Top 3 selling phones in India (online + offline): all 3 are @XiaomiIndia phones! ✌️

1) Redmi 6A = 3M = 9.5% share
2) RedmiNote 6 Pro = 1.5M = 4.8% share
3) Redmi Y2 = 1.23M = 3.86% share

In fact, 7 out of top 10 selling phones in India were Xiaomi phones. ✌️#Xiaomi ❤️ (2/2) pic.twitter.com/97yheIrNC6

— Manu Kumar Jain (@manukumarjain) May 15, 2019
The top three selling Xiaomi phones are the Redmi 6A with 3 million shipments and 9.5 percent share, Redmi Note 6 Pro with 1.5 million units and 4.8 percent share and lastly, the Redmi Y2 with 1.23 million shipments and 3.86 percent market share. The other seven top selling phones in India in Q1 include Samsung Galaxy M20, Galaxy J2 Core, Vivo V15, Redmi 6 Pro, Redmi 6, Redmi Note 7, and the Redmi Go. This goes on to show that Xiaomi's Redmi brand is doing quite well in reaching the targeted audience through both online and offline market space.
According to the data shared by IDC for Q1 2019, Xiaomi continued to dominate the overall smartphone market during the period with a total share of 30.6 percent. The company shipped a total of 9.8 million devices, which is a growth of 8.1 percent year-on-year (YoY) while Samsung settled in second place with a market share of 22.3 percent and shipments of 7.2 million units, down by 4.8 percent YoY. Separately, Xiaomi India is teasing the Redmi K20 flagship with Snapdragon 855 and a new Snapdragon 730 phone with 48MP camera launch soon.