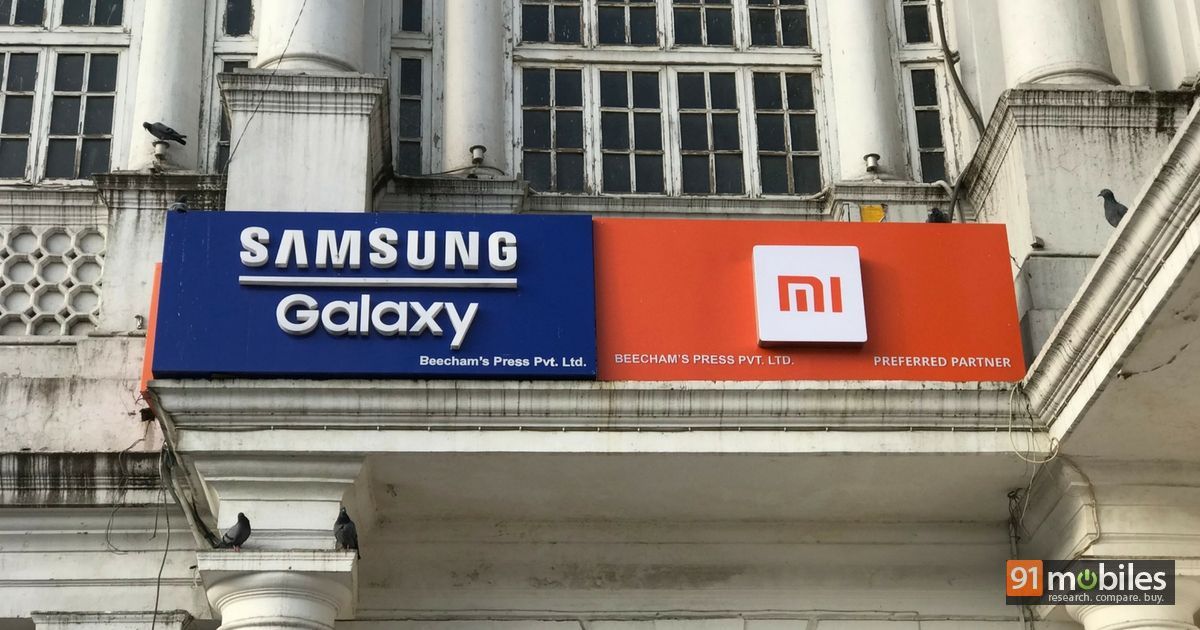 "As per reports by market research firms, Xiaomi has been able to end Samsung's reign in the Indian smartphone market in the quarter ending December"
Just yesterday, research firm Counterpoint's data suggested that Reliance Retail was able to topple Samsung as the top feature phone maker, thanks to the success of the JioPhone (first impressions). But that wasn't the end, as the Chaebol seems to have lost its top spot in India's smartphone segment as well, in the quarter from October to December 2017. This statistic comes from reports by two market research companies – Canalys and Counterpoint.
As per Canalys, in Q4 2017, the Indian smartphone grew just 6 percent to reach total shipments of slightly less than 30 million units. Out of that, Xiaomi shipped close to 8.2 million units, unseating Samsung from the first place which shipped 7.3 million devices. Together, the brands dominated the smartphone category in the subcontinent with more than a 50 percent market share, with Xiaomi having a 27 percent share and Samsung accounting for 25 percent of the shipments. Following the duo were Vivo, OPPO and Lenovo at third, fourth and fifth positions, respectively.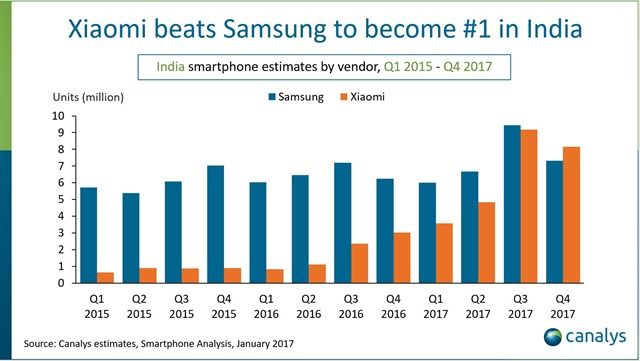 Highlighting Xiaomi's achievement, Canalys's Research Analyst Ishan Dutt stated "its results are commendable, given it entered the market just three years ago. Multiple factors have contributed to Xiaomi's growth, but the key reason for its current success lies in the autonomy that it granted its Indian unit, letting it run the business locally. Localization in channel strategy, marketing and products has been evident in Xiaomi's Indian operations."
The report also suggests that Samsung's market share declined because it didn't offer compelling products in the segment below Rs 15,000 – where Xiaomi shines with its Redmi series. "Samsung's loss comes from its inability to transform its low-cost product portfolio. It has been unable to win over cost-conscious consumers, losing market share in the sub-INR15,000 (US$240) segment to Xiaomi quarter after quarter. Despite its ability to offer better margins and funding to the offline channel, consumer demand for Samsung's devices has been weak." commented Rushabh Doshi, Canalys analyst.
Counterpoint's report for the quarter ending on December also concurs with the above, as far as the fact that Xiaomi beats Samsung is concerned. With a 25 percent share of shipments, Xiaomi stood at first place, while Samsung dropped to the second position with the market share of 23 percent. Lenovo (including Motorola), Vivo and OPPO were at the subsequent positions.

Xiaomi started its offline expansion just last year, and this has played an instrumental role in helping it to gain the first place. Commenting on Xiaomi's success, Tarun Pathak, Associate Director at Counterpoint Research said "During the second half, players such as Xiaomi was particularly disruptive with an aggressively-priced, broad portfolio taken to market with an effective channel expansion strategy. This helped Xiaomi to surpass the long-time market leader, Samsung, for the first time ever. This performance ended Samsung's six year market dominance."
It must be noted that as per IDC, both Samsung and Xiaomi tied for the first spot in Q3 2017, so it was just a matter of time before the Chinese brand toppled the South Korean giant. But Samsung has already started its plan to regain its market share in the voluminous sub-Rs 15k segment, as it is reportedly planning to launch a range of smartphones exclusively online. Canalys analyst Doshi also said that it would be difficult for Xiaomi to grow further. "Growth in 2018 will be hard to come by. As Xiaomi's market share reaches saturation point in India, and the market continues to shrink in China, it must contend with slower growth for its smartphone business as it begins to expand in other countries."
While Xiaomi was at the first position in Q4 2017, Samsung was able to maintain its lead in the entire calendar year. The latter had a shipment market share of 24 percent, and Xiaomi trailed with a 19 percent share. It's still a commendable figure, given that the Chinese brand grew almost threefold within the span of a year. According to Counterpoint's Market Monitor service, overall mobile phone shipments grew 37 percent and smartphone shipments increased by 12 percent year-on-year. Interestingly, feature phones grew by more than 55 percent, which can be largely attributed to the JioPhone's foray in the market.

However, one must consider that these reports are based on shipments, and don't necessarily reflect device sales. Samsung, understandably, is keen to highlight this factor. Attributing data by GfK, which forecasts consumer purchases and not manufacturer shipments, Samsung's spokesperson commented "Samsung is India's number 1 smartphone company by a distance. As per GfK, which tracks sales to end consumers, in the last (November) quarter Samsung had a 45% value market share and 40% volume market share." But there is a caveat in this stat too – GfK tracks offline sales only, and doesn't include sales of smartphones online, a segment where Xiaomi is the undisputed leader.
Eventually, whether Samsung or Xiaomi sit at the top spot – it's clear that consumers are the ultimate winner as both brands will be aiming to provide the best specs at affordable prices in the months to follow.