Highlights
Xiaomi smart speaker patent shows a cylindrical design, like that of the HomePod
Images seem to suggest a touch-sensitive surface or a display at the top
The patented Xiaomi smart speaker design also features a 3.5mm aux port
A new Xiaomi smart home speaker patent has been spotted on the China National Intellectual Property Administration (CNIPA) website. The patent includes schematics for a smart speaker with a cylindrical design that looks awfully similar to the Apple HomePod. It suggests a 360-degree sound output and a possible touch-sensitive surface area that can allow users to interact with the Xiaomi smart speaker when voice commands don't work as intended.
The patent reveals that the upper surface of the Xiaomi smart speaker may come with a circular, disc-like surface, which may offer two things — one, a mini OLED display panel that shows connectivity status, volume, media playing, and other such information, or two, a capacitive, touch-sensitive surface that may offer touch or gesture-based controls such as volume, playback, media selection, and more. It would be interesting to see which approach is eventually adopted by Xiaomi, if it indeed decides to turn this particular patent into reality.
Having a touch control at the top seems likely for the Xiaomi smart speaker since no other control appears to be present in the schematics listed by Xiaomi in the patent. While voice is the primary operating interface for smart home speakers, they also come with physical buttons to ensure that all features remain accessible to users, should the voice reception and response mechanism fail at times. As a result, it is likely that the top panel would come with controls to access the settings of the speaker, should the need arise.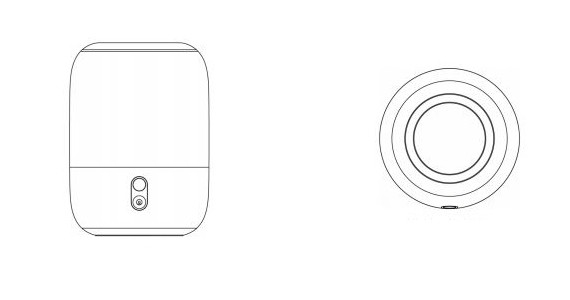 The Xiaomi smart speaker also appears to come with a 3.5mm audio port, something that isn't really used a lot by smart speaker buyers. It will be interesting to see if Xiaomi does go ahead and launch such a product and if it relies on Google Assistant or Amazon Alexa compatibility, or opts for its own XiaoAI digital assistant. Ever since establishing itself in the smartphone business, Xiaomi has created a burgeoning smart home ecosystem, where the purported smart speaker would fit right in.