Highlights
Global smartphone shipments have declined by 4 percent YoY but grew 32 percent QoQ in Q3 2020
Xiaomi has surpassed Apple with 13 percent of the total smartphone shipments
Transsion Group led the global feature phone market
Global smartphone shipments have declined by 4 percent YoY but grew 32 percent QoQ to 366 million units in Q3 2020, according to Counterpoint research. While Samsung has retained the top spot with 80.4 million shipments, 48 percent QoQ growth and 3 percent YoY increase. This is apparently the highest-ever shipments for Samsung in the last three years. Xiaomi has surpassed Apple for the first time and settled in the third spot. It contributed 13 percent of the total smartphone shipments and grew 75 percent QoQ. Apple iPhone shipments declined 7 percent YoY during Q3 2020 and this could be attributed to the delayed annual iPhone launch this time around. Huawei, including Honor, has remained in the second position with 14 percent.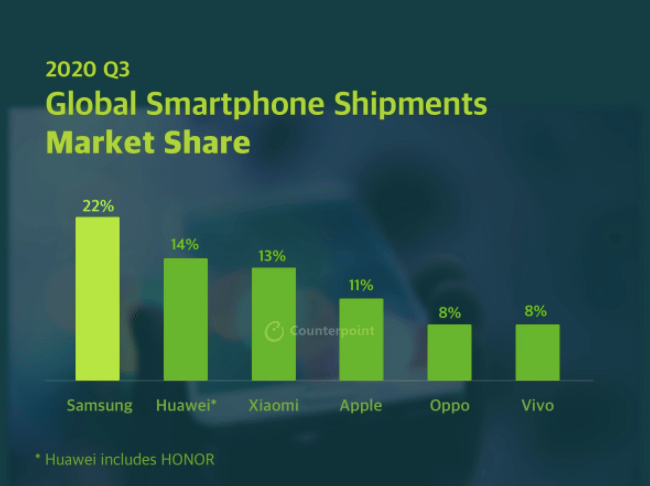 Realme shipments grew 132 percent QoQ and became the world's fastest brand to hit 50 million shipments since inception. The Indian smartphone market grew by 9 percent YoY and 188 percent QoQ and reached 53 million units. As for the feature phone market, the segment declined 17 percent globally, reaching 74 million units in Q3 2020. Middle-East and Africa have remained the largest market for feature phones, followed by India at 36 percent. Transsion Group led the global feature phone market capturing over 35 percent of the total market share. iTel has remained the biggest player in the Indian market with 41 percent growth in shipments and 193 percent QoQ.
Feature phone shipments in North America declined further by 75 percent YoY and 50 percent QoQ. Lastly, Alcatel has contributed to more than 50 percent of the total feature phone shipments in the region.