"The YouTube Premium and YouTube Music Premium prepaid packs are priced at Rs 109 and Rs 139 per month, respectively"
YouTube Premium and Music Premium streaming services now come with non-recurring prepaid plans as well. This means users can pay upfront for the premium ad-free subscription of YouTube as opposed to the monthly recurring billing cycle. The new YouTube Music prepaid plans in India start from Rs 109 for a month and Rs 309 for a period of three months. The YouTube Premium prepaid plan, on the other hand, is priced at Rs 139 for one month and Rs 399 for three months. The prepaid plans are slightly expensive than the postpaid plans and currently available for Android and Web.
For those unaware, the postpaid plans of YouTube Music is set at Rs 99/ month, while the YouTube Premium costs Rs 129/ month. Both come with a one-month free subscription for new users. Both these streaming services were launched in India earlier this year. The YouTube Premium catalogue includes everything Music Premium offers such as Offline Mixtape to download up to 100 songs, intelligent search powered by Google's machine learning, and trending songs – plus access to the full slate of original shows and movies.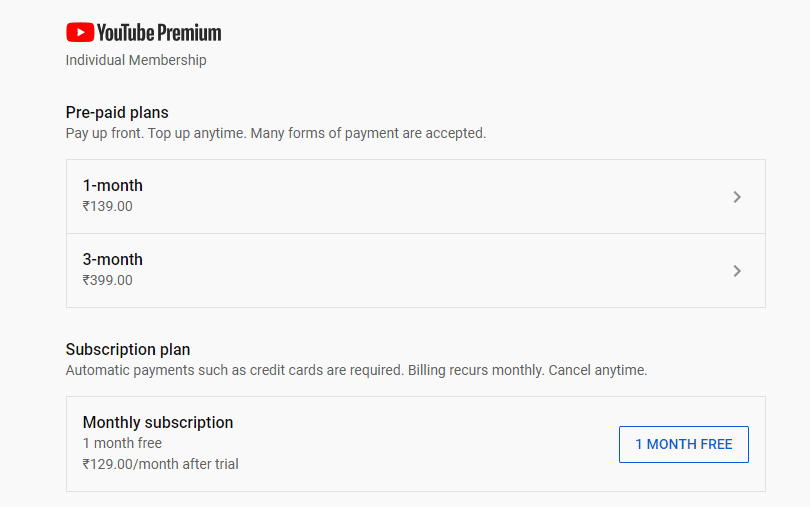 Google says that prepaid plans can be purchased with a local credit or debit card using Visa or Mastercard, and the YouTube Premium page reads "Many forms of payment are accepted." Unlike the postpaid accounts, YouTube's prepaid users won't be billed automatically once their subscription expired. As of now, the prepaid plans are showing only for new YouTube Premium and YouTube Music Premium users.