"The rotating module will feature a secondary display on side, while the other side will have the sensors, selfie camera, earpiece etc"
ZTE has filed a new smartphone design patent with WIPO (World Intellectual Property Organization) and it appears to be quite ambitious, to say the least. In order to achieve the much-coveted 100 percent screen-to-body ratio, the brand has come up with a unique design that features a swivel camera module at the top where the notch sits. This swivel module features an auxiliary screen at one side and selfie camera, earpiece, selfie camera etc on the other. When the phone's selfie camera is in use or the user gets a phone call, the part with the sensors will rotate to the front. Otherwise, the secondary display of the swivel module will be in the front for an all-screen experience.
Explaining the working of the rotating module, the company says in its patent filing, "The upper end of the terminal body is provided with a notch penetrating through the main screen, and the rotating component provided with the auxiliary screen can be installed at the notch at the front and rear rotation. When the auxiliary screen is rotated to the front side, the auxiliary screen is covered with the notch of the main screen, thereby effectively increasing the display area. , can achieve a comprehensive screen design."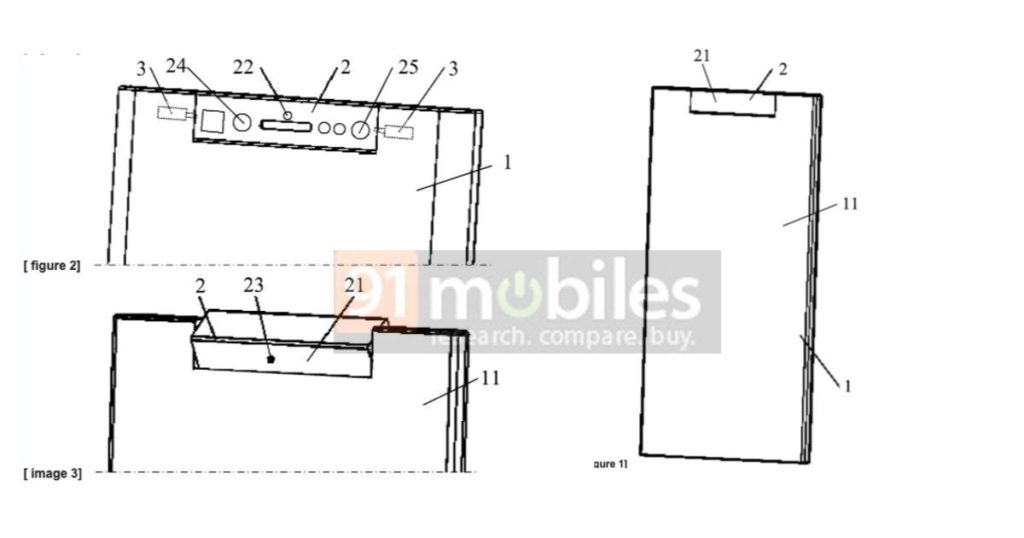 Now, ZTE claims that the handset features a 'human ear recognition module' that controls the swivel mechanism to automatically adjust the angle of the earpiece rotation to change the sound direction of the earpiece. Interestingly, the patent mentions at one place that when a call is made, the handset is rotated manually or automatically to the ear side of the person approaching the mobile terminal. This leaves it unclear if the swivel module could be manually adjusted or not.
Explaining the functioning of the auxiliary screen, the brand says that when the display is rotated to the surface of the main screen, it covers the gap of the main screen. Much like the ASUS 6Z, panoramic photography using the swivel module has also been mentioned in the patent. It is likely the same camera setup that is used for selfies will also be employed on the back.

As it usually goes with patents, it is hard to say at the moment if this design will materialise and be implemented in an actual commercial smartphone or not. Most smartphone companies are in the race to achieve highest screen-to-body ratio at the moment and although Xiaomi blew everyone else out of the water with its ultra-premium Mi MIX Alpha last month, we might see brands looking for more practical designs going ahead.