"The 1M301 is one of the most stylish earphones in its price bracket"
The Apple of China – Xiaomi – isn't only known for its feature-packed smartphones, but also its accessories like power banks and earphones. But did you know that the brand itself doesn't manufacture most of these accessories? Yes, for instance, its earphones are made by 1more, which is a California-based company. And today, we have earphones from 1more itself – the 1more single driver 1M301. Priced at Rs 2,799, can the pair impress us like the Xiaomi Mi in-ear Pro HD (review)? We've been using it for quite some time, and here's what we think.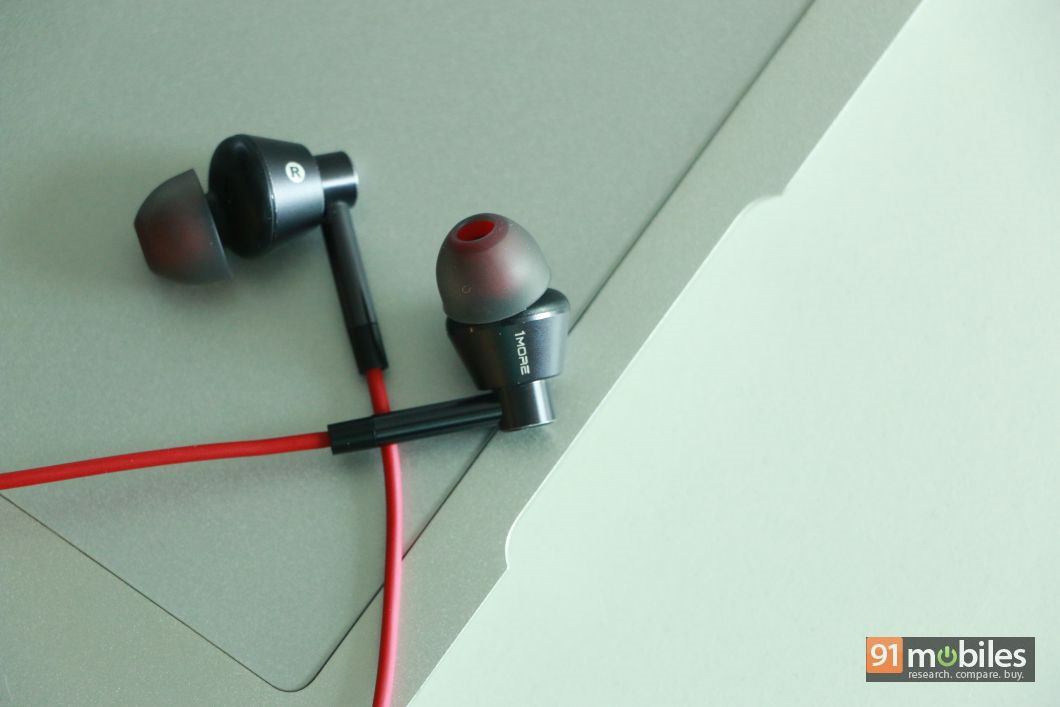 Design and comfort: gimme red
The 1more single driver will catch your attention as soon as you taken them out… all thanks to its red colour. Not only does this make them stand out from other earphones, but also gives it a distinct identity. Another factor that distinguishes it from a regular pair of earphones is the braided fabric cable. This means that it isn't easy to break and can be untangled relatively easily too, unlike regular wires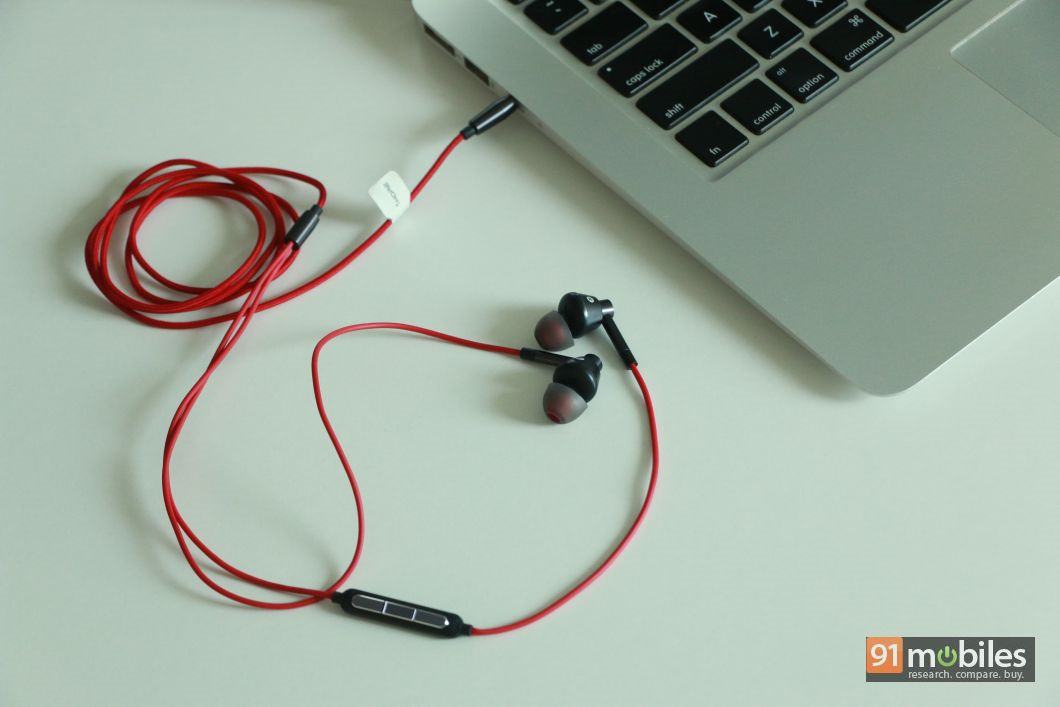 With a metallic 3.5mm plug, relay, and ear tips, the 1more single driver earphones are quite premium. They have an in-ear form, and it rests in the ears easily. The angled ear tips ensure that you can enjoy long listening sessions without any issue. The packaging also comes with four silicone ear tips of different sizes for your specific ear size. The 3.5mm jack is gold-plated, and the entire length of the cable is 1.25m. It must be noted that the earphones have a regular wire after the Y-connector.
1more single driver 1M301 gallery
The in-line three-button remote control is made out of plastic though, but the controls are made out of metal. It offers the usual functionality of increasing or decreasing the volume, and pausing the playback. We used the 1more earphones with a Windows laptop, and smartphones like the Honor 8 Pro and Google Pixel, and the controls worked fine. Although in the case of the Windows laptop, the songs couldn't be paused. With Android devices however, you can double tap the pause button to change the song or even long-press it to activate Google Now.
Performance and sound: all that bass
The highlight of the 1more single driver 1M301 earphones is in its name itself – the pair comes with a triple-layer diaphragm for reproducing sound. It has a frequency response range of 22Hz to 22KHz.
The 1more single driver earphones do justice to songs from different genres. However, the sound is coloured and not neutral, as it's oriented towards bass-heavy tracks. That's why Chainsmoker's All we know is a delight to listen to with the pair offering ample bass and mids. Kanye's Love Lockdown also sounds good with a clear output of both, the bass and sub-bass frequencies. Listening to Shafqat Amanat Ali's voice in Aankhon ke Sagar is a pleasure as it delivers clear vocals, though it seems to lack the punch. However, the pair doesn't work well with highs as was evident while listening to Judas by Fozzy.

Coming to sound imaging, it's quite decent and there's a perceptible spatial separation between different instruments and vocals. While the 1more 1M301 aren't noise-cancelling earphones, they do a pretty good job of isolating surrounding sounds regardless. Even when the volume levels aren't high, we were able to be fully engrossed in the songs without worrying about the noise around.
Verdict

There's little doubt that the 1more single driver 1M301 is one of the most stylish earphones in this segment. It is well-built and also quite comfortable to use for extended durations. For its asking price, the pair offers good sound quality. At this price point, it faces competition from the likes of RHA – S500. In fact, you might want to opt for the Xiaomi Mi-Ear Pro HD if you love listening to bass-heavy EDM songs, as it costs less at Rs 1,999. However, the 1more single driver 1M301 gets an edge over the RHAs because it has a focus on both the looks as well as the sound, and hence it gets our recommendation as one of the best earphones under Rs 3,000.
Editor's rating: 4 / 5
Photos by Raj Rout