"Besides standing out as a very stylish fitness tracker, the Amazfit Stratos packs in tons of health-related features"
You may or may not have heard of Amazfit, or even its parent company Huami, but I'm sure you'd have heard of Xiaomi. The fact is that Huami is the same company that makes Xiaomi's popular Mi Band range of fitness bands, and in countries like China and Hong Kong, Amazfit's wearables are actually sold via Xiaomi's retail channels. So when Amazfit landed in India with a pair of fitness wearables, I just had to try them out. The one I have strapped to my wrist right now is the Amazfit Stratos, which is the more premium of the two, and I think it's one of the most gorgeous fitness watches I've seen in a long time. Not just that – the style is ably married to a lot of substance too.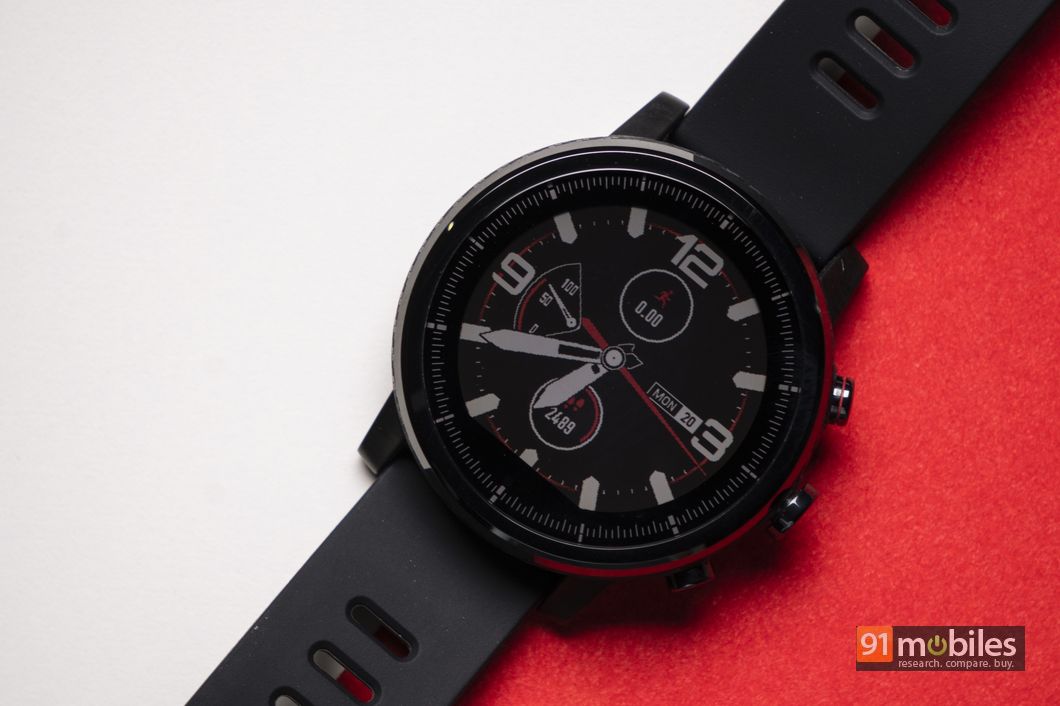 Design-wise, the Stratos is bound to please those who love chunky watches. The carbon fibre case, polished ceramic bezel, 2.5D Gorilla Glass display and three large stainless steel buttons on the side give it a solid build that exudes class. The device comes with a 22mm silicone rubber strap that features quick release pins, so you can swap it out for any band of your choosing. That said, the rubber strap is so comfortable to wear that you probably wouldn't want to change it at all. Despite its chunky build, the Stratos is pretty lightweight and tips the scales at a mere 70 grams, all thanks to that carbon fibre case, which bodes well for something that you're supposed to wear all the time. However, that large size and which profile does feel a tad unwieldy if you're wearing it to bed (especially as compared to something like, say the Fitbit Ionic), which is something you'd have to do if want it to track your sleeping patterns.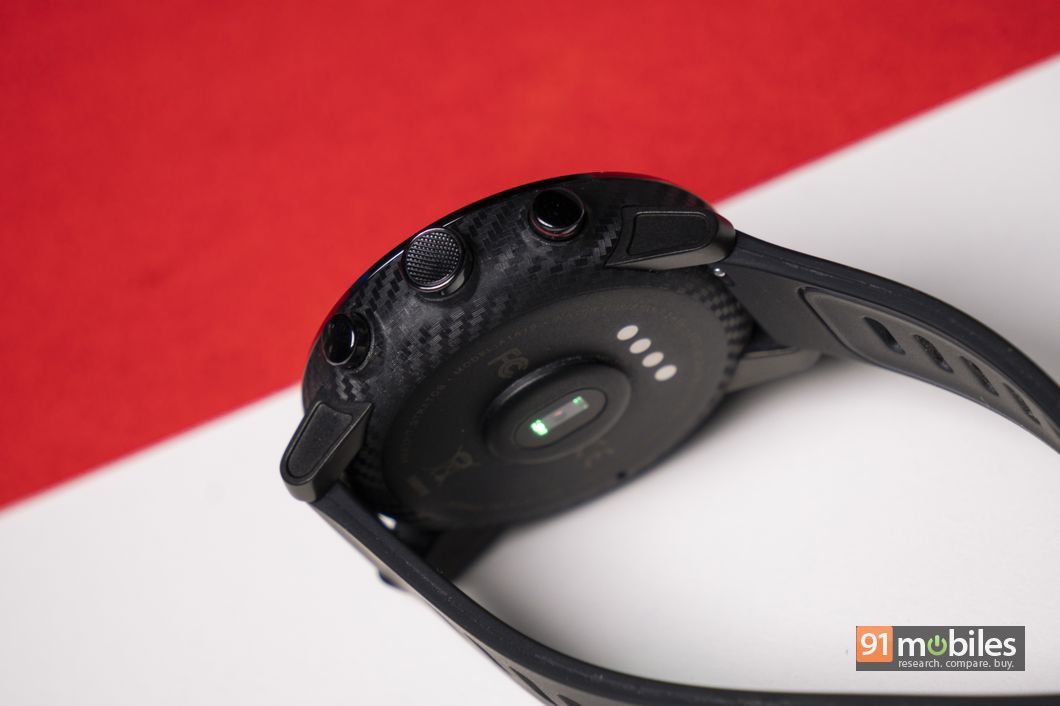 Looks are one thing, capabilities are another. In terms of specs, the Amazfit Stratos packs in a 1.34-inch, 320 x 300 pixel always-on transflective colour LCD touchscreen, a 1.2GHz processor, 4 gigs of storage, and a bunch of sensors that include an optical heart rate sensor, built-in GPS a barometer and a compass. Connectivity options include Bluetooth and Wi-Fi. Bear in mind that the Stratos is not a true-blue smartwatch, so there's no mic or speaker. While it can mirror notifications and calls from a paired phone, its focus is mainly on the fitness side of things. And as far as fitness features are concerned, the Stratos is completely packed to the brim.
Amazfit Stratos design & features
By now, you'd already have guessed that the Stratos can track your runs, given the built in GPS. The device can track a bunch of different exercises, offering modes like running (outdoor and indoor), walking, cycling (outdoor and indoor), swimming (pool and open water), elliptical trainer, climbing, trail run, triathlon, skiing, tennis, soccer, and multisport. The Stratos is water resistant up to depths of 50m, and the included rubber strap is ideal if you're using it while swimming.
Admittedly, the screen is a bit of a mixed bag – I love the fact that it's always on and I don't need to use that raise-to-wake wrist gesture just to view the time, as is the case with most other smartwatches. However, the screen has that flat tyre at the bottom, the same one the Moto 360 was derided for. Viewability in sunlight is fine, but you might have a tough time in dim lighting conditions unless you enable the backlight. The touch response isn't too great either. Which is where the side buttons come in handy.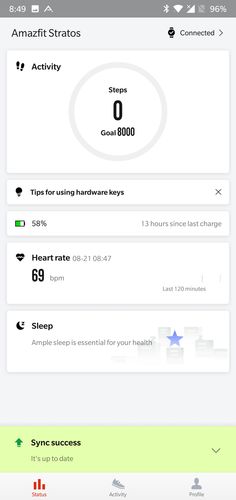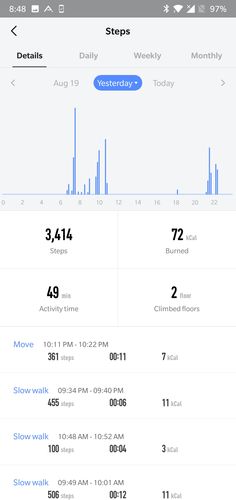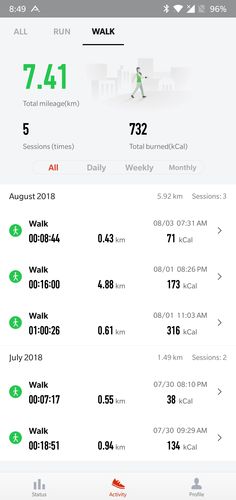 Pairing the Stratos with a phone is a simple affair, and you need to install the Amazfit Watch app for that. The app is available for both iPhones as well as Android devices, and syncs your activity data to your cloud account. Worth mentioning that if you have a Mi account already, you can use the same credentials to log in. Bear in mind that the app mainly allows you to pair the watch, update firmware, add your profile, and view the synced activity data – most of the other settings etc are done directly on the watch. You can also use the app to upload music on to the Stratos' internal storage, and then stream tracks to a paired Bluetooth headset directly from the watch. This is ideal while running or other physical activities, as you can choose to leave your phone behind.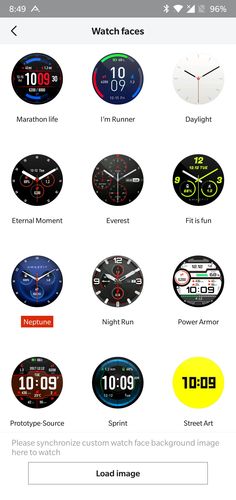 The Amazfit Stratos, as I mentioned earlier, isn't a full-fledged smartwatch. The proprietary platform it uses doesn't allow you to install third-party apps, and there's no option to install any third-party watch faces either. However, you can choose one from 14 different watch faces, which include both analogue as well as digital options. And there are actually some very nice looking options there. Some of those watch faces can be customised too, letting you set different 'complications' or display different metrics such as battery life, date, steps taken etc, to the screen. In fact, you can even upload your own images and set them as watch face backgrounds. The other functions available on the watch include a daily overview of physical activity, weather, heart rate, music player, alarm, compass, stopwatch, sleep info, and a timer. There's even a Training Centre feature that's designed to help marathon runners build endurance over time, giving you various options depending upon the intensity you'd prefer or the type of marathon you're training for. In addition, the Stratos also provides maximum oxygen uptake data in the form of a VO2max reading, which is an indicator of the aerobic capacity of the body.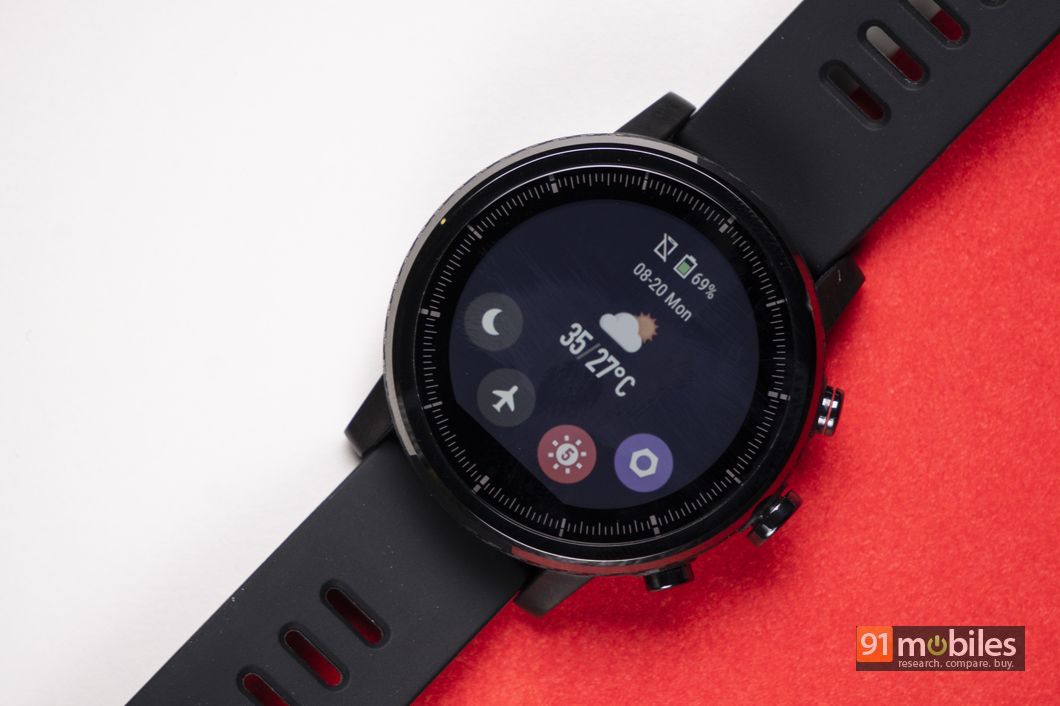 Talking about the UI, here's when things get a little tricky. Pressing the top right button unlocks the device, post which you can use the keys or the touchscreen to navigate around the UI. A downward swipe from the watch face brings down a quick setting panel of sorts, while an upward swipe displays the most recent notifications from your paired smartphone. The exercise modes and details of your fitness activity (in the form of a daily overview) are listed towards the left of the watch face (accessible by swiping towards the right), while the other functions are placed in the other side (visible when you swipe left). The up and down buttons on the sides can also be used to navigate, while tapping on a particular screen, or pressing the centre button, drills down further to give you more details. While it's an intuitive UI for the most part, it does require a bit of a learning curve in the beginning, and there's some sluggishness evident at times that sort of affects the experience.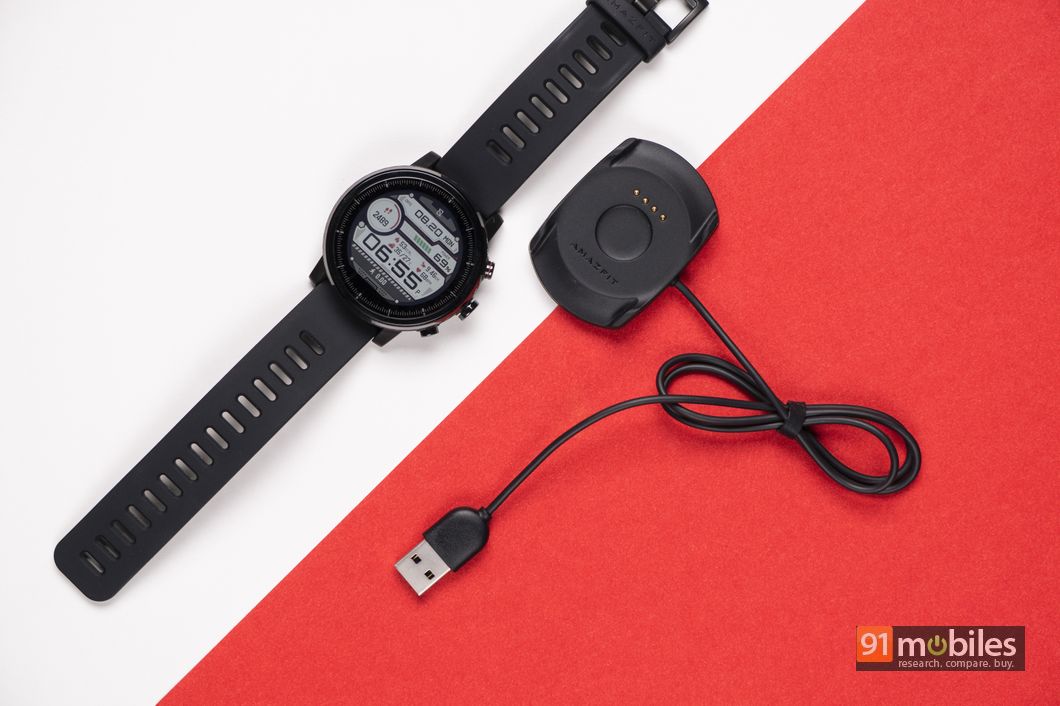 On the positive side however, the AmazFit Stratos does offer a lot of info on its screen directly, without you having to sync your data and fire up the app. For example, you can view details of your sleep data, as well as your running info, complete with a small map of your tracked runs. Once you're outdoors, it just takes about 30-40 seconds for the GPS to get a fix, and I didn't really find any glaring issues with the accuracy either. The Stratos can be charged via the included cradle, and the battery life is pretty good too. I found that the advertised claim of about 5 days with mixed usage is just about correct, though your mileage could vary depending on how much mileage you rake on the watch with the GPS on (pun unintended).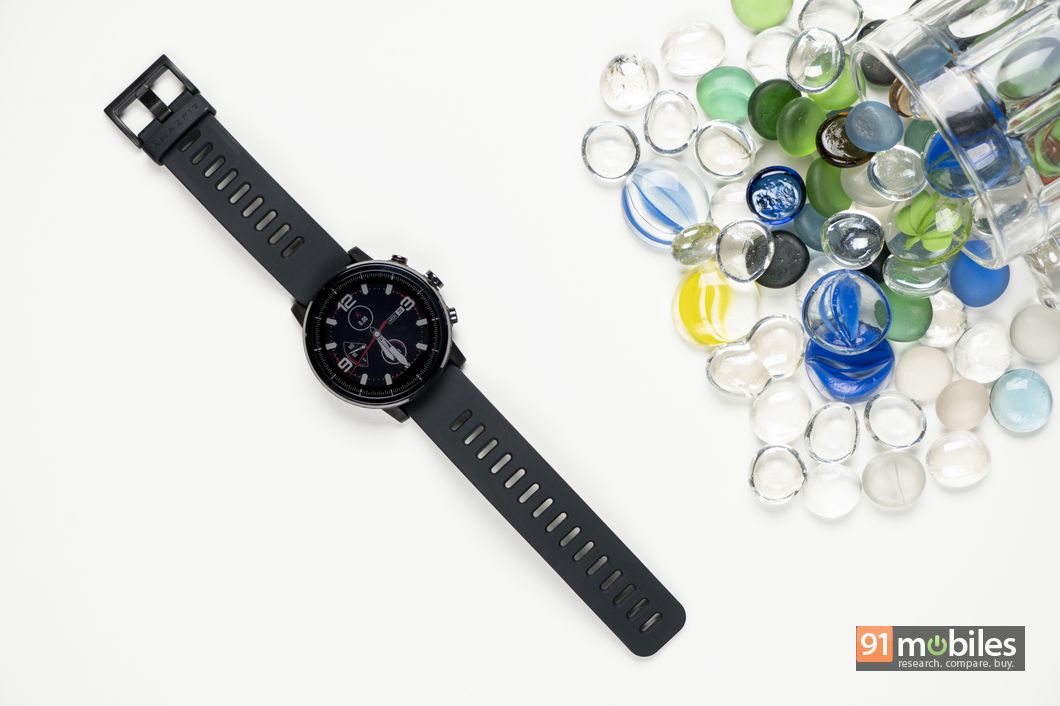 Overall, the Amazfit Stratos, in my opinion, is a very worthy buy. It looks great for one, and is possibly among the very few fitness trackers that you can wear to the boardroom. So if you're one of those who wear your workout apparel under your business suit, ready to hit the gym or the running track as soon as you get free from work, you won't need to change your wrist-wear at least. And secondly, the Stratos packs in tons of features and capabilities that should appeal to most fitness buffs. Sure, the Stratos is a bit of a mixed bag in some ways, and there are other options to consider. Those looking for a more full-fledged smartwatch should look at the Samsung Gear S3 or the Apple Watch Series 3, but these are pricey. The Fitbit Ionic and the Versa are worthy options too, but again, are priced relatively higher. In the same range as the Stratos, you could possibly look at the newly-launched Fitbit Charge 3, or the Samsung Gear Fit2 Pro. For its asking price of Rs 15,999 though, I think the Amazfit Stratos brings a lot to the table, or in this case, to your wrist. Right from those oh-so-gorgeous looks to the always-on colour screen, the built-in GPS to the long battery life, and the tons of fitness features to the level of detail it can offer, the Amazfit Stratos looks like a compelling option for sure.

Photos by Raj Rout