"ASUS attempts a wild gamble with the high-end and high-priced ZenFone 3 Deluxe. We find out if the gamble works or not"
Which brand comes to your mind when you see a sticker price of Rs 63,000 for a smartphone? If we were to take an educated guess, we'd say you are thinking Apple, Samsung, HTC, or BlackBerry even. What if we were to say that ASUS' top-end variant of the ZenFone 3 series, aptly named – the ZenFone 3 Deluxe – actually demands that price? We won't really be surprised if you actually flipped out after reading that. Especially because no ASUS ZenFone smartphone has every charged such a premium before. This puts the phone squarely in the league of the Apple iPhones and the Google Pixels of the world.
Pricing aside, ASUS packs the ZenFone 3 Deluxe with all the top-end hardware components but the kitchen sink – as expected. Let's find out if it is worth braving the current wave of demonetisation in our country and splurging on the phone.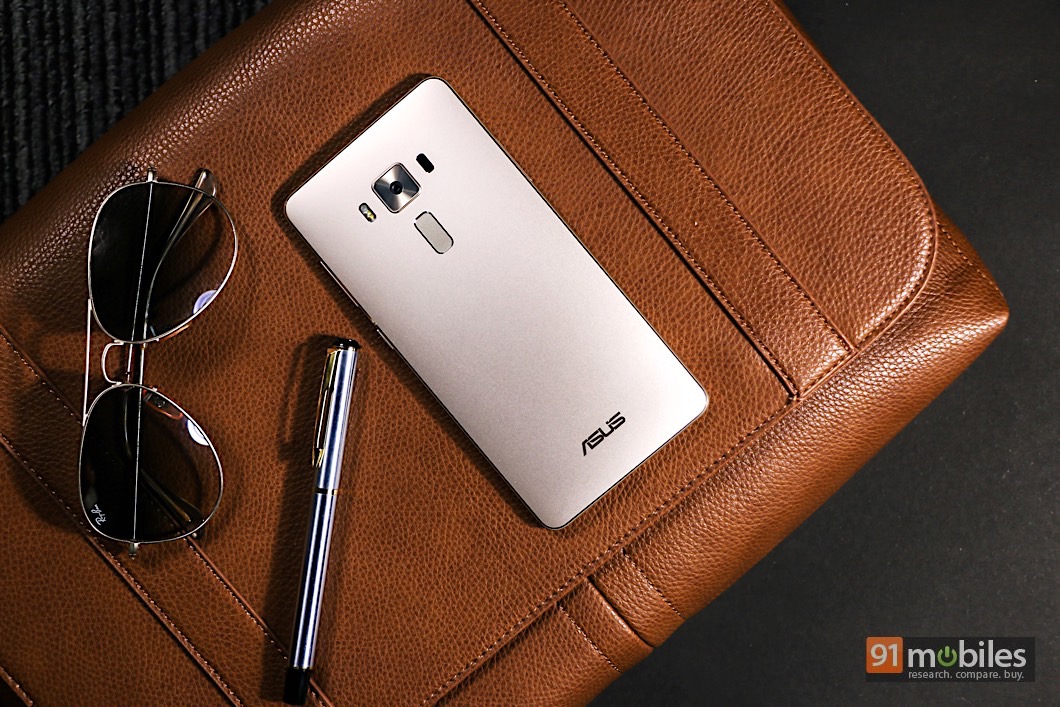 Specs at a glance
Display
Size
5.7 Inch
Resolution
Full HD (1080 x 1920 pixels)
Performance
CPU
Dual core, 2.15 GHz + Dual core, 1.6 GHz, Snapdragon 821
RAM
6 GB
Storage
Internal memory
256 GB
External memory
Up to 128 GB
Battery
Capacity
3000 mAH, Li-ion, Non removable
Camera
Primary camera
23 MP
Secondary camera
8 MP
Connectivity
Network support
Dual SIM 4G
Other options
Wi-Fi, Bluetooth 4.2, GPS
Others
Battery Capacity
3000
Operating system
Android 6.0 Marshmallow
Design
Dimensions
: 156.4 x 77.4 x 7.5 mm
The ZenFone 3 Deluxe oozes 'premium' the moment you take it out of its classy retail packaging. The body of the phone is made from aerospace-grade aluminium alloy and ASUS has somehow managed to cleverly hide the plastic antenna lines – used to receive the radio waves – present on other metal body flagships like the Apple iPhone 7 Plus (review) and the HTC 10 (review). This is definitely a great feat as far as engineering and designing a smartphone is concerned because antenna lines are nothing but an eyesore.

The edges of the ZenFone 3 Deluxe are neatly chamfered and the corners are rounded. Despite the large 5.7-inch screen size, the phone feels ergonomic thanks to the curved rear and small bezels. However, we are not really fans of the black border around the display, which breaks away from the otherwise cohesive design of the phone. The primary camera module has a slight bump and it sits on the convex part of the curve on the rear. This means that the phone wobbles when placed on a flat surface. The fingerprint scanner is placed below the camera module and it is a long rectangular block instead of a circle. For a flagship phone, the performance of ZenFone 3's fingerprint scanner is iffy at best: it is not very responsive for one, despite the company's claims, and furthermore it failed to recognise the fingerprint more often than not.
The power button and the volume rocker are placed conveniently at the right edge of the ZenFone 3 Deluxe. The travel on these buttons are not too great and they feel slightly mushy to press. We have another minor design inconsistency to point out – the backlit capacitive buttons below the display are offset closer to the bottom and are not center-aligned. This might not be a deal breaker for many, but it irks us primarily because the ZenFone 3 Deluxe is a premium smartphone and minute attention to detail is the least we expect.
All summed up, we'd like to say that ASUS has tried really hard to make the ZenFone 3 Deluxe stand out but falls short on multiple counts.

Display
Resolution
: Full HD (1080 x 1920 pixels)
Display Type
: Super AMOLED
The 5.7-inch Super AMOLED display on the ZenFone 3 Deluxe offers a display resolution of 1080×1920 pixels, which is comparatively low considering most Android flagships offer QHD displays. However, this is a good idea because it helps in saving some precious battery life – more details later. ASUS adds a layer of Corning Gorilla Glass 4 for protection against accidental scratches. Despite using an AMOLED panel, the colour saturation is in check and the overall tone is pretty neutral too. Two thumbs up to ASUS for tuning the display right. The viewing angles are pretty good and so is the overall brightness. ASUS also bundles an app called Splendid that gives you the freedom to customise the colour temperature, hue, and the saturation. You also get a bluelight filter toggle that makes it easier to read with control over the levels. We like this implementation better than the night shift mode on the Apple iPhone 7 / 7 Plus.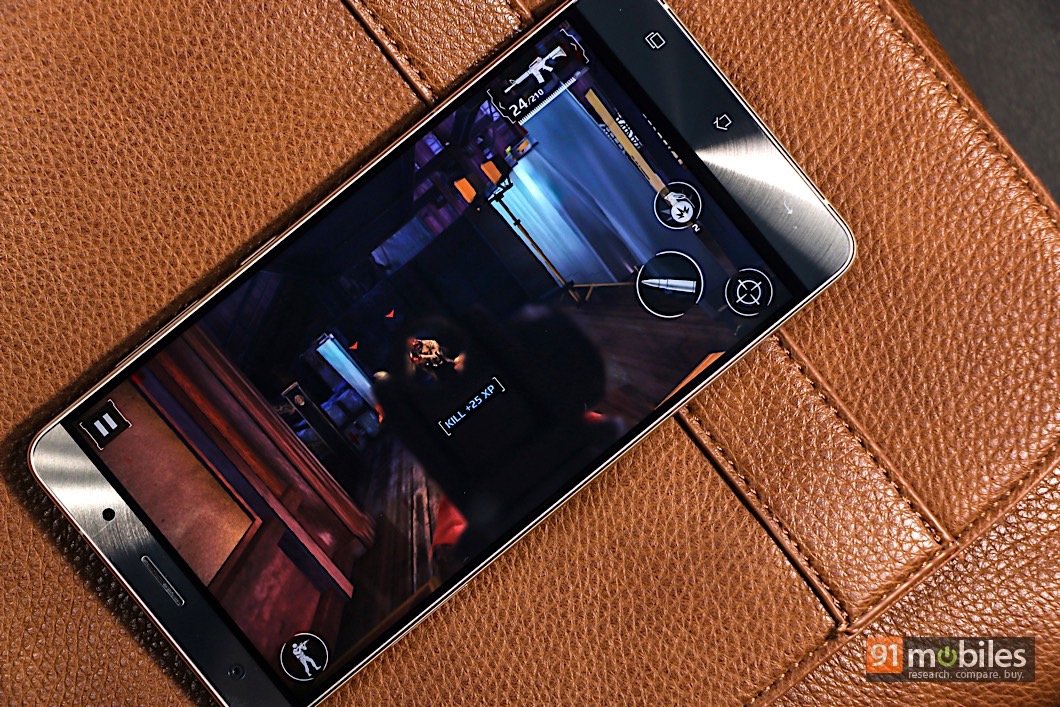 Software
Operating System
: Android
OS Version
: 6.0, Marshmallow
Let's just say this upfront: the ASUS ZenUI skin on top of Android 6.0 Marshmallow is an assault on your senses and not in a good way. The moment you start the phone you are inundated with customisation options and pre-loaded apps that you need to more than just a minute to take it all in. Let's start with the pre-loaded apps. You get your regular suite of Google apps but along with it you also get ASUS' homegrown apps like MyASUS Service center, PhotoCollage, MiniMovie, just to name a few. Apart from this, you also get built-in games and other third-party apps like Need for speed and Go2Pay, and many more. Unfortunately, most of these apps cannot even be uninstalled and can only be disabled.

Moving on, if you are a tinkerer you will love the customisation options on offer like custom animations for home screens and themes. In our opinion though, all this feels a little too overwhelming after a point, and we feel that you will eventually settle for a particular layout. You also get other software tweaks like a One Hand Operation mode, an option to keep an always on screen, a special OptiFlex tool that enhances any app's launch speed, and the list is unending. Quite evidently, ASUS is hellbent on giving you complete control over the operating system and the software.
Despite our discomfort, we have to hand it to ASUS that none of the features or tweaks feel broken at any point and it is a completely polished software. We'd totally understand if some users actually like this approach to skinning Android.

Camera
Flash
: Dual-color LED Flash
The ASUS ZenFone 3 Deluxe uses a 23-megapixel Sony IMX318 sensor for its primary camera which is mated to a lens that has an f/2.0 aperture. ASUS also adds a TriTech auto-focus technology, which is nothing but a combination of laser, phase detection and continuous auto-focus methods. ASUS claims that this helps the camera lock focus in under 0.03 seconds. While we couldn't verify the exact accuracy of the statement, one thing is for sure – the camera focusses on subjects really fast even in testing lighting conditions. A 4-axis OIS and EIS (especially for video) has also been added for good measure.
In regular daylight shots, we noticed that the camera captures to underplay the saturation and give more prominence to details. However, despite the fact that close-up shots come out incredibly detailed, the camera sort of struggles to exhibit the same performance in wide angle landscape shots. Thanks to the fairly large aperture, portrait shots offer a decent amount of depth in the background. We did notice a slight lens distortion along the edges of the image in a few of our sample shots but that's okay considering most smartphone cameras suffer with this issue. We noticed another peculiar issue during testing – the camera produced shots with a clear pink tint in all our HDR shots. In low light, the camera starts underperforming and the results are not even comparable with cameras on other flagship smartphones in the same price range. Having said that, the Low Light shooting mode on the ASUS sacrifices all the megapixels to shoot a 5MP image with more details. And somehow – using some clever software trickery – this works well.
Talking about shooting modes, just like the ZenUI skin, ASUS also offers a smorgasbord of options in the camera app as well. From tinkering individual settings in the Manual mode to using the Super Resolution mode to stitch multiple images and create a large 51MP image, ASUS leaves no stone unturned. Images captured using the Super Resolution mode look pretty sharp and detailed when not viewed at their full resolution. You can choose to use this mode as default to shoot images especially if you are only going to share them on social media. Click on the images in the gallery below to view the camera samples in full resolution.

ASUS ZenFone 3 Deluxe camera samples
The front camera uses an 8MP sensor. It captures decent selfies and offers a Beauty mode like most rival Chinese manufacturers do. Thankfully, the mode is not as aggressive as some of the other implementations we've seen in phones like the Gionee S6s (review) or the OPPO F1s (review). It improves your skin tone and texture but not to the extent that you look like a White Walker from Game of Thrones. The rear camera can also capture 4K videos with stereo sound recording. The camera holds on to focus without any trouble even if subjects are flitting within the frame and the overall image quality is pretty good too. The video quality replicates the image quality with muted colours and more emphasis on details instead.
Performance and battery
CPU
: Dual core, 2.15 GHz + Dual co…
Memory
: 256 GB + Up to 128 GB
SIM Slots
: Dual SIM , GSM+GSM
The ASUS ZenFone 3 Deluxe we reviewed uses a Qualcomm Snapdragon 821 SoC paired with 6GB of RAM. It also comes with 256GB of storage and offers a microSD card slot for additional storage as well. You will not be left wanting for more storage space.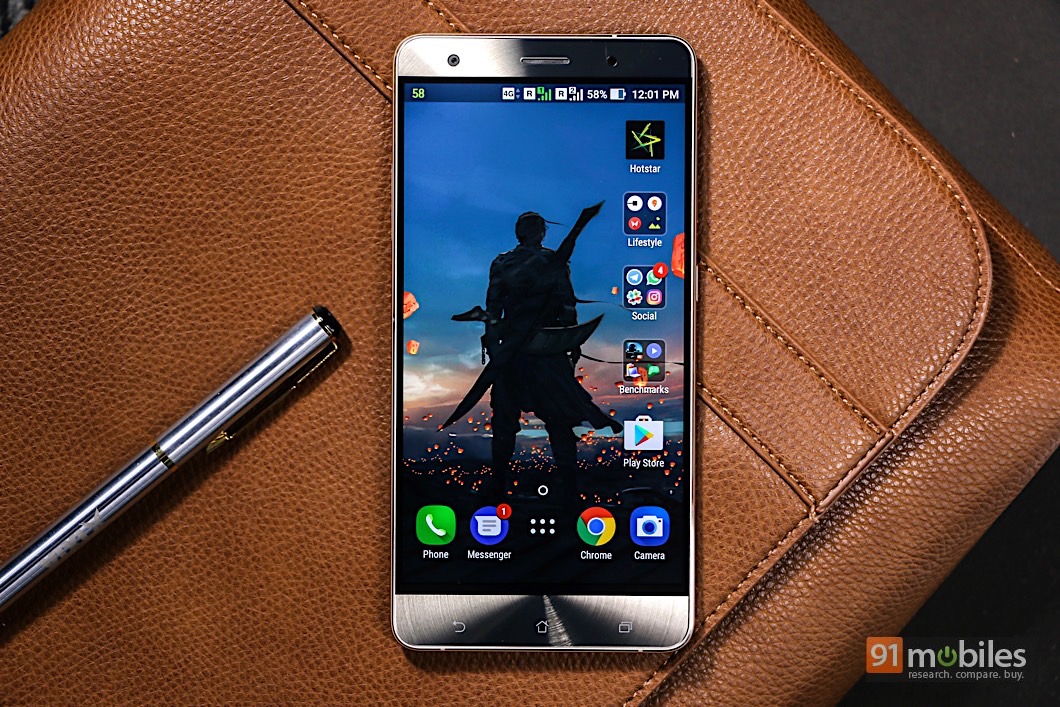 These specs are enough to ensure that the phone never stutters and offers a super smooth performance. From running high-end games to day-to-day operations, the phone handles any task with the ease you'd expect from any flagship smartphone. But all this performance comes at the cost of slight heating issues especially when doing strenuous tasks. Thankfully, it doesn't get unbearably hot. The ZenFone 3 Deluxe also supports Hi-Res audio meaning you can also run your 24-bit / 192KHz audio files for great audio quality. The bundled earphones are pretty average though and you might want to use better quality audio equipment to make full use of the ZenFone 3 Deluxe's capabilities. The single speaker grille can also get pretty loud and the sound quality is pretty crisp too but the lack of stereo sound is a bit of a letdown. The call quality over the earpiece is good too.
The ZenFone 3 Deluxe uses a 3,000mAh battery to power itself. ASUS uses Qualcomm's Quick Charge 3.0 tech for fast charging and we must say it is really damn fast. The battery charges from 0 to 100 in under 70 minutes flat. This is as good as OnePlus' Dash charging technology and that is saying a lot. However, the overall battery life is average at best. The phone managed to last 9 hours and 22 minutes in our battery test and we constantly got a screen-on time ranging from 3 hours 20 minutes to 4 hours. Essentially, you will have to look for a charger after 20 hours of moderate usage.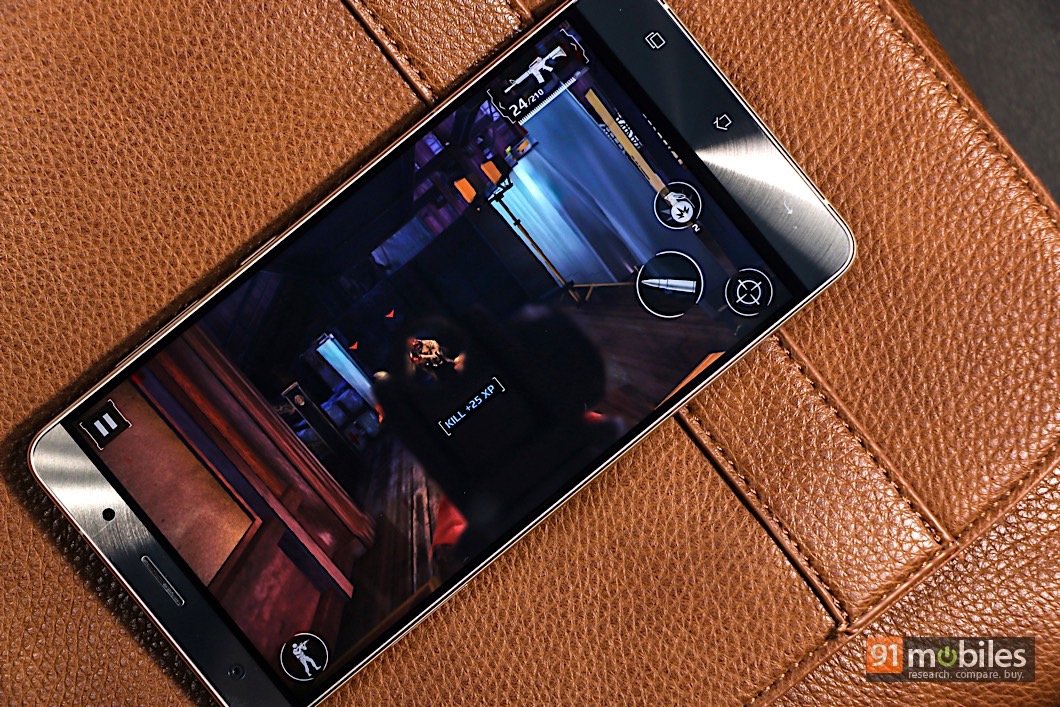 Verdict
Our short answer to should you buy the ASUS ZenFone 3 Deluxe with 6GB of RAM and Snapdragon 821 SoC right now is – no. Look at other equally capable phones, yet much cheaper phones, like the OnePlus 3T, Nubia Z11, and the Moto Z (review) instead. Quite honestly, the ZenFone 3 Deluxe badly needs a price cut and, if and when that happens we'd possibly ask you to reconsider the phone.
While we've been pretty straightforward with our verdict, let it be known that the ASUS ZenFone 3 Deluxe is by no stretch of imagination a bad phone. It is a polished product with a few issues that can easily be overlooked if you are not too finicky about these things. That said, it is bad enough you have to stand in never-ending queues to withdraw money in this current economic climate, that we cannot, in our right minds, ask you to spend Rs 63,000 on a phone that doesn't offer any standout feature like the Moto Z's modularity or the LG G5's (review) dual camera.


Editor's rating: 3.5 / 5
Pros
Good display
Smooth performance
Quick charge 3.0 is blazing fast


Cons
Very pricey
Low-light performance of rear camera is average
Bloatware-heavy
Fingerprint scanner is iffy


Photos by Raj Rout