"The KEYone is geared towards productivity and is a compelling option for those who need a phone for work"
Nokia made a re-entry into the smartphone segment very recently, but that's not the only iconic brand making a comeback… considering the device I now hold in my hand. Perhaps, the word 'comeback' may not be apt to describe it, since BlackBerry has always been around, unlike Nokia. And this despite all the negativity and speculation questioning the brand's future. The company actually stopped designing smartphones and licensed out its manufacturing to TCL (to Optiemus Infracom for India). The BlackBerry KEYone (first impressions) is the latest fruit of the partnership, and I have with me the Limited Edition Black model of the handset. The smartphone runs Android, and boasts BlackBerry's signature QWERTY keypad as well. So without beating about the bush, let's see what it's made of, figuratively speaking.
Design and display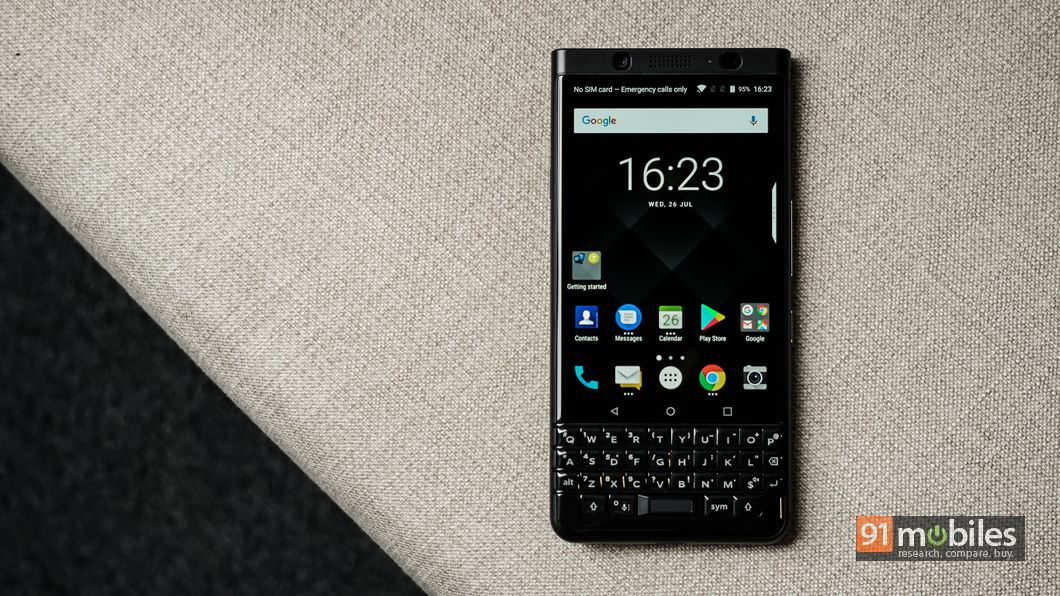 Your first encounter with the handset might elicit a few 'oohs' and 'aahs', since the smartphone is a refreshing change in terms of looks, compared to the regular all-touch devices floating around in the market. The Limited Edition model dons a black dress, as compared to the silver model we checked out at MWC. And it exudes pure class. The black exteriors, combined with the keyboard up front, give it a business-y, elegant look. And when you hold it in your hands, the solid build quality and attention to detail become evident.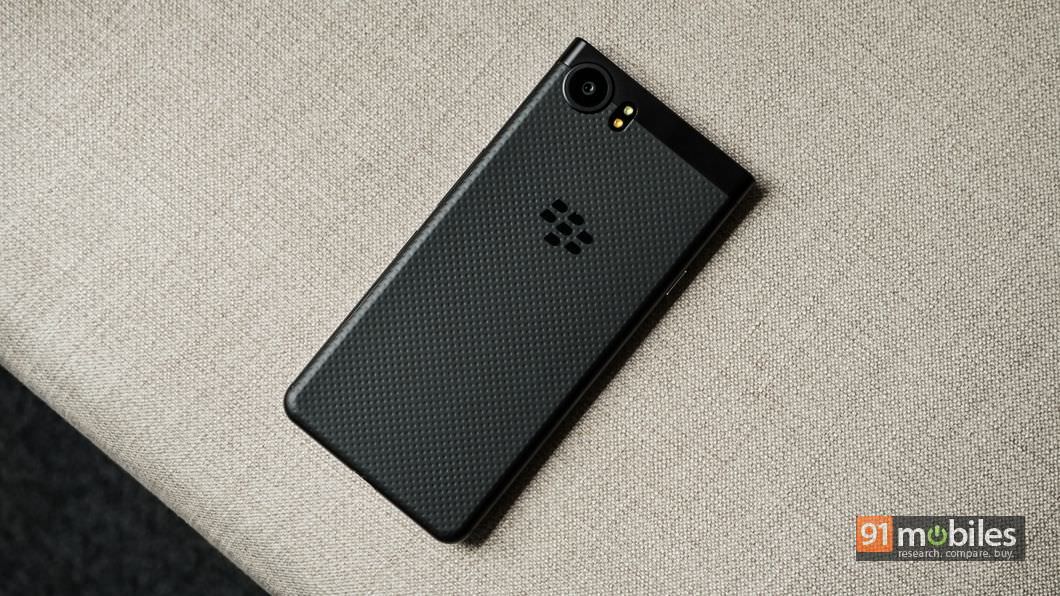 The anodised black metal frame, the rubberised textured back and the glossy keys come together to form a classy, reassuringly heavy phone, which screams premium all the way. The device features a flat top and rounded corners at the bottom, and the latter makes the phone quite ergonomic to hold. The weight distribution is quite evenly balanced, and is ideal for holding with a single hand. While it may be a bit of stretch to reach the far corners of the screen, you could thump out text on the keyboard with your thumb while holding the phone with a single hand, without the risk of dropping it.

The other elements include a power key on the left, while the hybrid SIM tray, the volume rocker, and a programmable Convenience key are located on the right. The 4.5-inch touchscreen has a row of capacitive navigation keys below it, while the earpiece, front camera, notification LED and sensors sit above. A USB Type-C port and speaker can be found at the bottom, while the top is home to a 3.5mm headset socket. At the back, the large camera module juts out slightly on top left, accompanied by a dual-LED flash. The signature flying Ds BlackBerry logo can be seen in the middle too. At first glance, you might think that the KEYone misses out on a fingerprint scanner – and I thought exactly the same too, till the time I realised that the space bar on the QWERTY keyboard has a biometric sensor concealed neatly inside. What's more, it works really well too – it's both accurate as well as fast.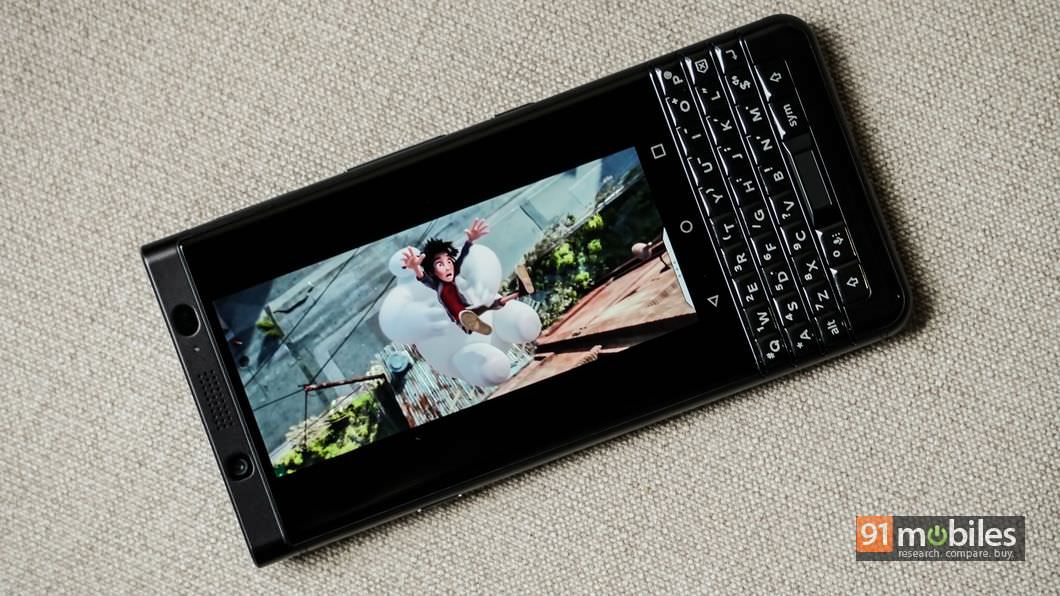 The display, layered with Gorilla Glass 4, rocks a resolution of 1,620 x 1,080 pixels. Given its 3:2 aspect ratio, it's not ideal for watching videos, but the games I tried scaled well. The screen is quite capable in terms of sharpness, colours and viewing angles too – so no complaints there.
Keyboard and software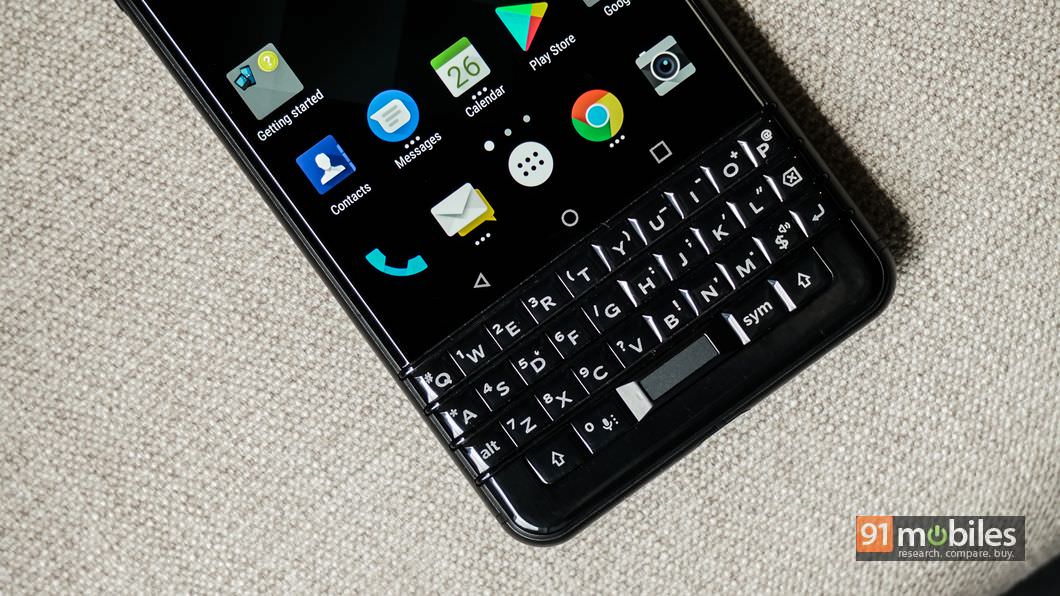 I'll be frank here – I couldn't really get used to thumping out text quickly on the KEYone's QWERTY keyboard during my week-long review period. Clearly, there might be a learning curve required for those accustomed to touchscreen keyboards, but I think one could get used to it given a bit of time. You see, the keyboard, and in fact, the device itself, is designed for productivity. Apart from letting you input text, the keyboard is touch sensitive as well, and basically acts like a touchpad – so you can also use it for scrolling web pages (both horizontally and vertically) and lists like contacts, messages etc. Combined with some pretty accurate word prediction capabilities, you can just flick words onto the screen as you type – and this gets better the more you use the phone.

Not just that, you can assign shortcuts to each key – launch apps, set speed dials, compose a message (text, email or BBM), and basically choose any one from a plethora of options available, including setting alarms, accessing specific device settings, toggling connections, making a note, and so and so forth. Basically, once you have these shortcuts set up the way you like them and get used to using them on a daily basis, it'd be really tough to switch to another smartphone. They're that useful. In addition, the customisable Convenience key on the right can be programmed to a shortcut or launch an app as well.

The KEYone runs a near-stock version of Android Nougat 7.1.1, but it does come with quite a few 'BlackBerrifications', which is a term I've just coined for the brand's own apps and customisations. At the heart of the software, sits the BlackBerry Hub, the app that aggregates all your messaging. Multiple email accounts, SMSes, calls, BBM, WhatsApp, Twitter, Facebook, Instagram – it can show and help you tackle your messaging from all fronts. Heck, it even integrates Slack – making it ideal for its intended target audience.



Then there's stuff like universal search, Notable annotation tool, Password Keeper, and also Power Centre to manage power settings. The BlackBerry Launcher also offers popup widgets, giving you a handy way to access the widgets offered by a compatible app. So if an an app's icon shows three dots below it, you can swipe upwards on the icon to show and interact with related widgets, instead of having to utilise home screen space for those. A slide-out Productivity Tab on the home screen helps you plan out your day by presenting your calendar, important messages etc right up front.

There are quite a few features that focus on security and privacy too – it's a BlackBerry after all. An app called DTEK by BlackBerry indicates the device security status. There's a customisable Privacy Shade too, which limits the viewing area on your phone's screen and minimising the risk of someone peeking over your shoulder to ascertain the details of your next million-dollar deal (or trying to read a risqué message from your significant other).
Camera, performance and battery

Considering it's geared towards productivity, you might not expect much from the KEYone's camera. However, it could just prove you wrong. In terms of specs, you get a 12MP primary shooter with a Sony IMX378 sensor, PDAF, f/2.0 aperture and 1.55 micron pixel size. The camera is capable of shooting 4K video at 30 fps, and slow-mo too. You also get HDR Auto, along with a set of basic shooting modes like panorama. For more creative control, there's a manual mode that lets you tweak parameters like focus, shutter speed, ISO, white balance, and exposure. And as far as the results are concerned, the KEYone may not be a Google Pixel or even an iPhone, but it can shoot some pretty good-looking stills, especially in daylight. The night shots look usable too, with not much noise. The phone does a fair job with selfies too, with an 8MP fixed focus sensor up front, aided by a screen flash for low light self portraits.
BlackBerry KEYone Camera Samples
The number crunching is handled by a Snapdragon 625 processor, working in tandem with 4 gigs of RAM. I'd have preferred the newer SD 660 chip, but the 625 is no slouch, as I've seen with so many smartphones that use this SoC. The processor is consistent and reasonably smooth in terms of performance, handles thermals well, and is quite power efficient too. And that's exactly how it worked on the BlackBerry KEYone. The phone handles both mundane as well as inside tasks quite well, and didn't really give me a reason to complain.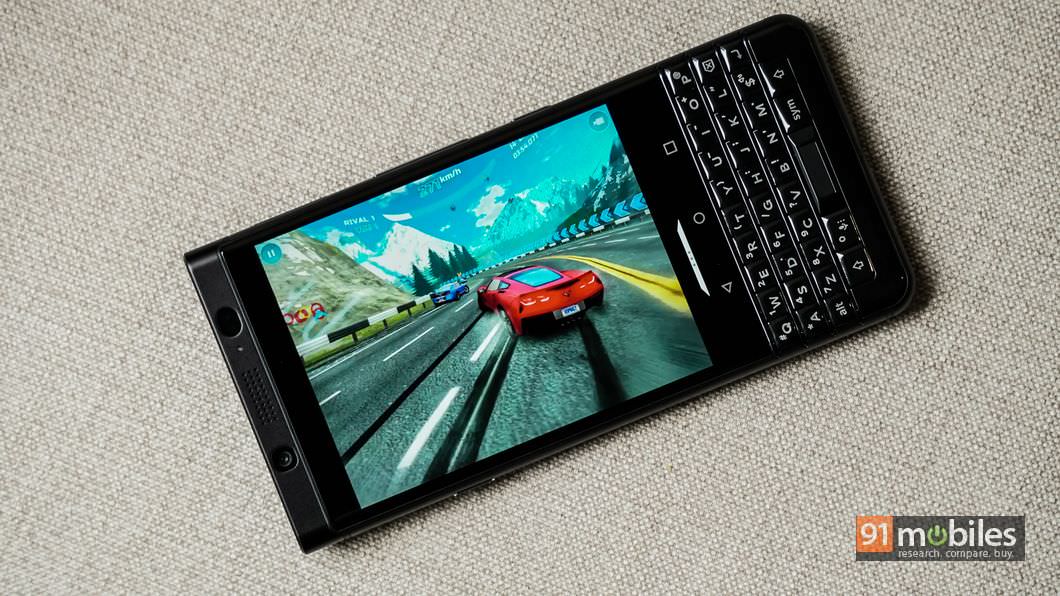 And as far as the battery is concerned, the 3,505mAh pack can easily last most road warriors a full working day without the need of topping up. Your mileage could vary if you consume videos or play intensive games, but otherwise, you should be good for a day on a single charge. Our standard video loop test ran for over 12 hours, which is an above average result. Thanks to support for Quick Charge 3.0, the KEYone can be juiced up pretty quickly too.
Verdict
There's no doubt in my mind that the KEYone is a very solid phone and quite capable too. However, it isn't a true all rounder, and while it should feel perfectly at home in the boardroom, it might just feel ill at ease in the pub. It's a workaholic, but shies away from partying. It would love to get you your email, but it'd just not deliver when you want to Netflix.
In sum, it's clear the KEYone isn't meant for everyone. And considering that its asking price can get you some worthy all-rounders, it'd appeal mainly to those who're tied to their work regardless of time, day or location. It's also clear that those that do choose it as a work partner and know what their choice entails, will find it to be a trusty workhorse that won't let them down.
Editor's rating: 4 / 5

Pros
Elegant looks and solid build
Tons of shortcuts and productivity features
Reasonable performance, good battery life

Cons
Not ideal for video watching
Pricey

Photos by Raj Rout
Competitors for Blackberry KEYone Limited Edition Black
| | | |
| --- | --- | --- |
| Blackberry KEYone Limited Edition Black | vs | Blackberry Motion |
| | | |
| --- | --- | --- |
| Blackberry KEYone Limited Edition Black | vs | Blackberry Priv |