"This compact and practical smart speaker from Amazon works well as a bedside companion"
No matter what your budget is, Amazon has an Echo for you. The smart speaker segment in India may still be at a nascent stage, but Amazon is leaving no stones unturned in attempting to make Alexa, its voice assistant, an integral part of your daily life. Just take a glance at the portfolio of Amazon-branded smart speakers available right now, and you'll know what I'm talking about. One of the recent additions to the list is the Echo Dot with Clock, and that's the one I'm going to talk about today. You see, and I'm being quite candid here, I didn't think much of it when it landed for review. From what I could make out, it's the same Echo Dot 3rd-gen we reviewed earlier, with a clock display added at front. Not one to shy away from trying out a new device, I ended up setting up the Echo Dot with Clock, and placed it on the side table next to my bed. And now I think it's a handy little gadget to have.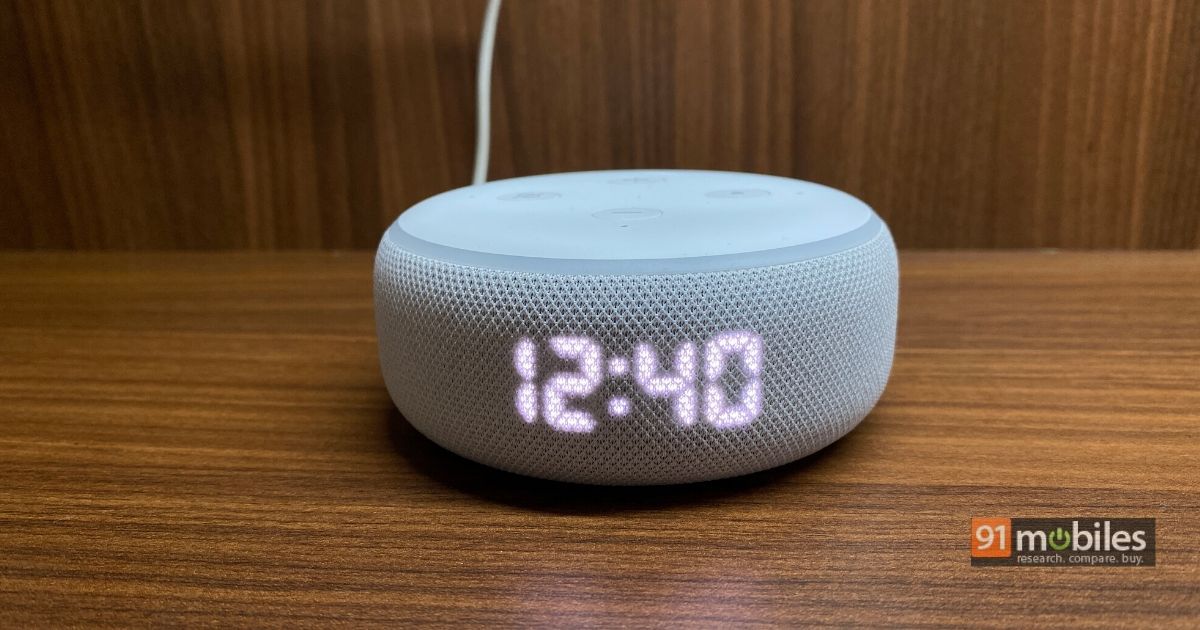 The Echo Dot with Clock is a device that stays true to its name. The description above is accurate – it's essentially the Echo Dot 3rd-gen with a clock. No less, no more. The circular, puck-shaped device comes clad in fabric, and has a tiny footprint. On top, you'll find four far-field mics, and four keys – volume up, volume down, a DND key that mutes the microphones, and a button to invoke Alexa without uttering the wake word. On the rear, there's a port to connect the barrel-type power adapter, and a 3.5mm line out for audio. Cleverly integrated into the fabric on the front, is a display that shows the time. That's not the only thing it shows though. It'll also show a small dot next to the time to indicate an alarm has been set up, current temperature if you ask Alexa about the weather, and also timer countdown if you have one running. Oh, and lest I forget, it also greets you with a 'Hello' when it powers on. Tapping the top of the device snoozes the alarm for 9 minutes, and that's a pretty useful feature I think.


As an Alexa-powered smart speaker, the Echo Dot with Clock offers exactly the same as the others in the range. It doesn't have a built-in smart home hub, unlike the premium ones (namely, the Echo Plus, Echo Show and Echo Studio), but it lets you control various smart home devices using voice, give weather updates, news updates, respond to queries, and set up and use any of the available Alexa skills. And there are literally thousands of them available. I won't get into the details regarding those, but suffice it to say, that the possibilities are endless. You can, of course, also use the Echo Dot with Clock to play music, and that remains one of the most common use cases. What's more, thanks to the support for Hindi, you even have the option of switching the language and using the smart speaker using commands you utter in India's national language. And it works pretty well too.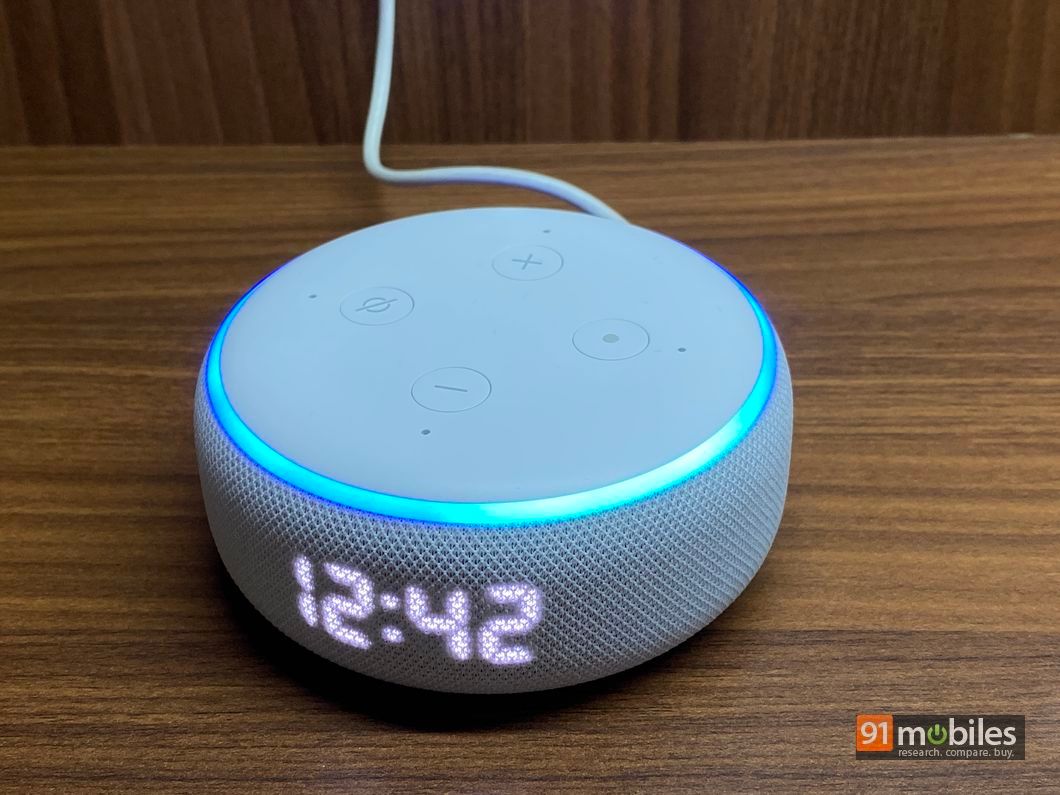 Don't expect earth-shaking sound, but the Echo Dot with Clock is able to deliver clear, room-filling audio that's just about good enough for one to enjoy their music. And thanks to the 3.5mm audio out and the built-in Bluetooth, you always have the option of hooking up the device to an external speaker that can deliver better audio.
The clock display integration, is pretty sweet in my opinion. The Echo Dot 3rd-gen is a good bedside companion, but adding a clock display to it makes it even better. In my case, I mainly use the smart speaker to control a couple of smart plugs, and play some music… and having it right next to the bed makes this super convenient. The clock display is bright enough to read during the daytime, and dims automatically when you turn off the light, so it doesn't hurt the eyes or affect your sleep. The brightness can be adjusted manually via the Alexa app too. And having the device right next to my bed, makes it convenient for me to peek at the time at night, or early mornings when I'm still in bed. Long story short, I think the Echo Dot with Clock is well worth a buy, especially as your first smart speaker. That said, the Echo Dot with Clock, with its sticker price of Rs 5,499, is priced Rs 1,000 higher than the Echo Dot 3rd-gen. Amazon sells these devices at discounted prices during sales, so it might be a good idea to wait for the next big sale to happen before you hit that 'Buy now' button.
Editor's rating : 4.5 / 5
Pros
Clock display is practical
Decent audio quality
Small footprint and simple setup
3.5mm audio line-out
Cons
Seems a tad expensive at full price
More colour options for the LED display would be welcome